2005 WSOP Champ Joe Hachem: "I'm The Luckiest Man on Earth"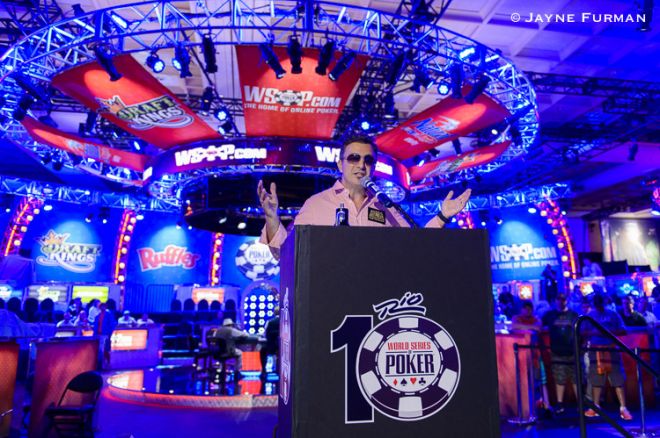 Joe Hachem considers himself the luckiest man in the world. Not because he won the 2005 World Series of Poker Main Event. Not because he's spent the decade since amassing $12,056,258 in live tournament earnings. And not because he's celebrating the tenth anniversary of his win with another deep run in the Main Event this year, sitting with over 200,000 in chips on the first break of Day 3.
It's because his family is here with him every step of the way.
"The first time around they didn't know what I was doing," Hachem said of his four children - three boys, now 24, 21, 19 and a 22-year-old daughter. "Dad went to play poker. They didn't know it was the World Championship or anything like that until after it all happened.
"Then after it did, I felt like I had a huge responsibility with my kids growing up in casinos. It was not what I wanted for my children. Since day one, I've done everything I can, practiced and preached, to lead by example so that they don't get sucked into the dark side of casino life. Touch wood, I think I've succeeded.
"Now they're older, they just want me to win for me. It brings me to tears when I think about it. We've got so much love and affection for each other. I wish it upon every family that they could have what I have."
With his wife Jeanie and the whole family behind him, Hachem came into the 2015 WSOP feeling better than ever and it has shown. He showed up in mid-June and has already booked four cashes heading into the Main Event, including a final table appearance in the $10,000 H.O.R.S.E. Championship where he took fifth for $114,308.
"I feel fantastic," he said. "I've felt fantastic the whole summer since I've came here. One thing I keep telling everybody is that for the first time in a long time my head is in the right space."
On the felt, it all started with huge lay down in the AU$2,250+150 No-Limit Hold'em High Roller at the Poker SA Classic Series in Adelaide, Australia this past April. With 16 left and six spots paid, Hachem let go of
on an
board with just 12 big blinds behind. His opponent showed
. Hachem went on to win the tournament.
"My mindset just said no, don't give it away," he said. "For many years now I've felt like I can't be bothered playing tournaments. They suck, blah, blah, blah. As in, it takes too much time and energy. But coming into the summer here, I arrived about June 11, and my mindset was great. I was just like, look, you're going to play for 12 hours, tournaments are about grinding. You can't win it today, you can't win it tomorrow. Shut up, sit there and grind. Make good decisions, have a plan and stick to it. Sounds so simple right."
Ten years after his Main Event win kicked off a massive poker boom in Australia, Hachem hosted a dinner in Las Vegas before the 2015 WSOP Main Event to mark the occasion. Even though it has been a decade since he won poker's World Championship, Hachem came into this year's Main Event not feeling like he's got something to prove, but still a burning desire to succeed.
"It's definitely not about having to prove that I've still got it," he said. "It's all about the fact it would be nice to go deep. I've got my kids and my family all around me telling me, it's the tenth anniversary, make it count.
"It does feel special. I feel so privileged. I mean, my wife's amazing. I'm healthy. My family is healthy. Ten years on I'm enjoying celebrating this event again."
He takes every loss ten times harder and every victory is 1,000 times more enjoyable for him.
Once nicknamed 'Salty Joe' based on his often gruff table demeanor, the Hachem on the felt these days is a little more relaxed and friendly.
"I'm playing my style, talking to people, getting into their heads a little, in a good way, but getting into their heads so I know whether they're coming or going," he said. "But I'm having fun, I'm feeling good and running well. What more can I ask for."
Hachem is even at the point where he'll take a bad beat in stride, even if his family hasn't learned to follow in those particular footsteps.
"My youngest son, whose 19 now, he's a spitting image of me, and that kid takes every beat ten times harder than I take it. He takes every loss ten times harder and every victory is 1,000 times more enjoyable for him," he said.
"I don't even want to imagine what it would even be like to make the final table. Top 100 would be great, top 200 would be great, but I don't even want to imagine what it would be like going through that, not just for me as a person, but for my children."
Run deep in the 2015 Main Event or fall short, win big on the tenth anniversary of his World Championship or go home, Hachem feels like he's already on top.
"At the end of the day, win or lose today, it's another tournament and I'll come back and play it next year," he said. "There are some things you can lose, though, that you can't get back. That's more important. I'd be shattered If I bust obviously, but you've got to put it in perspective. As competitive as I am I've matured a lot over the last ten years and that gives you a different perspective. I was 39, now I'm 49, and at this age you just see things differently."
Despite the new found perspective and the wisdom that comes with age, Hachem said he would still love to keep this tenth anniversary party going.
"I've woken up every morning before the next day with a splitting pain right here on my forehead," he said. "That's from all the tequila shots we've been taking every night. Hopefully they'll be some more shots tonight."
But in the end, shots or no shots, Hachem feels like he's already won.
"I've won everything, I really have," he said. "I'm the luckiest man on earth."
Want to stay atop all the latest from the 2015 WSOP? If so, make sure to get PokerNews updates on your social media outlets. Follow us on Twitter and find us on both Facebook and Google+!