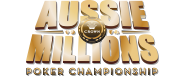 Aussie Millions
Crown's Aussie Millions Poker Championship is the Asia-Pacific's richest and most prestigious poker series that will run from Thursday, January 23 to Monday, February 10, 2014. The coveted Main Event will commence on Sunday, February 2 and conclude on Sunday, February 9, 2014.
The Aussie Millions is a festival of poker, with 20 separate poker events with buy-ins ranging from AUD$1,100 to AUD$250,000. The comprehensive slate of the game's most popular variations will be on offer, and a total of 20 coveted Aussie Millions Championship Rings will be awarded to each event winner. The winner of the Aussie Millions Main Event will not only walk away with an estimated AUD$1.6 million dollar first prize, but also the one-of-a-kind Main Event champion bracelet valued at over AUD$25,000.
Crown Melbourne's Aussie Millions Poker Championship has effectively become one of the top poker majors and a favorite amongst some of the most renowned players in the world. With over 20 opportunities to win, and ESPN television coverage of the final tables of the AUD$100,000 and AUD$250,000 Challenges, along with the Main Event, the Aussie Millions stage has never been brighter.
Crown Resorts Chief Operating Officer Xavier Walsh said, "The Aussie Millions is regarded as one of the marquee poker events globally and by aligning with the biggest poker tour in the region, the Asia-Pacific Poker Tour, will further guarantee the event's success in the coming years."