$100,000 Challenge
Day: 2
$100,000 Challenge
Day 2 Completed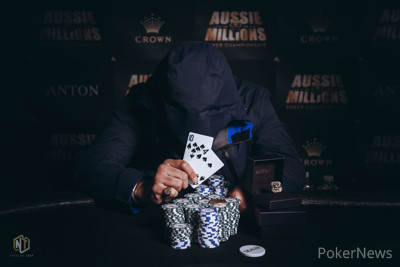 Michael Lim is the winner of the 2018 Aussie Millions $100,000 Challenge! He adds his name to the long list of winners of this prestigious tournament after seeing off a field of 19 players here at the Crown casino in Melbourne.
Coming into the day with a comfortable stack of 45 big blinds, he navigated a star-studded field and an up-and-down day for all who participated to emerge with $931,000 in prize money and the coveted ANTON Jewellery championship ring.
Second-place Manig Loeser adds another big score to his poker resume; the German now has over $6m in lifetime cashes, with recent successes on the Triton Super High Roller Series in Macau and Montenegro.
Here are the results for the players who finished in the money:
| Place | Name | Country | Payout (AUD) | Payout (USD) |
| --- | --- | --- | --- | --- |
| 1 | Michael Lim | Malaysia | $931,000 | $735,490 |
| 2 | Manig Loeser | Germany | $558,600 | $441,294 |
| 3 | Mustapha Kanit | Italy | $372,400 | $294,196 |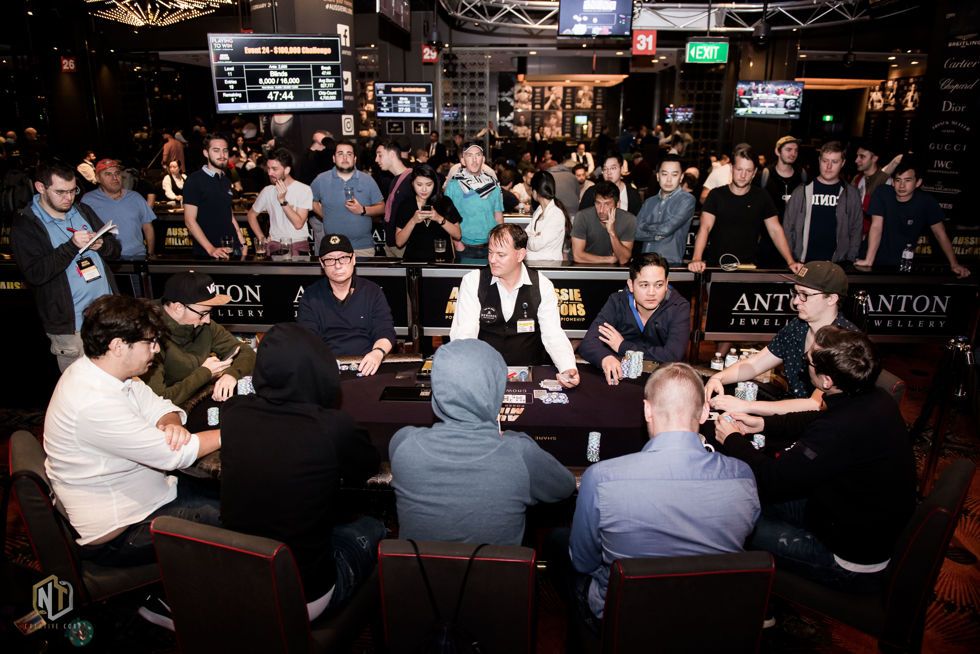 The final day began with six players, but it grew to nine by the end of the first level with Fedor Holz and Jack Salter joining the field, with David Steicke the final entrant with 40 seconds left in the level. This meant that this year's $100,000 Challenge was officially bigger than last year's, albeit by one entry.
The payouts were confirmed shortly after registration closed, with the top three players receiving A$372,400, A$558,600 and A$931,000 respectively, with first place receiving the ANTON Jewellery championship ring in addition to their prize money.
Once registration closed it was Michael Lim who lead the field, but, following the elimination of Holz at the hands of Christian Christner, it was Christner who moved ahead. A short while later, Steicke was eliminated at the hands of fellow Australian Kahle Burns, but Burns would follow his compatriot out the door when he ran top-pair into the overpair of overnight chip leader Mustapha Kanit to bust in seventh.
Kanit hadn't really been in any big pots all day, but a clash with Christner put a big dent in his stack. Christner check-called three times on a queen-high paired board with Kanit showing pocket sixes, only to be denied by the Aces of Christner.
That left the Italian short, but he doubled in back-to-back hands to move back to within touching distance of a seven-figure stack.
The next elimination was that of $25,000 and $50,000 Challenge runner-up Jan-Eric Schwippert, who lost a flip to Christner to bust in sixth. At this point, Christner held more than half the chips in play five-handed, but it wouldn't last long.
Another clash with Kanit would level out the chip counts, this time with Kanit showing the pocket Aces. There then followed a long stalemate between the remaining five players; a pre-bubble bubble of sorts.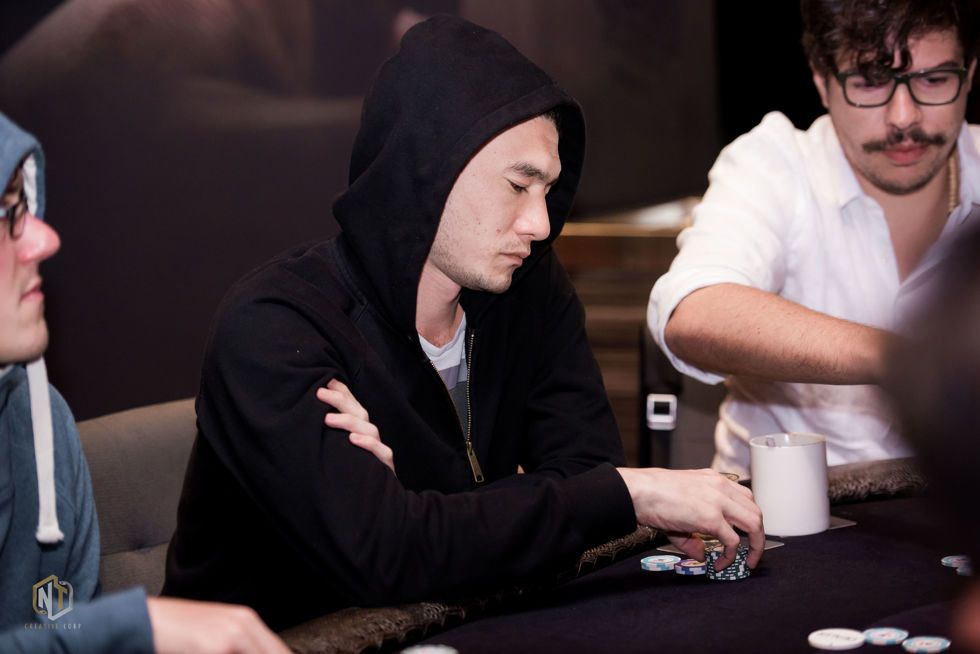 First, Manig Loeser doubled through Lim, and Salter doubled through Kanit. Salter then moved into the chip lead after winning a pot vs Christner, but Loeser then doubled through the Brit to leave Salter short and he would bust next, running ace-six into the kings of Lim.
Loeser was far and away the chip leader at this point after doubling through Salter, and a strong period of aggression from him – raising five of seven hands (the only two times he didn't raise were walks!) - he cracked the Queens of Christner in a blind on blind confrontation, when Loeser turned a flush.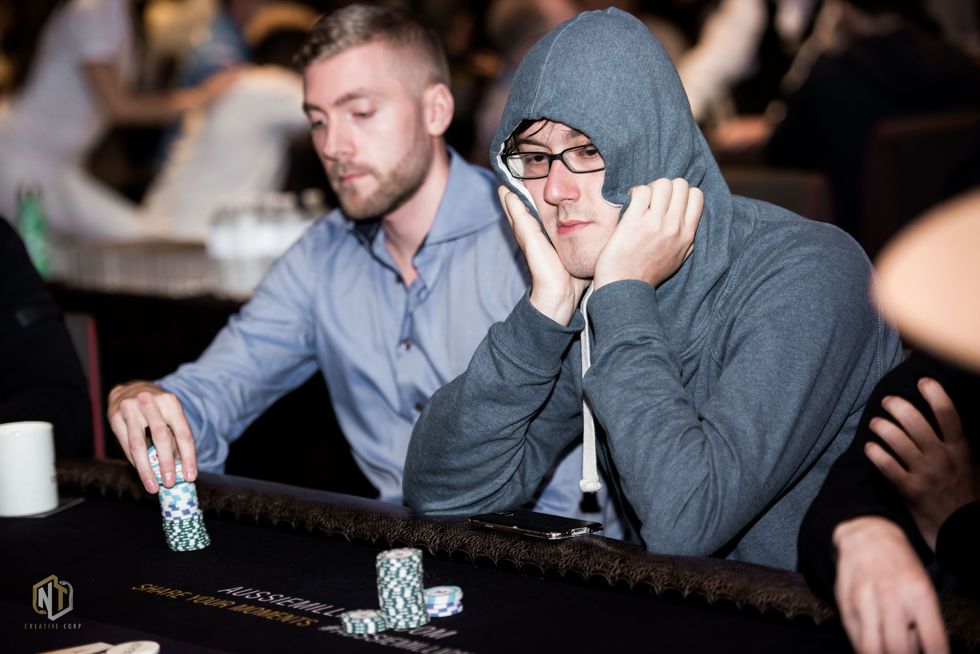 It was the German who held the chip lead heading into heads-up play, and he continued to turn the screw throughout the early goings. But just when it looked like Loeser had Lim on the rocks, the Malaysian doubled twice in quick succession to turn the tables.
From then on it was Lim who controlled proceedings, and in the final hand it was his turned flush which handed him the title and the ring at around 22:30pm local time.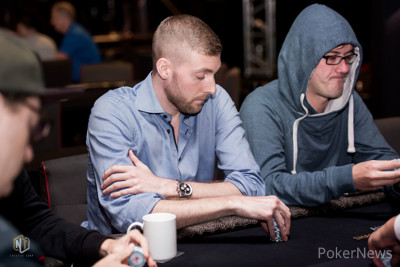 Manig Loeser raised to 110,000 and Michael Lim called. On the
flop, Lim checked and faced a bet of 75,000 by Loeser before check-raising all in. Loeser called it off for around 800,000 and the cards were tabled.
Manig Loeser:

Michael Lim:
The
on the turn improved Lim to a flush and Loeser was in need of a queen or nine to remain in contention. However, it was not meant to be with a blank
on the river to eliminate the German in 2nd place for A$558,600. After being down to just three big blinds on this final table, that's still one hell of a comeback.
- Manig Loeser raised to 120,000 pre-flop and Michael Lim called. The pair checked the
flop and Lim bet 145,000 on the
turn. Loeser called.
Lim bet 240,000 on the
river and again Loeser called. Lim showed
for a flush and took down the pot.
- Then, Lim raised to 110,000 and Loeser three-bet to 350,000. Lim called and the flop came
. Loeser checked and then folded after Lim moved all in.
- Lim raised to 100,000. Loeser called and the flop came
and Loeser checked to Lim who bet 125,000. Loeser folded. Lim casually showed
.
Michael Lim's raise was called by Manig Loeser and the latter check-called a bet of 75,000 on the
flop. The
turn went check, check, and Loeser bet the
river for 95,000. Lim raised to 250,000 and Loeser folded.
Lim made it 120,000 to go and Loeser called. The
flop brought no action and a bet of Loeser on the
turn forced a fold.
Loeser opened to 115,000 and Lim called, then checked and called a bet of 85,000 on the
flop. There was no action on the
turn, while Lim bet the
turn for 155,000 and Loeser called reluctantly. Lim rolled over the
for jacks and fives, and that was good enough to win the pot.
On a
flop Michael Lim check-called a bet of 50,000. The turn
was checked by both players. Lim bet 105,000 on the
river and Manig Loeser raised in position to 275,000, eliciting a quick fold from Lim.
Then, in a hand with the flop reading
, Loeser check-called a bet of 110,000. The turn
and river
were checked by both players and Loeser showed
to win the pot.
A short while later Lim made it 100,000 pre-flop and Loeser called. The flop was
. Loeser check-called for 160,000 and the turn brought the
. Both players checked.
The river was the
. Loeser bet 130,000 and Lim snap-folded.
Michael Lim raised to 100,000 and Manig Loeser called. On the
flop, Loeser checked and folded to a bet of 125,000 by Lim. The latter flashed
and explained to the floor staff that he promised to show all nines.
Soon after Lim raised preflop and bet the flop before shoving on the
turn. Loeser called and the cards were turned over.
Michael Lim:

Manig Loeser:
Lim had the best of it with top pair and the straight draw, while Loeser had second pair and the same straight draw. An ace or nine would result in a split pot, while Loeser needed a queen to win it right there. A blank
river let Lim double for 1.255 million and he jumped into the lead.
Michael Lim moved all in for 715,000 and Manig Loeser called.
Michael Lim:

Manig Loeser:
The flop came
extending Lim's lead. The turn
looked scary for a moment, but the river was the
confirming Lim's double-up. The stacks are practically back to how they were when they started heads-up play.
Michael Lim raised to 120,000 and Manig Loeser moved all in to force a fold.
Loeser's call was called by Lim, who bet the
flop for 120,000, Loeser called. On the
turn, Lim checked and a bet of 220,000 by Loeser forced a fold.
Lim made it 120,000 to go and Loeser called. The duo checked through the
flop and Loeser bet the
turn for 190,000, Lim called. After the
river, Loeser double-checked his cards and moved all in, Lim folded almost instantly.
Level: 16
Blinds: 25,000/50,000
Ante: 5,000