2010 Poker Hall of Fame Inductees Announced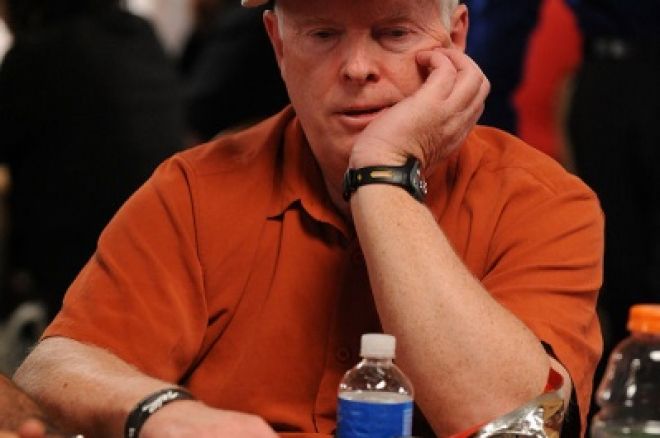 Last year, Mike Sexton was the sole inductee into the Poker Hall of Fame, an honor everyone in the poker world agreed was well-deserved. This year, ten finalists were chosen by public vote for consideration by the Poker Hall of Fame Governing Council and it was just announced that two players will join the ranks in the Poker Hall of Fame. Coincidentally, both men began as tournament backgammon players before honing their poker skills at the Mayfair Club in New York. Both Erik Seidel and Dan Harrington will be joining the Poker Hall of Fame as the official Class of 2010.
"I'm very honored to be elected to the Poker Hall of Fame this year and it's an extra bonus for me to be going in with Dan Harrington," Seidel said. "We have played together and have been great friends for my entire poker career. Both of us refined our games at the Mayfair Club in New York. I have such a high regard for the many members of the Poker Hall of Fame that I have played with over the years and it's a real privilege to be able to join them."
Considered a true gentlemen of the game, Seidel began his career on the tournament backgammon circuit and then moved on to become a stockbroker on Wall Street. After the stock market crash in 1987, Seidel found himself out of work and decided to turn to poker full time. At the 1988 WSOP Main Event, Seidel entered his first major tournament and ultimately finished runner-up to the defending champ, Johnny Chan, in a scene that has since been immortalized in the movie Rounders. Since then, Seidel has won eight WSOP gold bracelets, the first in 1992 and the most recent in 2007, and amassed more than $10 million in tournament poker earnings during a career that has spanned four decades.
Seidel, born and raised in New York, is now a Las Vegas resident and tournament regular, playing in the biggest poker tournaments around the world. Known as an avid music buff and one of the funniest people on Twitter (@Erik_Seidel), Seidel once appeared on the game show, To Tell the Truth, when he was just 12 and recently had a cameo as an extra in the hit HBO show, Curb Your Enthusiasm. His induction into the Poker Hall of Fame will be the next milestone on an already impressive résumé.
While Seidel has long been a favorite to lock up a nomination, Harrington's may come as a bit of a surprise to some, especially considering the competition. The other finalists, all of whom remain eligible for future induction, included Chris Ferguson, Barry Greenstein, Jennifer Harman-Traniello, Phil Ivey, Linda Johnson, Tom McEvoy, Daniel Negreanu and Scotty Nguyen. Nonetheless, Harrington's induction is well-deserved.
Known for his iconic green-colored Boston Red Sox hat, Harrington, 65, hails from Cambridge, Mass., and now resides in Santa Monica, Calif. Known as "Action" Dan for, ironically, his tight table image, Harrington is a distant relative of golfer Padraig Harrington and football quarterback Joey Harrington. Interestingly, it is well-known that Harrington used to play poker with Microsoft founder Bill Gates during Gates' days as a student at Harvard. Harrington has gone on to post a stellar and consistent 25-year poker career.
Since first cashing in the 1986 WSOP, Harrington has found success as a noted poker author, attorney, businessman, real estate entrepreneur and stock market trader. The 1995 WSOP Main Event champion, Harrington has amassed more than $6 million in tournament winnings, including a WSOP gold bracelet in a 1995 $2,500 No-Limit Hold'em event, as well as a World Poker Tour title. Including his 1995 final table appearance, Harrington has reached the final table of the WSOP Main Event a record four times, including back-to-back years in 2003 and 2004, an accomplishment many rank as the most impressive feat in WSOP history. Perhaps most remarkably, Harrington has had tremendous success despite being only a part-time poker player, though his contribution to the game has been anything but part time. Harrington literally wrote the book on poker, Harrington on Hold'em, which is widely considered the most influential poker book in the modern era.
Because of their accomplishments, both Seidel and Harrington will be inducted into the Poker Hall of Fame and will join some truly elite company. First established in 1979, the Poker Hall of Fame was home to 38 inductees before this year's selections. Since its inception, the Poker Hall of Fame has elected nominees based upon five criteria:
A player must have played poker against acknowledged top competition
Played for high stakes
Played consistently well, gaining the respect of peers
Stood the test of time
Or, for non-players, contributed to the overall growth and success of the game of poker, with indelible positive and lasting results.
The entire list of 40 Poker Hall of Fame members includes (alphabetical with year of induction in parenthesis):
Tom Abdo (1982)
Crandell Addington (2005)
Bobby Baldwin (2003)
Billy Baxter (2006)
Lyle Berman (2002)
Joe Bernstein (1983)
Benny Binion (1990)
Jack Binion (2005)
Bill Boyd (1981)
Doyle Brunson (1988)
Johnny Chan (2002)
T.J. Cloutier (2006)
Nick Dandolos (1979)
Barbara Enright (2007)
Fred "Sarge" Ferris (1989)
T "Blondie" Forbes (1980)
Henry Green (1986)
Dan Harrington (2010)
Murph Harrold (1984)
Phil Hellmuth (2007)
James Butler "Wild Bill" Hickok (1979)
Red Hodges (1985)
Edmond Hoyle (1979)
Berry Johnston (2004)
Jack Keller (1993)
Felton McCorquodale (1979)
Roger Moore (1997)
Johnny Moss (1979)
Henry Orenstein (2008)
Walter Clyde "Puggy" Pearson (1987)
Julius Oral Popwell (1996)
Thomas Austin "Amarillo Slim" Preston (1992)
David "Chip" Reese (1991)
Erik Seidel (2010)
Mike Sexton (2009)
Jack "Treetop" Straus (1988)
Duane "Dewey" Tomko (2008)
Stu "The Kid" Ungar (2001)
Red Winn (1979)
Sid Wyman (1979)
Traditionally, the Poker Hall of Fame elects one or two members annually, with an enshrinement ceremony held in concert with the final table of the Main Event of the WSOP in Las Vegas. This year is no different as a special induction ceremony and celebration will take place at 8:00 p.m. on Monday, November 8 in the Penn & Teller Theater and will immediately precede the Heads-Up finale of the WSOP Main Event.
For more information on the Poker Hall of Fame, visit www.WSOP.com.
Follow us on Twitter and "like" us on Facebook.
Executive Editor US, PokerNews Podcast co-host & 2013 WSOP Bracelet Winner.