NJ Online Poker Sites: Where to Play Poker in 2022
If you don't know where to play New Jersey online poker in 2022, then look no further. PokerNews, the leading online poker site in the world, brings you the best guide.
Online poker was ruled legal in New Jersey seven years ago, back in November 2013. Since then, it has been one of the many options for internet gaming and online casino games enthusiasts in Garden State.
One of the best things about online poker is that you don't have to be a World Series of Poker pro to enjoy it. In fact, most players join a poker site to play for fun, whether real money is involved or not. And we all know that a good online poker room isn't that far off from a brick-and-mortar poker room you would find in an Atlantic City or Las Vegas casino - all that from the comfort of your own house.
Best New Jersey Online Poker Sites in 2022
One of the best things when it comes to playing online poker in NJ is the number of options available. Players have seven sites to choose from when it comes to NJ online poker sites, which are all legal in Garden State.
These seven New Jersey sites are operated by four different companies.
WSOP.com NJ and 888 Poker NJ are both licensed by 888 Holdings. Atlantic City brick-and-mortar casino Borgata has licensed three sites - its homonymous Borgata Poker as well as PartyPoker NJ and BetMGM Poker. Last but definitely not least is Pala Poker, which is the newest site in the New Jersey poker industry.
WSOP.com NJ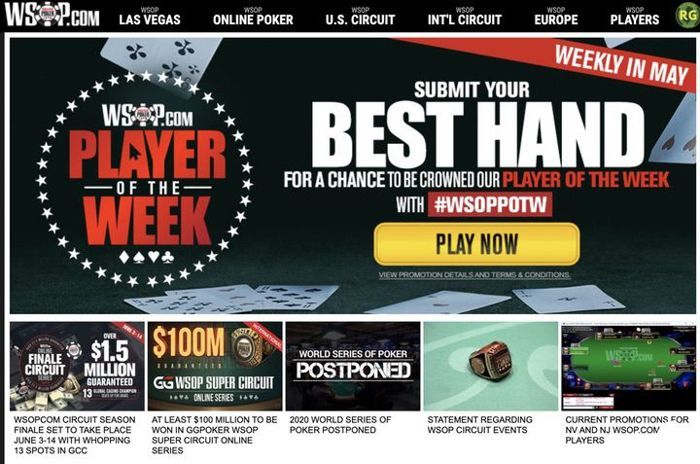 The market leader online poker site in New Jersey, WSOP.com shares its player pool with Nevada and Delaware, while also enjoying the popularity from the WSOP, one of the world's top poker brand.
It is part of the American Poker Network, which is owned by parent company 888 Holdings and is one of the biggest poker networks in the US.
WSOP NJ was launched on November 21, 2013, and became one of the first internet gaming sites available in NJ. As you would expect from a WSOP product, competitors will have their hands full with tournament events. WSOP NJ has a wide variety of both weekly and daily poker tournaments with generous prize pools.
Players can also participate in bracelet events and the WSOP Online Series of Championships. The champion will be awarded an exclusive WSOP ring.
New Jersey poker players also have access to many exclusive promos on WSOP.com. The site offers a good variety of games, which includes Texas Hold'em, Omaha, 7-card stud, five-card draw, lowball draw and badugi.
Players must download the WSOP software on PC or the WSOP.com NJ mobile app first.
888 Poker NJ
Also part of the American Poker Network, 888 Poker NJ has a shared player pool with Delaware and Nevada.
It's WSOP.com's sister site and a very popular choice among New Jersey players. Thanks to its large player pool, 888 is guaranteed to offer great competition and a nice challenge to all of the game enthusiasts.
Voted the 'Poker Operator of the Year' in 2011 and 2012, 888 uses the same engine and platform as WSOP NJ. As one of the first gambling sites to go online in NJ, and with plenty of experience in the internet gaming industry, 888 offers a great experience to all its users, which includes tournament series.
When it comes to variety, 888 has got it covered with No-limit Hold'em, BLAST Poker, Omaha and 7-card stud.
If you are looking for competition, 888 also has daily and weekly championships. In order to play, users must download the PC software or the 888Poker NJ free mobile app.
PokerStars NJ

The leading online poker site in the world, PokerStars is also extremely popular in Garden State. While the NJ and Pennsylvania player pools are separated, it still draws in plenty of enthusiasts.
New Jersey PokerStars offers a good variety of poker games, including seven-card stud, 5-card draw and Spin & Go.
Thanks to its popularity, NJ PokerStars also has a strong presence in social media and other websites, including Facebook, Twitter, Instagram, Youtube and Twitch. So if you are looking for some goodies, these are all worth checking out.
PokerStars NJ also has many different online poker tournaments, including daily, weekly events and the annual series and its popular New Jersey Championship of Online Poker. In order to play, you first need to download the PokerStars NJ software. Or, if you want to play online poker on mobile, you can also download the PokerStars NJ app.
Borgata Poker NJ

As the name suggests, Borgata Poker NJ is the online branch of Atlantic City Borgata Hotel Casino & Spa which also played host to the World Poker Tour in 2019. It also relies on players liquidity sharing with PartyPoker and BetMGM, which are also part of the Borgata network.
The site users can take part in daily and weekly tournaments. Another possibility is to join the PartyPoker US Network Online Series. The poker variants on offer include Texas Hold'em, Pot Limit Omaha and Pot-Limit Hold'em.
The software used by Poker Borgata is the same as PartyPoker, with a different skin presentation. Users need to download the desktop client or the Borgata Poker app in order to play.
PartyPoker NJ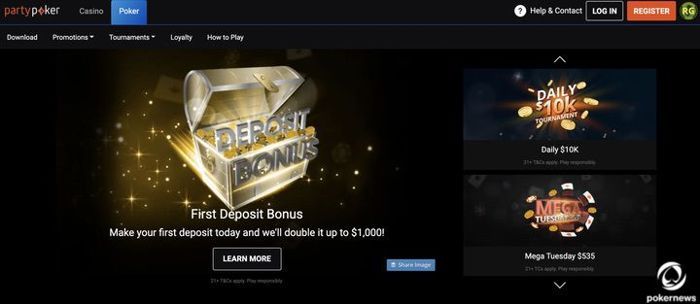 Another popular online poker site, PartyPoker NJ was acquired by Borgata. As previously mentioned, it provides the engine used by its sister sites. PartyPoker also shares its New Jersey players network with the other two sites.
PartyPoker NJ also shares the same tournament's pool with Borgata, hosting daily and weekly tournaments as well as the US Network Mini Series. Variants include Pot Limit Omaha and Pot-Limit Hold'em.
In order to play at PartyPoker, you need to either download the PC/Mac software or the mobile app.
BetMGM Poker

The third and most recent addition to the Borgata family, BetMGM Poker also uses the PartyPoker engine and shares its player pool with the other two sister sites.
BetMGM offers different game variations, which include Hold'em, Pot Limit Omaha, Pot Limit Hold'em and 7-card stud.
It also offers the same tournaments and prize pools as its other two sister sites, which includes daily and weekly events as well as the Party Poker US Network Online Series.
You will be required to download the BetMGM software in order to play, which is available for PC. Another option is to play on the go by downloading the BetMGM mobile app.
Pala Poker NJ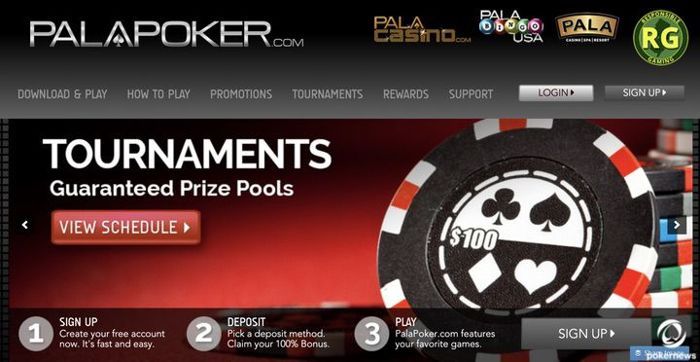 The most recent addition to the New Jersey online poker scene, Pala Poker NJ is a standalone website. While it does have a partnership with Borgata, Pala has its own player pool and unique software.
The site offers a wide range of options, which includes many poker variations such as Texas Hold'em, seven-card stud and Omaha, along with different tournaments including sit & go and multi-table formats. In order to play at Pala Poker NJ, you first need to download the PC software or the mobile app.
New Jersey Online Poker Tournaments
Online poker tournaments are one of the reasons why the game has grown in popularity. The competitive environment and the fun from these events are what keep drawing in both experienced and new players.
With a single table or multiple tables, NJ players can pick their favorite format and go for it. While tournaments usually require a buy-in, all sites have free play events that you can play for fun. And some of these free tournaments also pay real money.
Of course, you can play simply for the sake of it without caring about the prizes - after all, gaming is all about fun more than anything else.
New Jersey Online Poker Cash Games
The quick nature of cash games has made it rise in popularity among online poker players, and it's no different in New Jersey. And because of that, all poker sites have cash games poker rooms to their users.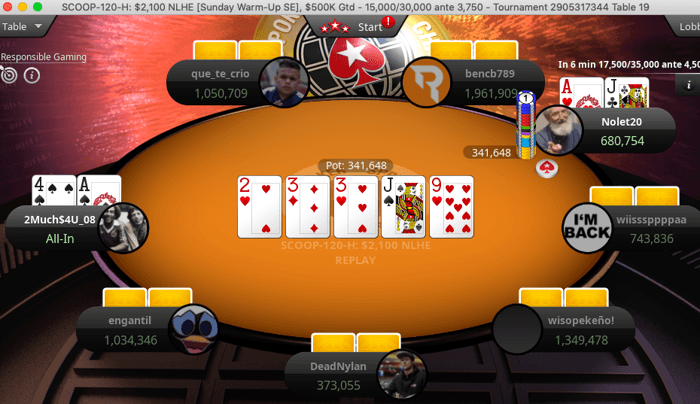 Naturally, a cash game will offer a slightly higher risk-reward factor, but is still enjoyable. While you can play it to win money, you can also enjoy a few rounds just for fun as well.
New Jersey Online Poker Deposit Bonus
If you are looking for a good online poker deposit bonus to start off with, then we have some very good news. NJ online poker sites offer some very good bonuses, from bonus money to 100% match bonus offer.
Online poker sites have a generous first deposit bonus offer for which new players are eligible. But regulars also get special offers, which include not just deposit bonuses but other perks.
Some sites will even go the extra mile and offer players a no-deposit bonus. When picking a poker site in NJ, it's always worth checking out these offers. Of course, regular players have got it covered with loyalty programs.
If you want to know more about the deposit bonus offer, we recommend you check out our online poker sites reviews here at PokerNews. Our team offers knowledgeable online players, who are able to provide you with the best content with spot-on reviews for NJ top online poker rooms.
Deposit options available include:
credit cards
debit cards (such as Visa and MasterCard)
e-wallets (such as PayPal and Skrill)
bank transfers
and lots more.
In most cases, withdrawals must be requested using the same method as the original deposit. In order to withdraw the winnings from a match bonus, you first need to roll and use your poker bonuses a specific number of times.
Safety and Fairness
As it's always the case when it comes to internet gaming, it's only natural for players to have questions about safety and fairness. After all, registration requires you to submit personal and sensitive information in order to prevent money laundering, while the game itself, even when playing for fun, will have money involved one way or another.
Well, you can rest at ease knowing that NJ online poker is thoroughly regulated to ensure that the sites are up to date in regards to safety and that the competition is fair.
The New Jersey Division of Gaming Enforcement runs tests to make sure that each game's Random Number Generator works the way it should. Any attempts to rig the system will be detected instantly, which also prevents potential cheaters from finding exploits.
All the rooms on this list use the latest TLS encryption technology and have accurate RNG. In case you want to see it by yourself, it's also possible to search the site's DGE-issued internet gaming permit.
A Brief History of Online Poker in NJ
A first online gambling bill was voted in 2011, but New Jersey Governor Chris Christie vetoed it. Christie saw some legal issues regarding the possibility of offering online gambling elsewhere outside Atlantic City, as well as concerns over a potential gambling problem.
It took another year for a second bill. It passed the New Jersey Legislature in December 2012, and was finally signed into law in February 2013. After that, online gambling in NJ went live on November 21 that same year. After a five-day trial period, real money, regulated online gambling finally went live on November 26. WSOP.com NJ, 888 Poker NJ, Borgata, Ultimate Poker and Betfair were the first ones.
While some of these sites have ceased operations, some of them still remain and do enjoy plenty of popularity. Other sites have also joined the scene, which offers many options for players in New Jersey.
Initially, New Jersey had a fairly small pool of online poker players. While it was significantly larger compared to Nevada and Delaware, it still had some limitations. In 2017, Governor Chris Christie signed the Multi-State Internet Gaming Agreement, which allowed the four states to share player pools.
New Jersey Online Poker and Atlantic City Casinos
As part of the New Jersey gambling legislation, the state's online poker networks are required to establish a partnership with an Atlantic City brick-and-mortar casino.
The 888 Holdings network, which consists of WSOP.com and 888 Poker, partners with Harrah's Casino, which is part of Caesars Entertainment.
Borgata Hotel, Spa and Casino partners the three websites from its own network - Borgata Poker, PartyPoker and BetMGM, as well as the independent Pala Poker. Meanwhile, Pokerstars has Resorts Casino as its land-based partner.
New Jersey Online Poker Market
Online poker in the U.S. has seen a surge in popularity, and this is especially true for the NJ online poker market. After struggling to gain traction following the 2013 law, revenue fluctuated and never really managed to hit significant numbers.
However, this has changed in 2020. The New Jersey part of the industry set a new record for the highest revenue in March, with a reported $3.6 million according to the state's DGE.
It surpassed the previous mark of $3.4 million, which had been established during the early days of gambling in NJ, back in January 2014.
The market doubled its revenue from February to March 2020, which has led to claims to legalize the game nationwide. As more and more people get into online gaming, expect these statistics to grow even more.
New Jersey Online Poker FAQ
Now let's take a look at some of the frequently asked questions about online poker in the Garden State. With so many different options, and many new players coming in, it's only natural for these questions to pop up. This is especially true for newcomers, so we recommend that you check this session first before getting started.
Is online poker legal in NJ?

If you are at least 21 and find yourself within the Garden State borders, the answer is yes. You can create a poker account and play real money online poker in New Jersey.

All the licensed operators rely on geolocation software to determine where the player is. Because of this, players outside the state aren't allowed to play at NJ poker sites — and no, a VPN will not help you fake your location.

Some websites also share the player pool with the states of Nevada and Delaware. These gambling operators give you the chance to test your skills against a wider range of players.

A wider players' pool not only increases the fun factor but also leads to much larger prize pools - especially during guaranteed scheduled poker tournaments.
Can I play online poker and online casino in New Jersey?

If you are at least 21 years and find yourself in New Jersey, then yes, you can play both online casino games and online poker for fun and for real money.

In fact, almost all the poker rooms licensed in New Jersey offer also online casino games and sports betting. After making your account, you can use the same logins and wallet it to play both and enjoy the best of both worlds.
Can I play online poker for fun in New Jersey?

In case you aren't looking for real money poker in NJ, you can also join a poker room to play for fun.

Even if you don't want to play for cash, you still need to register an account, meaning you still need to be in New Jersey and be 21 or older.

All the New Jersey online poker rooms do offer free tournaments (i,e poker freerolls), which are always a good pick if you just want to have fun without worrying too much about having to play money and the potential winnings and losses.
Can I play the championship of online poker in New Jersey?

All online poker sites in New Jersey offer tournaments, which includes free play events and tournament series as well. Some free online tournaments do pay real money. You can also play for fun.

For the most part, a championship of online poker will require a buy-in for tournament tickets. But all seven sites in NJ offer these events, so it's up to the user to decide their favorite one.
When was online poker legalized in New Jersey?

Here is a brief poker timeline for Garden State.

The New Jersey bill for online gambling was finally signed into law in February 2013. However, it took another nine months until November 2013, when the first online casino sites and online poker rooms to go online.

On November 21 2013, the first gaming websites went live for a five-day testing period. Then, on November 26 2013, online gaming became official.

Since then, anyone who is 21 or older and is within the Garden State lines is allowed to create an account and play.
What is the best online poker site in New Jersey?

If you want to play online poker in NJ, there are seven different websites available to pick from. These are run by four different poker networks.

WSOP.com NJ and 888 are both part of the 888 Holdings Network, and share the same player pools with the Nevada and Delaware websites while using the World Series of Poker client for the game.

WSOP NJ has a great number of bracelet events from its tournament series with a generous prize pool.

Borgata, PartyPoker and BetMGM are all part of the Atlantic City's Borgata resorts casino hotel network, and use the Party Poker software to run the game.

PokerStars is also legal in New Jersey, and is naturally a very popular choice.

Pala Poker is the most recent addition to the party. While it does have a partnership with Borgata, it runs as a standalone operation.
What are the best online poker games available in New Jersey?

One of the best things about New Jersey poker sites is the amount of games on offer. Popular game formats such as Texas Hold'em, Omaha, 6-max, 5-max and seven-card stud are available at most websites, but you can also check out some other unique variations such as the fast-paced Spin & Go sit-and-go tournaments.

Some other sites have poker rooms with fast variants, which are also worth checking out in case you just want to sit down for a quick playing session. These faster variations are just as fun as all the others, and definitely worth a try in case you haven't done so already.

If you are looking for even more options, sit & go and cash games are also available at all websites.
Do New Jersey online poker sites offer deposit bonuses?

Yes, you will find a very good first deposit bonus offer at all the NJ online sites. We suggest you check out the reviews written by the PokerNews team to find out about the best deposit bonus for New Jersey online poker.

From deposit match bonus to bonus money and loyalty programs, there is plenty to choose from.
Which deposit and withdrawal methods do NJ online poker websites offer?

New Jersey online poker sites offer a wide range of deposit methods and banking options.

While credit cards and debit cards are the most common and popular choices, there are other options available. Virtual wallets such as Paypal and Skrill are also fairly popular.

Users can also deposit with bank transfers. Withdrawals must be requested using the same payment methods as the original deposit.
Is online poker in New Jersey safe?

Playing poker online in NJ is safe as long as you keep it to the regulated online poker operators with a valid gaming license from the Division of Gaming Enforcement.

This will ensure that the website follows all the strict guidelines in regard to internet safety, which includes running the latest data encryption technology to protect the users' personal and sensitive information such as an ID card or the social security number.

It's also worth mentioning that the New Jersey legislation has a requirement in place for websites to partner a land-based Atlantic City casino.

In other words, to put it simply, all the online sites that are legal in NJ are extremely safe, so you don't have to worry about it.
What software do I need to play online poker in NJ?

Each NJ website will require you to download online poker software in order to play.

WSOP NJ and 888 run on the same game engine, developed by WSOP, although with specific skins and different branding for each site. Borgata, PartyPoker and BetMGM, which are all part of the Borgata network, use the game engine developed by Party Poker.

PokerStars New Jersey uses the brand's well-known game engine, while Pala uses its own poker client. Head to the download section and install the desktop software.
Can you play PokerStars in NJ?

Yes, you can play Pokerstars in New Jersey. It's one of the seven sites licensed by the state's DGE.
Can I play mobile online poker in New Jersey?

The sites authorized to offer online games in NJ also offer their own mobile poker apps if you choose to play poker on Android or iPhone. The app download link is available either in the homepage or in the download section.

After downloading, install and you can start playing the poker apps on your mobile device.
How much money does the online poker market generate in New Jersey?

While it struggled to hit good numbers for the most part of the last seven years, the market saw a poker boom and set a new record revenue in March 2020 with $3.6 million.

The previous record had been set all the way back in January 2014, only the second full month of operations, with a revenue of $3.4 million.