Gaming Commissions Speak: Michael Ellen of the AGCC & Murray Marshall of the KGC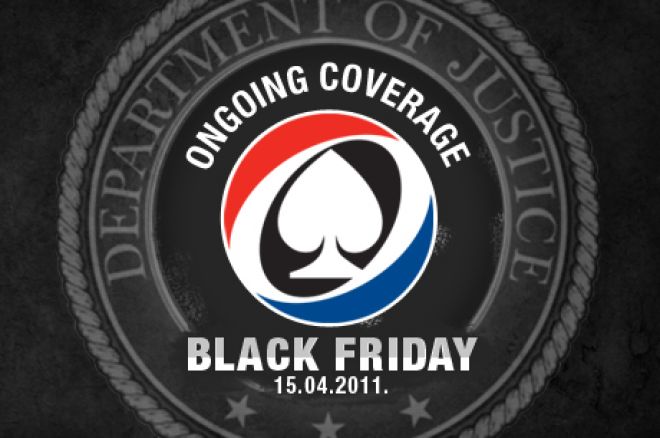 Recently, PokerNews' Editor-in-Chief, Matthew Parvis, wrote a blog post titled "We've Got Some Questions." In it, he called out some of the sites and gaming commissions associated with online poker's Black Friday.
In the blog he wrote, "I have sent formal emails to PokerStars, Full Tilt Poker and UB/AP requesting a minimum 30 minute voice-to-voice interview to include a mixture of questions from my staff and I, as well as reader questions. We've also requested interviews with the Kahnawake Gaming Commission, and the Alderney Gambling Control Commission to see where they stand on what is currently happening with player funds in limbo."
Making leeway to get answers has been an uphill battle, but Parvis was recently able to interview Michael Ellen by phone. Ellen is director of licensing and strategy for the Alderney Gambling Control Commission (AGCC), which licenses Full Tilt Poker. Shown below is a transcript of that interview; however, we note that a condition of the interview was that no questions could be asked about any of the specific licensees. This obviously handicapped the line of questioning.
What does your position consist of?
There are three executives in the commission. We report to a nonexecutive board, in effect, of commission executive decisions, and we three operate the agency between us. My sector is licensing, which is the provision of deal licenses, management of players' complaints, and the development of jurisdiction strategy.
How long has the AGCC been in business?
Ten years. We enjoyed our ten-year anniversary just at the end of last year.
Aside from Full Tilt Poker, can you give us an idea of some of your other licensees?
Sure, we have, as we speak, 60 licensees, and they cover the full range of sports book, casino, poker, and bingo operations. Some big ones, like Sky, Full Tilt, and Sporting Bet, to much smaller ones. We have two categories of license: we license operators who face players and we license platforms, who work on a business-to-business basis. We certify software providers, core software providers, and we certify the individuals involved in each of those three sectors.
With a site that offers gaming to players, what is the process that a site has to go through to get licensed?
Three steps, in short summary: feasibility, which is a standard product I don't think we do much different to many other regulators and many other businesses in fact. Feasibility is a question of who are the sponsors, what are the sources of money, what are the requirements of money, and what is the background experience, what is the business plan? Those considerations, including specifically ultimate beneficial ownership, which you would see commonly in pretty well any gambling regulation.
The second step is game service, which involves the applicant describing the proposition, the electronic gambling proposition, in some detail, us interacting with that description and sending it out to one of the better known test labs for testing to demonstrate that it does what it says it does. Again, that's a fairly standard product, but not one that everyone pursues. We pursue, to some extent more than many jurisdictions, in following the change as they come after the original application, so we have a change-control process that goes with the initial approval.
The third one is 'control procedures,' adequate controls. Our licensees describe to us, in our terms, how they will run that business, what the risks are and how they'll manage those risks. We compare that description with guidelines that we've published, you'll find them on the website, and make sure that we're satisfied with the test exercise, and that there's adequate control. Then we'll get up and inspect on an annual or frequent basis, wherever the licensee may be in fact located, we'll turn up there and make sure that they do what they say they do.
In regard to poker sites or poker licensees, does the commission have rules and standards about how player funds are held by said sites, and whether they are held in segregated bank accounts?
We've got an overarching requirement that the licensee is adequately capitalized or secured to meet liabilities as they fall due or to have a reasonable prospect of meeting them as they fall due. That turns up in the sector of three-credential ratios, which run pretty much like an acid ratio if you're an accountant. That's the background if you'd like to the second piece, which is that the licensee describes to the player, clearly, whether or not funds are segregated and protected, segregated, or commingled, so that the player is put on notice of that risk position.
So, the AGCC itself, at no time, guarantees players' funds for their licensees?
Certainly not.
If a site was unable to pay out players, how does that affect their license with the AGCC?
Pretty immediately, I'm sorry for the hypothetical question, I have never seen it, but under the regulations that would be an identity fault and the license would be suspended. [That's] my guess, I don't know, as I've said earlier, I don't make decisions, the commission makes decisions, but that is the recommendation that I would make.
Hypothetically, how long would the AGCC wait to take action on something like that if they felt one of their licensees was not meeting player requirements in terms of cash-outs?
Our actions on sanctions speak louder than words, we move very quickly. So when we're aware of an identity fault we deal with it in real time.
If a site was found guilty by any sort of governmental agency, such as the Department of Justice in the U.S., what actions would the AGCC have on the licensee?
All of our licensees are aware in theory and in practice that with sanctions placed against them elsewhere, [they] must be communicated to us immediately and [they] are likely to affect their ongoing feasibility of holding a license.
In regard to Full Tilt Poker, Ellen said: "You've seen that we put out a public statement as soon as we were reasonably sure of the basis for that statement, and we will continue in that practice as and when we think it's appropriate. As you've said before we started this, we're aware of the damage silence does, but we also have a regulatory position to maintain."
PokerNews also got in touch with the KGC in regard to UB and Absolute Poker — two companies it licenses. While we weren't able to secure a formal interview, we did receive the following response from Murray Marshall, general counsel for the KGC.
"The Commission prefers to respond to media inquiries in writing. Accordingly, please see responses to your questions below."
What is the KGC's stance on the AP/UB indictments and the issue of returning player funds?
"The KGC is in close communication with key representatives of Absolute Poker and Ultimate Bet with a focus on finding solutions that will have funds returned to players, both within and outside the US, as quickly as possible. The recent actions taken by US authorities have created a complex factual and legal situation that will require some time to resolve. We note that Absolute Poker recently (May 10) announced that it had signed an agreement with the U.S. Department of Justice which is intended to facilitate the return of funds to US players."
Will the KGC continue to license AP/UB?
"Presently, the licenses held by the entities operating as Absolute Poker and Ultimate Bet are in full force and effect."
Are player funds safe/guaranteed by the KGC?
"As is the case with any other regulatory body in the world, the KGC does not guarantee or underwrite the player funds that its licensees hold. The KGC does conduct regular audits of each of its licensees' operations which includes a review of key operational, administrative and financial functions.
We are advised that the actions taken by U.S. authorities have had a significant impact on all aspects of Absolute Poker's operations and its ability to access and process player funds. As indicated above, we are working closely with those involved to find a solution as quickly as possible."
Does the KGC have any members who are also directly tied to UB/AP?
"No."
While the answers provided by the respective gaming commissions may not have provided the hard answers players are looking for, it was the first information released outside of the standard press releases. PokerNews will be sure to bring you the latest news regarding the AGCC and KGC while continuing to press for answers.
Get all of the latest poker developments delivered straight to your social media. Be sure to follow us on Twitter and like us on Facebook.