Black Friday Still Lingering on a Gray Sunday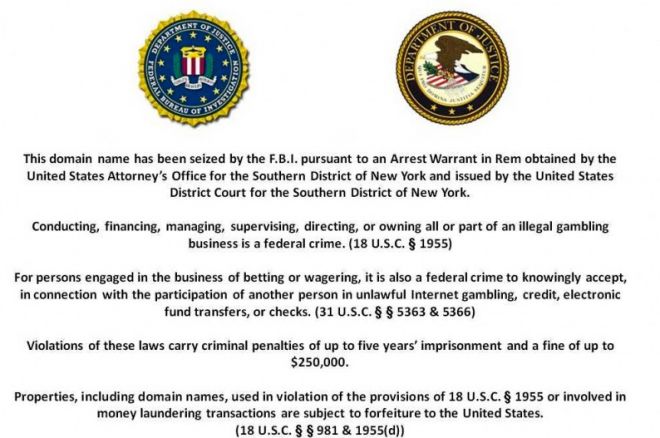 It was just six short weeks ago that the PokerStars Sunday Million celebrated its fifth anniversary with a tournament for the online ages. An astonishing 59,128 players put up the $215 buy-in — the most players the event has ever seen — with $1 million and a shiny new Lambo guaranteed to the winner. Meanwhile, players on Full Tilt Poker were embroiled in Double Guarantee week, and Multi-Entry madness upped the stakes at every stakes.
After a tapering-off period, the recent trend of online poker has been a bullish one, but the two largest entities of virtual poker had more far-reaching goals in the real world, too. Within the last month, both PokerStars and Full Tilt Poker announced forward-thinking partnerships with land-based casinos, and the NAPT and Onyx Cup were on the tips of everyone's tongues.
Things have changed a bit since Friday.
PokerStars, Full Tilt Poker, and UB have been indicted by the U.S. Department of Justice. PokerStars, and Full Tilt Poker have closed their doors to players from the U.S. pending the hearings of, and eventual settlements from (or trials of) their chief founders. It's the final culmination of the federally mandated cutting of ties between the three sites and their American players. On Friday morning, the U.S. Department of Justice seized the dot-com domain names of the three poker sites and dished out indictments on 11 officers and merchants. That's where the story essentially ends for now, with the ultimate fate of the sites to be determined only after the legal process is allowed to run its course.
The weekend fallout came quickly as PokerStars almost immediately closed its online client to U.S. players. Full Tilt followed suit a couple of hours later. All three sites have since moved to European domains. Advertising and affiliate banners have vanished on feeder sites, and the land-based casinos have declared their contracts with the online companies null.
Despite the legal disturbances, the sites claim it's "business as usual" outside of the U.S. Still, cutting a few tens of millions of players out of the pool can't be good for your bottom line if you're trying to run a profitable poker site. The continuing aftereffects of Friday's indictments were borne out in plain sight again on Sunday as the online majors showed significantly reduced fields, reduced guarantees, and smaller prize pools across the board. Here's how some of the largest tournament fared between the two largest sites in comparison to the pre-Friday tumble.
| Tournament | Buy-in | Guarantee (Last Week) | Entrants (Last Week) | Prize Pool (Last Week) |
| --- | --- | --- | --- | --- |
| PokerStars Sunday Million | $200+$15 | $1 Million ($1.5 Million) | 6,475 (8,273) | $1,295,000 ($1,654,600) |
| PokerStars Sunday Warm-Up | $200+$15 | $500,000 ($750,000) | 3,737 (4,634) | $747,400 ($926,800) |
| PokerStars Sunday 500 | $500+$30 | $250,000 ($500,000) | 623 (962) | $311,500 ($500,000) |
| PokerStars Sunday 2nd Chance | $200+$15 | $125,000 ($250,000) | 749 (1,395) | $149,800 ($279,000) |
| PokerStars 109+R | $100+$9 | $200,000 ($300,000) | 848 (1,152) | $291,700 ($413,500) |
| Full Tilt $1.5 Million Guarantee (FTOPS Event 1) | $200+$16 | $1 Million ($1.5 Million) | 6,953 (9,612) | $1,390,600 ($1,922,400) |
| Full TIlt Sunday Brawl | $240+$16 | $250,000 ($500,000) | 1,703 (2,676) | $408,720 ($535,200) |
| Full Tilt Sunday Mulligan | $200+$16 | $50,000 ($200,000) | 340 (1,001) | $68,000 ($200,200) |
| Full Tilt $200,000 Guarantee (Rebuy) | $150+13 | $125,000 ($200,000) | 308 (529) | $154,800 ($256,050) |
| TOTALS | — | $3.5 Million ($6.7 Million) | 21,736 (30,204) | $4,426,920 ($6,687,750) |
It's not hard to spot the decrease with such a significant chunk of the player pool absent. Full Tilt and PokerStars saw an average of about a 30% reduction in the numbers for their headline tournaments. On Saturday, Poker Scout reported that traffic on PokerStars was down 18% since the same time last week; UB and AbsolutePoker were down 20%, while Full Tilt was hit even harder. A full 40% of Full Tilt's traffic was driven from the site in the days following the indictment of Tiltware CEO Ray Bitar. Over the weekend, he issued a statement to the players via a pop-up message that expressed his surprise and disappointment at the Department of Justice bringing these charges. He indicated confidence in his exoneration. Ironically, in a 2005 interview Ray Bitar did with PokerNews' former Editor-in-Chief John Caldwell, Bitar was, at the time, positive about the direction of legislation and regulation in the political climate of the time. "Our leaders are concerned with other things," he said. "I have a very positive outlook, but I think it will take time."
With their job now taken away from them, thousands of America's young professional poker players are trying to figure out the next step. Twitter has been abuzz for the past three days with players contemplating everything from retiring on the islands to moving to Canada to jokes about trying to collect unemployment checks. It will be a while before this all shakes out.
In the middle of the Full Tilt Poker release, Bitar was quoted as saying, "Full Tilt Poker remains as committed as ever to preserving the rights of those players to play the game they love online."
Committed or not, the legal hurdles of the regulation of online gambling in the U.S. are daunting, and the time to address them has come. Until then, it will be interesting to see whether the traffic numbers and guarantees will continue to be lower because of the vast share of the market that has been eliminated.
PokerNews is covering these events closely and will continuously be updating with any new information. To stay on the pulse, follow us on Twitter and like us on Facebook.