Inside Gaming: Things Looking Up for 888, Bwin.Party, Wynn, and William Hill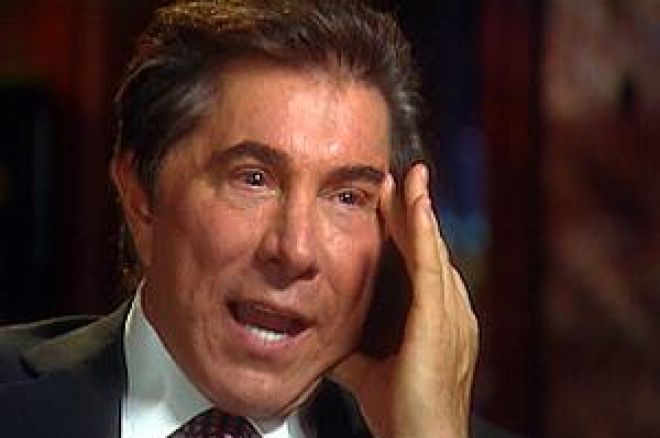 In a week when more people than ever before in the U.S. have read about gaming business news, Inside Gaming let the rest of the PokerNews crew do the heavy lifting. But while the community is scouring the net for new info about Black Friday, the gaming world kept turning and there were plenty of other stories to report. 888 and Ladbrokes dropped discussions of a merger, but their shares, along with other European gaming outlets, soared in the wake of bad news for PokerStars, Full Tilt Poker, and UB. Wynn shares also reached a 52-week high, and the folks across the pond continued to have a good week as William Hill announced the purchase of two U.S. sports books.
Shakeup at 888 as Black Friday News Raises 888 and Bwin.Party Stocks
Friday's news was devastating for many online poker players and for those involved with the three major Internet poker sites indicted by the U.S. Department of Justice. But for the other online poker sites out there, Black Friday meant they got a second chance to become one of the world's top three. Bwin.party digital entertainment Plc, the company formed formed from the March merger between bwin and Party, jumped 30 percent, its largest increase since Party's IPO in 2005.
Nick Batram, an analyst at Peel Hunt, told Bloomberg that Friday's charges could help other sites regain European customers since PokerStars and Full Tilt used profits from their U.S. operations "to buy market share in Europe." Other analysts said that European governments who had licensed PokerStars and Full Tilt may reconsider their approval in light of U.S. charges and that the DOJ mess will likely keep those sites from reaching agreements to operate in new markets.
Batram also said "there are millions of U.S. residents who play poker online and, whether PokerStars and Full Tilt are shut down or not, they will continue to find a way to continue playing."
888 Holdings Plc also gained 19 percent. Playtech Ltd. rose 7.5 percent, and Sportingbet Plc gained 4.7 percent.
888's sizable increase helped to offset concern over the announcement last week that its CEO, Gigi Levy, will be resigning "to pursue other interests." The proposed merger between Ladbrokes and 888 also fell apart last week.
Read more about those developments in the Financial Times.
Wynn Stock Reaches Yearly High; Nonbreaking News: Steve Wynn Makes a Lot of Money
Wynn Resorts Ltd. stocks also had an excellent week despite the online-poker shake up. The company announced that it was terminating its two-week-old partnership with PokerStars, but that didn't seem to bother investors. Wynn stock hit a 52-week high on Friday, reaching $140.37 a share before falling slightly to $128.46 by the end of the day. The high point is an increase of $68.40 a share from its yearly low of $71 a share. Check out the numbers for yourself at the Las Vegas Review Journal.
A strong 2010 earned chairman and CEO Steve Wynn more than $14.6 million in compensation for 2010. The company's recent SEC filing showed that Wynn got a raise of $6.2 million over his 2009 earnings. Wynn's base salary for 2010 was $2.95 million. He took home a bonus of $3.22 million and earned $6.9 million in non-equity compensation. The filing reported another $1.54 million in other compensations, including use of the corporate jet, a villa at the Wynn, and medical and life insurance. The total $14.6 million does not include stock options. Apparently, Wynn thinks he's doing a good job, because he raised his base salary to $4 million for 2011.
Read more about how much money Steve has to cry into over the death of his PokerStars deal on VegasINC.com.
William Hill Moves into American Sports Wagering Market
There are 72 Leroy's sportsbooks and betting kiosks in Nevada. Soon they'll ship a chunk of their tax revenue overseas just like online poker has for so long. London-based gaming company William Hill Plc is buying Leroy's owner, American Wagering Inc., for close to $18 million. William Hill is also buying Club Cal Neva's Satellite Race and Sportsbook Division for $21 million. William Hill already operates about 25 percent of the sports wagering market in the U.K. and owns 71 percent of William Hill Online.
The company had been looking to expand to Australia or the U.S. for some time. CEO Ralph Topping said, "We've grown our land-based business over the last six to seven years. We've grown our online business into the top two or three in Europe. As part of our strategic thinking over the last three years we've been looking for [foreign] acquisitions."
American Wagering's senior vice president, John English, framed his company's acquisition by William Hill as more of a partnership than a buy-out. "Once all of this is approved, the partnership will give us more marketing power to grow our operations overseas," he said.
Read more about the takeover, and about Leroy's smartphone application campaign, in the Las Vegas Review-Journal.
Remember to follow us on Twitter for up-to-the-minute news.
*Photo courtesy of ABCNewsstore.go.com