The Nightly Turbo: Wynn Talks PokerStars, McMaster Sentenced, and More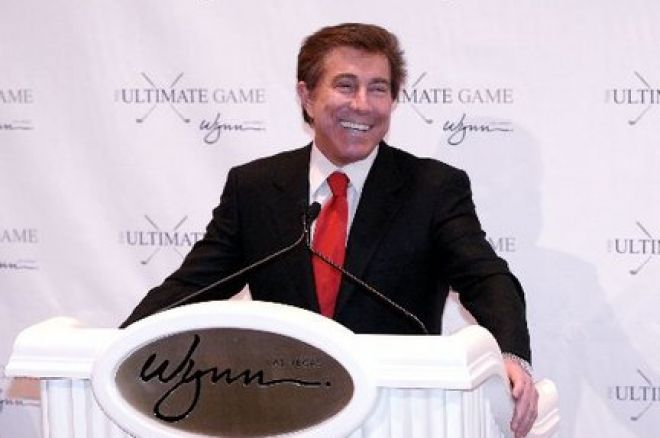 Some of you are fired up about baseball season and the Red Sox starting 0-6. We're fired up that we're one day away from the weekend, and with that, we're going to bring you the top poker news stories of the day and go get our online grind on - until the American Idol results show that is. Steve Wynn has opened up about his decision to partner with PokerStars. We'll bring you the Forbes story, Samuel McMaster's sentencing, and more in this edition of the Nightly Turbo.
In Case You Missed It
When you're in a hand with three players and one is all-in and a side pot is created, there's always the "To bet or not to bet" dilemma.In our latest strategy article, Howard Lederer sheds some light on navigating side pots.
The PokerStars.net North American Poker Tour is headed to Connecticut this weekend (and so is the PokerNews Team).If you're going to be joining them, check out Around the World with Lynn for some highlights from the Mohegan Sun property.
Last month, the Poker Players Alliance lobbied the Washington legislature regarding online poker legislation. In the end, the PPA left the state very optimistically.
Recently, Maria "Maridu" Mayrinck parted ways with her long-time sponsor, PokerStars. We sat down with her to discuss her departure, Brazilian poker, and what she's working on for the future.
*Above photo courtesy of NJ.com.
Wynn(ing) on PokerStars
If we were to tell you that PokerStars and Wynn Resorts formed a strategic alliance, we'd be rehashing the news from last month. Instead, we're going to give you a glimpse into Steve Wynn's mind (thanks to Forbes of course) and why he changed his mind regarding online poker legislation.
When asked why Wynn changed his mind, he said, "Last year [Nevada Senator] Harry Reid called me and said, "Steve, there are millions of people playing poker, and it's as American as apple pie. I want my office to look into this and see if we can regulate it." Harry and I have been friends for 40-odd years, we ran marathons together. . . . And I got contacted by the people at PokerStars [based in the Isle of Man], who asked, "Why are you not interested in this? Take a minute and learn the truth about this." That began my exposure to that company and that business and what they do, and I have to tell you I was shocked."
In the interview, Wynn went on to discuss why Isai Scheinberg, founder of PokerStars, wanted to strike this alliance with him and how his misconceptions about online poker changed after some research.
Head on over to Forbes.com for the entire interview.
McMaster Gets Sentenced
Last year, we first brought you the story of Samuel McMaster, a con man who padded his bankroll with $450,000 — money hehad gotten from clients after promising to invest the money in CDs and promissory notes.
In lieu of an immediate prison sentence, he promised the victims he would pay them back by winning the money by playing poker. Let's just say he didn't come close to making back the money in the allotted time frame. On Wednesday, he was sentenced to 12 years in prison.
"This was long overdue," Superintendent of the New Mexico Regulation and Licensing Department J. Dee Dennis Jr. said. "This individual wanted to con us into believing that keeping him out of prison would help his victims get their money back."
Nothing Mini About the Guarantee
The buy-ins for the MiniFTOPS may not be as high as those of its big sister, but there's nothing mini about the guaranteed prize pool that's being offered. MiniFTOPS XX is boasting $12.5 million in guaranteed prize money, but most of you just want the silver jersey right?
The 45-event series kicks off May 8 and runs through May 22, ending with the $3 million guaranteed MiniFTOPS Main Event. There are 17 Multi-Entry tournaments on the docket which, if the entry numbers in the FTOPS are any indication, will boost the prize pools significantly.
Satellites for MiniFTOPS seats begin April 25, but if you sign up for a Full Tilt Poker account now, you'll be eligible for the PokerNews Skills Challenge freerolls.
German Tax Propsal Might Not BWinning
Amid news of Germany changing its regulations on gambling taxation, Bwin.party's stock slid on Wednesday by 16 percent. Much the same happened on Thursday when the stock fell another 14.2 percent.
At the moment, the online gaming market in Germany is unregulated and Bwin.party, along with other online gaming sites, don't pay tax in Germany. The new taxation model would pose a 16 percent tax on sports-betting turnover. Taxing the turnover means that the bookmaker would be taxed on the total amount of money wagered, including the customer's winnings.
According to the Wall Street Journal, a spokesperson for Bwin.party said that the company doesn't believe the German tax models are in compliance with EU law and said it wouldn't be able to "provide a competitive product if it is charged 16 percent tax on turnover."
To find out more, check out the article at WSJ.com.
Word Association Time
We love word association videos because people sometimes say the weirdest things. Laura Cornelius caught up with Annette Obrestad and Scott Montgomery at the PokerStars European Poker Tour Berlin to find out what's on their minds.
We can't think of any reason why you aren't following PokerNews on Twitter. So why don't you remedy this by clicking this to follow us.
Just a minimum $20 deposit is required to play in the eight Bodog $100k Guarantee Satellites we're running. There are 80 tickets worth $162 each up for grabs!.