The Nightly Turbo: Erik Seidel Tops All-Time Money List, MiniFTOPS Begins, and More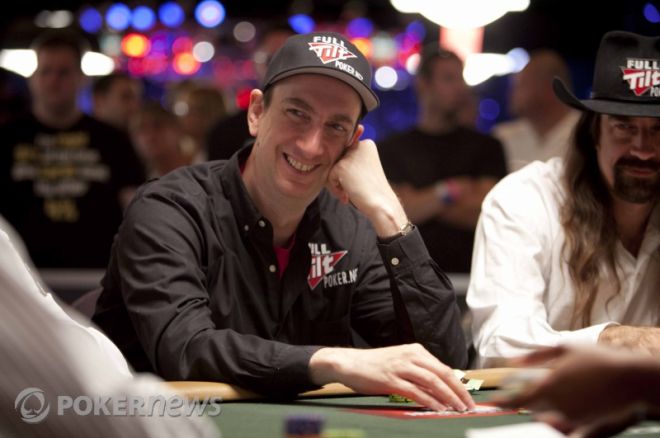 If you think Charlie Sheen is winning, maybe you should take a look at Erik Seidel. He's the one who's really winning. We'll tell you about his latest win, the MiniFTOPS that just began, and more in this edition of the Nightly Turbo.
In Case You Missed It
Day 1b of The Big Event kicked off Sunday at The Bicycle Casino in Commerce, California. The 154 players from Sunday's flight brought the number of entrants to 417. Want to find out who made it through the day with the biggest stack? You'll have to check out The Big Event recap.
Because Sunday was the fifth anniversary of the PokerStars Sunday Million, we decided to talk to Jordan Young about big buy-in online multi-table tournament strategy. Want to know more? The Sunday Grind has the scoop.
The NBC National Heads-Up Championship crowned a winner Sunday night. Rather than spoil it for you here, you'll have to read the recap to find out who won. (Hint: He's had a stellar year so far.)
Last Sunday was not like any other Sunday on the virtual felt. There was a $1 million first-place prize and a Lamborghini up for grabs in the fifth anniversary of the PokerStars Sunday Million, and Full Tilt Poker doubled its $750,000 Guarantee tournament creating a prize pool of $1.5 million guaranteed. The Sunday Briefing has the results of the players who added a significant chunk of change to their bankrolls.
FSN's coverage of the World Poker Tour continued Sunday night with the Legends of Poker. If you didn't get a chance to watch it, you can always catch up on the action with our WPT recap.
The second episode of season seven of High Stakes Poker aired Saturday night on GSN. The biggest pot of the season occurred between Barry Greenstein and Antonio Esfandiari. To learn who came out on the winning end of the $600,000 pot, check out our recap of High Stakes Poker.
What's it Like to be Erik Seidel?
We often contemplate the answer to this question, but we'll never really know it. Over the weekend, Erik Seidel added another accomplishment to his already spectacular year; he won the NBC National Heads-Up Poker Championship. He banked $750,000 for the win, bringing his 2011 total tournament earnings to over $4 million - yes, that's just 2011.
And as you may have guessed, that is, if you didn't already know, he has surpassed Daniel Negreanu on the All-Time Money List. Seidel now sits just $581,105 above Negreanu on the list. Even with a win in The Big Event, Negreanu can't take that title from Seidel - at least for now.
Check out the All-Time Money List on Hendon Mob.
Make Space for a Silver Jersey
MiniFTOPS XIX is under way and we're thinking that a silver MiniFTOPS jersey would look nice hanging in your closet. (You're probably thinking the same thing.) There are plenty of opportunities for you to get one, and if you're not interested in the jersey the $8 million in guarantees might get you going.
MiniFTOPS XIX tournaments are running daily through March 20, and there are plenty of variants of poker for you to choose from, if you're expanding your game selection. Everything from no-limit hold'em to Badugi is on the docket including Rush Poker and the newly popular multi-entry tournaments.
Satellites are running now for as little as $.50, but you're going to need a Full Tilt Poker account to get in on the action.
Online Poker Headed to the Races?
Two bills have been introduced in Florida that could see online poker at racetracks there this summer. These two pieces of legislation have been filed as a way to help the state overcome its $3.5 billion budget deficit. State Representative Joseph Abruzzo, a sponsor of the bills said that a study found that 900,000 Floridians play poker online, and a third of them play for money. According to a Senate committee report in February, an estimated $37 million of net revenue could be collected by the third year of regulated poker.
The bills aren't without skeptics. "As to the sense of the Legislature, I think those who are dead set against it outnumber those who are dead set for it," Representative Matt Caldwell said. "However, I think the majority are generally ambivalent like me."
If you want to find out more, check out News-Press.com.
Welcome to The Big Event
The Big Event kicked off Saturday at the Commerce Casino, and the PokerNews Team is there bringing you all the updates. Last time the PokerNews Team was in Los Angeles, Kristy Arnett gave you a tour of Hollywood. This time, she's taking you to Little Tokyo.
Like us on Facebook, and follow us on Twitter for up-to-the-minute news.
Prove your skills and play for $55,000 of added money league games in our weekly PokerNews Skills Challenge on Full Tilt Poker.