World Poker Tour on FSN: Legends of Poker — Part II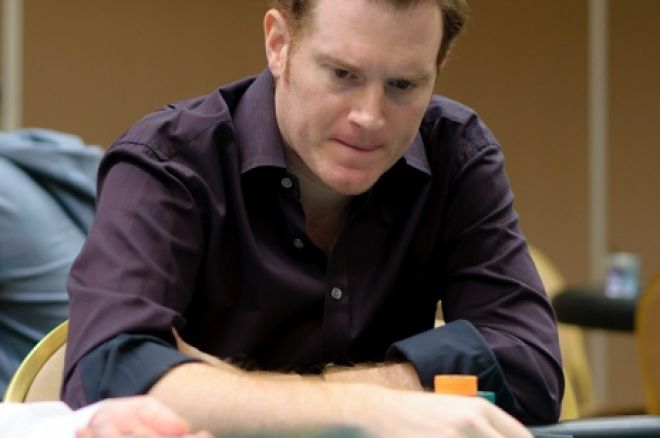 On Sunday night, the ninth season of the World Poker Tour continued with Part II of the Legends of Poker from the Bicycle Casino in Los Angeles. The first installment was aired last week and saw the Franco Brunetti eliminated in sixth place followed by Jared Jaffe in fifth. In case you missed it, you can always check out last week's PokerNews recap. Here is a look at the four remaining players and their chip counts:
Final Table
Seat 1: -empty-
Seat 2: Kyle Wilson (4,475,000)
Seat 3: Tom Lee (4,400,000)
Seat 4: -empty-
Seat 5: Andy Frankenberger (1,990,000)
Seat 6: Tom Braband (1,095,000)
Pocket Rockets for Lee: Action resumed with the blinds at 25,000/50,000 with a 5,000 ante and on the first hand back action folded to Kyle Wilson in the small blind. He looked down at
and decided to raise to 125,000. Tom Lee, who was in the big blind, picked up the granddaddy of all hands
and opted to play it slow with just a call. Wilson proceeded to check the
flop, opening the door for Lee to bet 300,000. Wilson called and watched as the dealer burned and turned the
. Once again, Wilson checked, prompting Lee to fire out 700,000. Wilson didn't take long to fold as he asked, "What do you have to be betting so big?" Lee didn't say as he stacked his newly won chips. Coincidentally, he became the new chip leader.
Who is Frankenberger?: After winning a 1,315,000 pot off Kyle Wilson, an interview with Andy Frankenberger, a former equity derivatives trader who graduated from Duke with a double major in economics and Russian, was shown: "Day One was pretty slow for me. I had Joe Hachem sitting to my immediate left, and, you know, seeing a guy like that on your left, you're gonna sort of watch what you do. I also know I don't wanna do anything stupid because he'll take advantage of it."
"Show Me a Bluff": Andy Frankenberger limped on the button with
and was followed by Tom Braband, who held
in the small blind. Kyle Wilson checked his
in the big blind and three players watched the flop fall
. Action checked to Frankenberger and he bet 150,000 with his flush draw, which only Wilson called. The
turn gave Frankenberger the flush and once again action checked to him. He opted to play fast and bet 500,000, which was more than the pot.
After Wilson made the call, the
peeled off on the river. Wilson, who had hit two pair, checked and Frankenberger moved all in for his last 1,560,000. Wilson asked for a count, stared down his opponent, and eventually folded. "Show me a bluff and I'll give you $100," Wilson offered. Needless to say, Frankenberger, who was busy stacking the 3,330,000 pot, did not show.
Braband Busted: After Kyle Wilson had raised to 140,000 with
, Tom Braband moved all in from the big blind for 810,000 more. Wilson called and Braband showed
for a classic race. Wilson was out in front and stayed there as the board ran out
. Braband was eliminated from the Legends of Poker in fourth place for $109,000.
Wonder Cam: Three-handed, Tom Lee raised to 250,000 with
only to run into Kyle Wilson's
in the big blind. Wilson made it 650,000 to go, Lee made the call as the flop fell
, and Wilson coyly checked. From there, Lee took the bait and bet 1,000,000. Wilson moved all in for 3,245,000, and Lee laid it down. Unfortunately for Lee, the WPT Wonder Cam showed the
would have spiked on the turn followed by the
on the river. Had Lee made the call, Wilson would have been eliminated.
Double Up: Andy Frankenberger moved all in from the small blind for his last 1,355,000 holding
and received a call from the
of Kyle Wilson in the big. The board ran out
and Frankenberger doubled to around 2.7 million.
The Raw Deal: Tony Dunst took to his patented segment to discuss drunken friends in the audience, of which Kyle Wilson had many. According to Dunst, the conduct of one's friends reflects upon the player. The moral of the story was keep your friends under control.
Tom Lee Eliminated in Third Place: On Hand #178 of the final table, Tom Lee moved all in from the button for his last 480,000 with
and was called by both Andy Frankenberger and Kyle Wilson in the blinds. Both active players checked as the board ran out
, at which point Frankenberger bet 400,000. Wilson folded, Frankenberger revealed
for a flush, and Lee was eliminated in third place ($174,772).
And the Winner Is: Andy Frankenberger began heads-up play with 8,960,000 chips to Kyle Wilson's 2,600,000. It didn't take long, just six hands, in fact, for the final hand to develop. Frankenberger was first to act and raised to 275,000, Wilson moved all in for 2,650,000 and Frankenberger called:
Wilson:

Frankenberger:
The
flop gave Wilson a flush draw, but he couldn't connect as the turn and river came the
and
. Wilson finished runner-up, earning $370,000, while Frankenberger became the WPT Legends of Poker Champion and took down the $750,000 first-place prize. In addition, he won a WPT bracelet and the patented Legends of Poker trophy featuring Wild Bill Hickok.
Legend of Poker Champions
| Season | Player | Earnings |
| --- | --- | --- |
| 1 | Chris Karagulleyan | $258,000 |
| 2 | Mel Judah | $579,375 |
| 3 | Doyle Brunson | $1,198,290 |
| 4 | Alex Kahaner | $1,125,900 |
| 5 | Joe Pelton | $1,577,170 |
| 6 | Dan Harrington | $1,635365 |
| 7 | John Phan | $1,116,428 |
| 8 | Prahlad Friedman | $1,034,500 |
| 9 | Andy Frankenberger | $750,000 |
Be sure to follow us on Twitter for up-to-the-minute news.
Right now not only can you get a free $50 bankroll from PartyPoker and PokerNews, you will also get a free month at PokerNews Strategy. Hurry as this is a limited offer, but the great thing is you do not even need to make a deposit at any stage, just go to our PartyPoker Free $50 Page and follow the walk-through.