The Nightly Turbo: World Poker Tour Update, Duhamel Up for Canadian Athlete of the Year, and More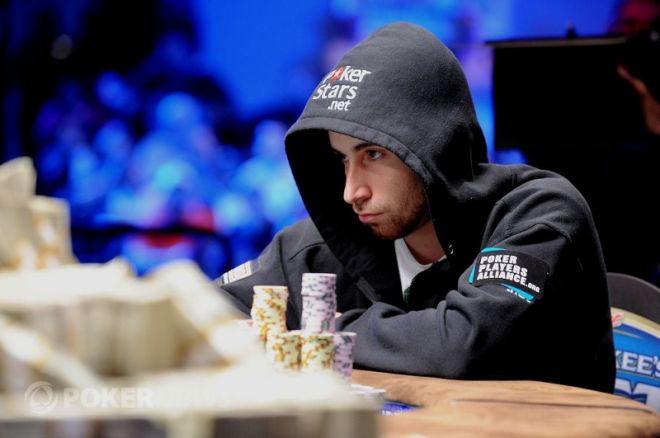 We know you're doing your best to recover from the crazy weekend you had, and what better way to get your news and get on with your recovery than the Nightly Turbo. We've got your World Poker Tour Doyle Brunson Five Diamond World Poker Classic, a couple of things for you to vote on, including Jonathan Duhamel for Canadian Athlete of the Year, and more.
In Case You Missed It
Shopping for a new look for your grind station? Why not check out some of your favorite poker pros' set ups? Kristy Arnett visited the Hollywood home of Justin Smith recently to check his out for the latest edition of the Sunday Grind.
Did you miss an episode of the PokerStars Big Game last week? It's a good thing we didn't. Check out the Big Game recap and find out how the Loose Cannon fared against some of today's top pros.
We all know Sunday is poker's biggest day on the virtual felt. What you might not know, because you were sleeping, are the results. You can find them in the Sunday Briefing.
Senator Harry Reid is attempting to attach an Internet poker bill to a much larger piece of legislation that is said to be a lock to pass. All this means that online poker is inching closer to being legalized and could be by next week.
World Poker Tour Five Diamond World Poker Classic Update
The World Poker Tour Doyle Brunson Five Diamond World Poker Classic (we're pretty sure we need to shorten the name of this tournament, anyone out there listening?) got under way on Friday. Registration was open until the beginning of Level 9 on Saturday by which time 438 players had plunked down the $10,000 buy-in, creating a prize pool of $4,248,600. First place will walk away with $870,124, which includes a $25,000 seat into the WPT World Championship next year.
After three days of play, only 54 players are left and leading the way is Antonio Esfandiari with just over one million in chips. His closest competition is Doug Lee with 702,500. Also still in contention areDoyle Brunson, Vanessa Rousso, Freddy Deeb, Jonathan Little, Sorel Mizzi, and 2010 World Series of Poker runner-up John Racener.
The plan is to play through Level 20 today. Follow all the updates at WPT.com.
Same Show, New Look
Speaking of the World Poker Tour, we know you're all chomping at the bit to check out the new redesign of the show when it premieres February 13 on FSN. Lucky for you, we've got a sneak peek of it for you right now.
Some of new features of the WPT broadcast include new theme music composed by Tom Hedden, father of the NFL sound, Kimberly Lansing in the anchor position,Tony Dunst tearing players apart in the Raw Deal segment, the Royal Flush Girls, more footage from each day of play, and more. It's better if you watch it, so we'll leave you to it.
2010 Canadian Athlete of the Year
2010 World Series of Poker Main Event winner Jonathan Duhamel is in the running to become the 2010 Canadian Athlete of the Year. He secured one of the 16 spots on Sportsnet.ca's list of athletes.
Duhamel is in Group 2 of the of the bracket-style voting set up and he's up against Winter Olympics gold medal pairs figure skaters Tesse Virtue and Scott Moir. If he wins the first round, he'll take on the winner of the matchup between Pittsburgh Penguins hockey player Sidney Crosby and freestyle skier Ashleigh McIvor.
Also in the running for 2010 Canadian Athlete of the Year are UFC welterweight champion Georges St. Pierre, Phoenix Suns point guard Steve Nash, Cincinnati Reds first baseman Joey Votto, and Toronto FC attacking midfielder Dwayne De Rosario, among others.
Want to vote for your favorite Canadian? Head on over to Sportsnet.ca.
UKIPT Galway
The first stop on Season 2 of the PokerStars UK & Ireland Poker Tour faced some serious arctic weather, causing Day 1 to be bumped back one day. Regardless of the snow and airport closures, UKIPT Galway attracted 266 players, breaking the guaranteed prize pool of €250,000.
Team PokerStars Pros Liv Boeree, Julian Thew and Jude Ainsworth braved the winter weather, as did, Team PokerStars Pro Online Dale Philip, but none managed to make it past Day 2.
It was Nick Abou Risk who finished on top of the entire pack, taking home the title, the €67,100 first-place prize, and making history as the first player to win two UKIPT events.
1. Nick Abou Risk - €67,100
2. Trish Mallin - €41,300
3. Maurice Silke - €25,250
4. Vytenis Navickas - €18,600
5. Eoin Olin - €15,400
6. Dan Rankin - €12,725
7. Roar Aspaas - €10,100
8. Johan Meyer - €7,975
9. Aonghus Farrell - €5,700
Check out the PokerStars Blog for more.
Voting Open for Bluff Reader's Choice Awards
We told you last week that our very own Gloria Balding was nominated for Favorite Poker Hostess in the Bluff Reader's Choice Awards. Well, voting for that has officially opened and this is your friendly reminder. Not only is Gloria up for an award, but so is PokerNews blogger Martin Harris, or Short-Stacked Shamus, as many of you may know him, for Favorite Poker Blog.
Go vote. Who knows, maybe Gloria will bake you one of her state-fair winning pies.
Follow us on Twitter and like us on Facebook for up-to-the-minute news.
Right now not only can you get a free $50 bankroll from PartyPoker and PokerNews, you will also get a free month at PokerNews Strategy. Hurry as this is a limited offer, but the great thing is you do not even need to make a deposit at any stage, just go to our PartyPoker Free $50 Page and follow the walk through.