World Poker Tour Marrakech: Homann Scores Wire-to-Wire Win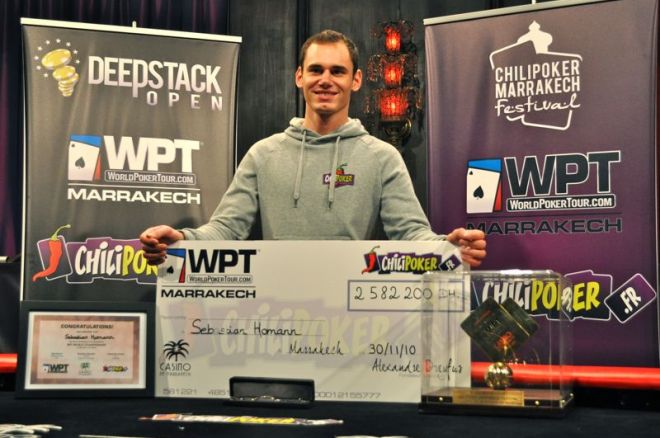 The Main Event Final Table of the World Poker Tour Marrakech presented by Chilipoker started with nine chairs, but it was basically a one-man show. Young German Sebastian Homann's ran the table from start to finish, just as he dominated the tournament since he took over the chip lead on the evening of Day 1a. Though he allowed the other eight finalists to splash around for a bit, in the end, no one was a match for Homann's domination. He went wire-to-wire as chip leader to outlast 221 other players and win the WPT title, bracelet, €244,508, and $25,000 WPT Championship seat.
Nine players returned on Day 3, meaning one person needed to be eliminated to determine the official eight-handed final table. Patrick Muleta was one to draw the short straw. It didn't take long for him to get his chips in with
against Felix Oberauer's
. With no help from the board, he was out in ninth for €19,920. Julien Labussiere was the next short-stacked player to take his chances, pushing his last 342,000 all in with pocket kings. Homann called with
and flopped both an ace and a ten to eliminate the Frenchman in eighth.
Homann continued to pressure the table, raising and reraising more often than not, yet he had the goods every time pots got to showdown. He passed the three million-chip mark during the second hour of play, putting him well ahead of his nearest competitors, Johan Williamsson and Dominik Nitsche, each hovering around one million. Homann had an even bigger lead once he took out Williamsson and Nitsche in seventh and sixth. After building the pot with a preflop three-bet, Homann check-raise shoved on a
flop. Williamsson called all in for 800,000 with
, but his flush draw and overcards never improved against Homann's
to see him go from second in chips to seventh-place finisher, earning €28,977.
In case two-thirds of the chips in play with six left wasn't enough, Homann took it upon himself to dispatch Nitsche next. Nitsche, 20-year old German wunderkind, made a remarkable comeback on Day 2, rebounding from three big blinds to end the night to second in chips. By the final table, however, that momentum had completely deserted him. Nitsche had fallen to a third of his starting stack when he open-shoved on the button with
. Unfortunately for him, Homann woke up with
in the small blind. Though he turned a gunshot, Nitsche was out of river miracles, and he went home with €36,220 for sixth place.
By that point in the afternoon, French pro Guillaume de la Gorce's rail was big enough to take over most of the cheering section, but his stack had fallen to the danger zone. Fellow pros Nicolas Levi, Manuel Bevand, and Alexia Portal did their best to will him good luck, but despite several double ups and chopped-pot saves, de la Gorce finally met his demise in fifth place when his
ran into Sebastien Compte's
. He adds €54,334 to his long list of cashes.
The streak of quick busts was interrupted by a flurry of double ups and split pots. But it was going to be tough to run out a split when Felix Oberauer risked his tournament life in a flip with
against Homann's
. The made-for-tv flop came
. Oberauer flopped the nuts, but one card later, he was drawing dead. The
turn gave Homann jacks full and yet another elimination. Oberauer earned €72,439 for fourth place.
The final table had similar trouble getting from three-handed to heads up. The short stack doubled up or chopped eight all ins in a row. Then the first hand after a break, Compte found himself all in with
against Guillaume Cescut's
. Five board cards later, Cescut had trip tens and Compte had €90,554 for third place.
The streak of doubles and chops continued during heads-up play. Homann even lost his chip lead for a few minutes. Then when he and Cescut were nearly even in chips, Homann three-barrel shoved a
board with
to double up and leave Cescut with less than four big blinds. He doubled up four times, but the fifth all in proved too much. Cescut finally succumbed in second place, earning €135,831. That left Homann the last man standing in Marrakech. He was all smiles as he collected his bracelet, a trophy, a bottle of Chivas Regal, and a huge cardboard check for €244,508.
Here are the results from the 2010 WPT Marrakech final table:
1. Sebastian Homann - €244,508
2. Guillaume Cescut - €135,831
3. Sebastien Compte - €90,554
4. Felix Oberauer - €72,439
5. Guillaume de la Gorce - €54,334
6. Dominik Nitsche - €36,220
7. Johan Williamsson - €28,977
8. Julien Labussiere - €25,356
9. Patrick Muleta - €19,920
Hungry for more live poker updates? Tune in to PokerNews for up-to-the-minute coverage from EPT Prague beginning next week and as always, follow us on Twitter for up-to-the-minute news.