High Stakes Poker Season 7: Ruffin Runs Down Peat, Greenstein and Esfandiari Play $600K Pot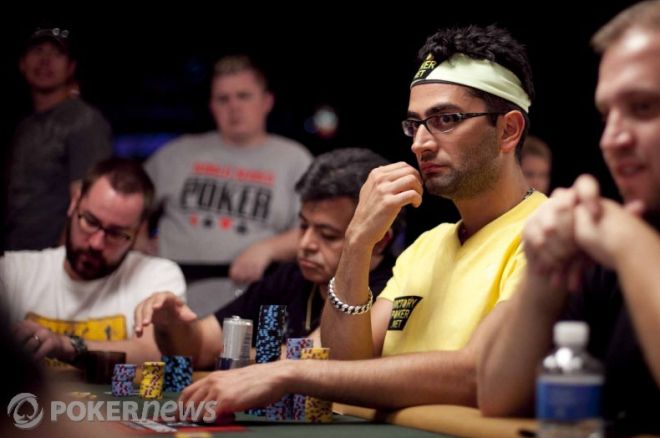 In the first episode of High Stakes Poker Season 7, the pro's and the businessmen butted heads in some massive pots. Vanessa Selbst lost a massive pot when Phil Ruffin flopped a set of threes against her overpair and David Peat drew out on Bill Klein with a pair and a flush draw against Klein's aces. The action did not slow down in the second episode of the season, especially on the last hand when there was a $600,000 pot played between two pros.
SPOILER ALERT: If you are waiting to watch the HSP episode, read no further.
Here's how the players were seated and what their stacks looked like to start the episode.
| Seat | Player | Stack Size | Win/Loss |
| --- | --- | --- | --- |
| Seat 1 | Doyle Brunson | $219,000 | +$19,000 |
| Seat 2 | Vanessa Selbst | $171,000 | -$278,000 |
| Seat 3 | Barry Greenstein | $285,300 | +$85,300 |
| Seat 4 | Antonio Esfandiari | $206,300 | +$6,300 |
| Seat 5 | Robert Croak | $143,800 | -$56,200 |
| Seat 6 | Phil Ruffin | $707,200 | +$207,200 |
| Seat 7 | Bill Klein | $276,700 | -$223,300 |
| Seat 8 | David Peat | $410,300 | +$210,300 |
Croak Folds a Flush: In the first hand of the episode, Peat limped in with
from early position, Antonio Esfandiari limped behind on the button with
and Robert Croak and Ruffin completed in the blinds with
and
respectively. The flop fell
and Croak checked to Ruffin who bet $3,000. Peat, Esfandiari and Croak all called.
The turn was the
and all four players checked. The
on the river gave Croak a flush, yet Ruffin led for $50,000 into a pot of only $16,000. Action folded to Croak who tanked momentarily before mucking the best hand, and Ruffin triumphantly tabled his straight. Croak admitted he folded a flush and both Esfandiari and Vanessa Selbst were confused as to why.
Peat Trips up Klein: Selbst opened to $2,500 from early position with
. Esfandiari called with
from the hijack seat, Klein called with
from the small blind and Peat protected his big blind with
. Klein's trap was foiled when the flop fell
. He checked to Peat who fired $5,000 and the action folded back to Klein who check-raised to $15,000. Peat called.
The turn was the
and Klein led for $20,000. Peat quickly called and the
fell on the river. Klein led again – this time for $40,000. Peat was never folding but thought about raising for about half a minute before he finally called. Klein opened his kings but they were no good against trip fives and $160,800 was shipped to Peat.
"I didn't want to take from charity." Peat explained when his tablemates asked why he didn't raise.
"It's called being a nit," Selbst needled.
Hero Call?: David Peat straddled for $1,600 and Barry Greenstein opened to $5,100 with
. Ruffin called with
from the small blind and Peat defended his straddle with
. The dealer flopped
and the action checked to Greenstein who continued for $8,000. Ruffin released and Peat made the call.
Both players checked the
on the turn, and after the
rivered Peat led for a measly $2,000. Greenstein promptly raised to $20,000 and Peat called even quicker. The Robin Hood of poker rolled over his hand to show he had trip kings and Peat mucked his hand looking utterly confused.
Klein Gets Tricky: Bill Klein started the action by limping with
, and Peat raised to $3,500 right behind him with
. Selbst called with
, Ruffin defended his big blind with
and Klein called, as well. The flop was
and the action checked to Peat who continued for $8,000. Selbst folded, Ruffin called, and Klein surprisingly raised to $23,000. The action was on Peat and Ruffin tried to call, which led Peat to fold. Ruffin then called and the turn brought the
. Both players checked. The river was the
and Ruffin checked again. Klein bet $29,000 into $69,200, and Ruffin immediately folded.
High Stakes Legends: This week's edition of High Stakes Legends profiled Benny Binion. Binion of course opened the famed Horseshoe Casino in Las Vegas, which hosted the World Series of Poker for over 30 years. The Horseshoe played host to huge cash games, as well, attracting the best players in the world to the property.
Oops: Ruffin limped in with
and Peat tried to isolate him by raising to $3,500 with
. The remaining players folded, Ruffin called and the flop fell
. Ruffin led for $5,000 and Peat called.
"Obviously he has larceny in mind," host Norm Macdonald commented.
The turn was the
and Ruffin quickly bet $20,000 into a $19,000 pot. Peat stuck to his guns, however, raising to $50,000. Ruffin snap-called. The river was the
and Ruffin slowed down, checking to Peat who fired one more bullet worth $100,000. Ruffin called and Peat sheepishly turned over the bluff.
Kara Scott asked Ruffin whether or not he thought Peat could've had him beat and Ruffin responded, "Nope, he could've had anything. I had $600,000 and it was about $100,000 so it was an easy call."
Run It Once: Antonio Esfandiari opened to $2,500 with
from under the gun, Ruffin called with
, Peat called with
, Selbst called with
and Greenstein defended his big blind with
.
The flop:
– Whammy!
Selbst and Greenstein checked to Esfandiari who continued for $6,200. Peat called with just a pair of sixes and the action folded back to Greenstein who check-raised to $30,000. Esfandiari put in a third bet worth $106,000, Peat got out of the way and Greenstein moved all in.
"Once or twice?" Esfandiari asked, pushing his stack in the middle.
The $593,900 pot was the biggest of the season and Greenstein always runs it once, making this hand even more sick. The
spiked on the turn to give Esfandiari a leading flush, but if the board paired then Greenstein would re-suck and take the pot. The
bricked on the river however and Esfandiari scooped the monster pot.
The action has been fast and furious this season, and Andrew Robl will join the table on next week's episode. If the teaser trailer is any indication, there is going to be ever more action and more all-ins than this past week.
We have one more $15,000 Sunday Million Freeroll with PokerStars left to qualify for, with $1,000 to the winner and 260 tournament tickets, including 45 Sunday Million Tickets on offer.