High Stakes Poker Season 6, Episode 5: Busting Out All Over the Place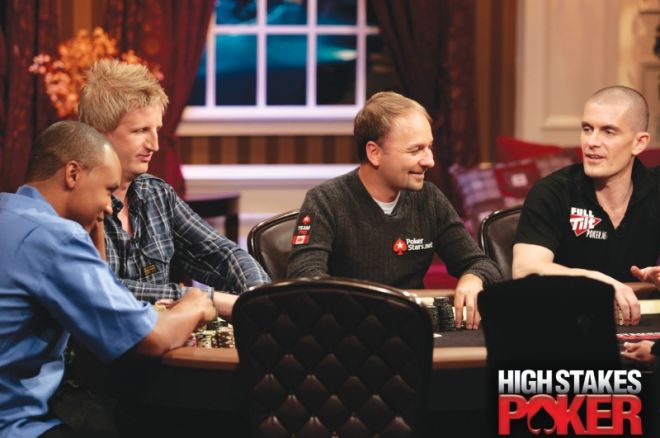 March Madness fever is in the air, and some of the insanity has spread to the latest installment of High Stakes Poker. The first four episodes of Season 6 have already been a massacre, with three players caving to the pressure. Perhaps the lack of oxygen at the nosebleed stakes was getting to this rarefied cast after several hours at the felt. Episode 5 was the last filmed on the first day of shooting this year, so everyone was in gamble-or-go-home mode. For the first time this season, the poker was actually exciting enough to be the focus of the episode. Who needs prop bets and filler commentary when the chips are flying so fast?
Cast: Phil Ivey, Tom "durrrr" Dwan, Daniel Negreanu, Eli Elezra, Dario Minieri, Jason Mercier, Gus Hansen, Antonio Esfandiari, and a cameo by Phil Laak.
Felting of the night: There were too many to pick just one. Negreanu's run-bad to lose his first stack was pretty standard for him on High Stakes Poker by now. He got his last $50k in with
against Elezra's
. They ran it twice, and Eli managed to flop a straight the first time and turn one the second to force Mr. Negreanu to reload.
Minieri's up-in-flames exit was somewhere between high comedy and high drama. It's tough to get your money in any further behind durrrr. "Dario's adventure," as Gabe Kaplan called it, has been fun to watch this season, but it came to an end in one big conflagration. Tom Dwan opened to $3,200 with
, and Minieri reraised on the button to $11,600 with
. The fateful flop fell
, giving Dwan top pair with a king kicker and Minieri middle pair with the same kicker. Dwan checked to Minieri, who bet $13,700. After asking how much the Italian had behind, durrrr raised to $32,900. And Minieri had no problem pulling the trigger and moving all in. A snap call from Dwan meant Minieri had all his money in the middle with only one out (Hansen had folded a trey), and a backdoor flush draw. They agreed to run it four times, but Minieri bricked all of them on his way out the door.
Most awkward Kaplan joke: Gabe Kaplan tries hard, but sometimes his commentary is just cringe-worthy. After a feature in which Negreanu explained what it means to run it twice, Kaplan treated us to the gem, "My girlfriend told me the paternity test was positive. I said, 'OK, you win the first one. Run it two more times.'"
Best poetic justice: Gus Hansen lost his whole stack when his
ran into Negreanu's mighty
. Hansen knew he had the worst of it by the time he four-bet shoved the
flop. Kind of refreshing to see the great Dane get a taste of his own medicine. He'd busted Andreas Hoivold with
earlier in the season. It was also a pleasant change to see one of Negreanu's hands hold up on the show. They ran it twice, but, miraculously, Negreanu took down both halves of the pot.
Most disappointing duo: Apparently it's been decreed that Antonio Esfandiari must be on every poker television show ever broadcast. Usually he provides some entertaining action, or at the very least, entertaining commentary. But in his five episodes on HSP this season, he was really just part of the set. "In case you don't realize you're watching poker on tv, here's Antonio." In a last-ditch effort to draw him out of his nap, they brought on Phil Laak. But Antonio's favorite sparring partner appeared too late to get involved in a single big hand or even a lively discussion.
Best Ivey call of the night: Jason Mercier hadn't mixed it up much. He told hostess Kara Scott he didn't want to lose all his money on the first hand and had played like he didn't want to make a mistake on TV. That changed in a big way when he ran a big bluff that probably would have worked against anyone but Ivey. In the hand, Hansen raised to $4,200 with
, Elezra called with
, and Ivey flatted, as well, with
. Mercier decided to squeeze to $22,100 with
, getting rid of Hansen and Elezra. He was heads up with Ivey to the
flop. Mercier continued his story, betting out $28,700. Ivey raised to $78,700, and an unintimidated Mercier moved all in for $185,100. Ivey stared him down and decided to call the extra $107k. "I have ace-high," said a dejected Mercier. The
on the turn and
on the river were no help to the High Stakes Poker virgin. "Welcome to the Ivey world, Jason," Elezra said, as Mercier took his leave.
Best Ivey Thundurrrrdome Smackdown: In the first and only hand we saw Phil Laak play, he opened to $3,900. Elezra called, as did Ivey, with
. Negreanu also called, but Dwan, with
, couldn't resist bumping it to $28,900. Everyone but Ivey got out of the way, and they were heads up to the
flop. Ivey flopped the nut flush draw and a gutshot, but durrrr had nine-high and no fear. He fired $45,800, and Ivey called. The turn was the blankalicious
, meaning obviously that Dwan had to put in a big bet, this time $123,200. Ivey called. For the first time in five episodes, the table went completely silent. The river was the
, missing all of Ivey's draws and giving him just a pair of sixes, a pair he didn't even need in order to win the pot ― if he could find a way to call durrrr's $268,200 river bet, that is. Ivey tanked and tanked, and Dwan went from looking ill to looking like he might keel over in the middle of the set. "This is gonna be the sickest call of all time," Ivey said, but he just couldn't do it, mucking instead. Indeed, it would have been pretty sick.
Verdict: High Stakes Poker is at its best when the action on the felt drives the show. Keep your Ivey v. Dwan prop bet haggling. We'd rather see them level each other in a $700k pot.
Make sure you tune in next week as High Stakes Poker gets a new cast for the second half of the season. Ivey, Dwan and Negreanu will be back, but this time they'll be joined by Patrik Antonius, Barry Greenstein, Andrew Robl, Lex Veldhuis, and Dennis Phillips. The teaser promises that we'll be treated to an Ivey's kings against PA's aces battle. Can he dodge bullets, baby? High Stakes Poker airs on Sundays at 8:00 p.m. on GSN.
Follow us on Twitter for up-to-the-minute news, and also become our fan on Facebook.