High Stakes Poker Season 7: Selbst, Brunson and Esfandiari Highlight First Episode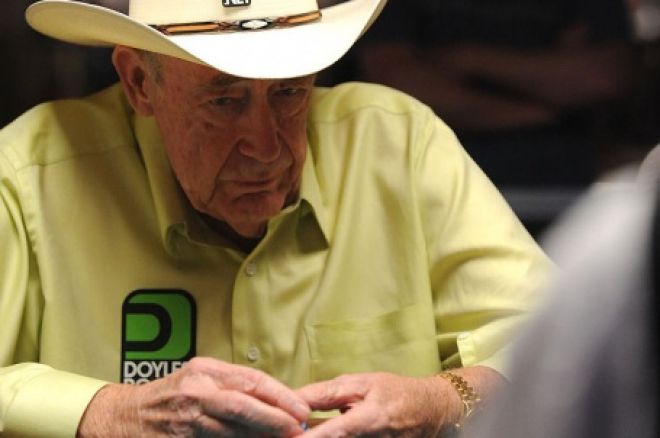 Season Seven of High Stakes Poker premiered on Saturday night with new host Norm Macdonald. He had some big shoes to fill, taking the place of Gabe Kaplan, and the poker world was anxious to see how he'd perform. All things considered, it seemed like Macdonald was both confident and capable in the booth, though we'll leave that to your individual opinions. In the meantime, we've decided to recap the action from HSP's premiere episode by highlighting the biggest pots, most entertaining hands, and anything else noteworthy that happened along the way. SPOILER ALERT: If you are waiting to watch the HSP episode, then read no further.
This year HSP instituted a few new changes. Aside from a new host, HSP had a new home at the Bellagio, and players were restricted to a minimum buy-in of $200,000, essentially ensuring that the game was going to be bigger and better than ever. The lineup, which was a mix between pros and "average" millionaire joes, was as follows:
Seat 1: Doyle Brunson
Seat 2: Vanessa Selbst*
Seat 3: Barry Greenstein
Seat 4: Antonio Esfandiari
Seat 5: Robert Croak
Seat 6: Phil Ruffin
Seat 7: Bill Klein
Seat 8: David Peat
*Selbt's appearance was only the third by a woman in HSP history.
One for the Pros: In the first hand of the new season, Vanessa Selbst raised to $3,000 from early position with
and was called by the
of Robert Croak in middle position. Also coming along for the ride were Bill Klein in the small blind and David Peat in the big, who held
and
respectively. Four players went to the flop, which came down
.
Action checked around to Selbst who fired in a continuation bet of $7,600. Croak opted to find out where his jacks stood and essentially min-raised to $15,700. Both Klein and Peat got out of the way while Selbst called the additional $8,100. The dealer then burned and turned the
, which prompted Selbst to bet $28,400. Croak was clearly displeased by the card and gave up on the hand.
Let the Jokes Begin: After Doyle Brunson explained to the table that he wouldn't respond if asked what his chip count was, and offering a satisfactory explanation, Macdonald cracked: "Doyle getting a little political, announcing that he is a strong proponent of 'Don't Ask, Don't Tell!'"
All-In and a Call: Phil Ruffin limped from early position with
only to face a raise to $4,900 from Brunson in the cutoff holding a mediocre
. Selbst then looked down at the
on the button and decided just to limp. Antonio Esfandiari limped from the big blind with
and four players were off to a flop of
.
Esfandiari led out with a bet of $17,100 with his pair and was smooth-called by Ruffin who had flopped bottom set. Brunson wisely got out of the way and action was back on Selbst and her overpair. After a little thought, she threw in a raise to $63,800. As Esfandiari was contemplating his move, Ruffin said, "Make it a hundred." Obviously it was out of turn, but Esfandiari didn't seem to mind as he folded. Indeed, Ruffin raised to a total of $117,100 and the table talk began. Selbst asked a lot of questions, all of which Ruffin answered cryptically. His tomfoolery worked as Selbst moved all in and Ruffin snap-called. Ruffin only wanted to run it once, which saw the turn and river come the
and
. Just like that, Ruffin took down the $475,100 pot, the biggest of season seven thus far.
Didn't Expect That: Under the gun, Bill Klein looked down at
and rasied to $3,000. David Peat was next to act and called with his
, while the only other caller was Phil Ruffin in the big blind holding
. When the flop came down
, Ruffin checked to Klein, who bet $7,000. Peat then raised to $24,000 with his middle pair and flush draw. Ruffin got out of the way and Klein three-bet to $67,000. Peat rubbed his face, double-checked the board, and then moved all in for $209,200.
"Didn't expect that," Klein said before making the call. It was a race, one that would only be run once. The
on the turn changed nothing, but the
on the river gave Peat the flush and the $428,600 pot.
Chip Counts: A little over halfway through the episode, here are how the chips stacked up:
| Player | Stack Size | Win/Loss |
| --- | --- | --- |
| Ruffin | $741,000 | $+241,000 |
| Peat | $431,400 | +$231,400 |
| Greenstein | $263,100 | +$83,100 |
| Brunson | $191,600 | -$8,400 |
| Croak | $152,900 | -$47,100 |
| Esfandiari | $148,900 | -$51,100 |
| Selbst | $186,100 | -$213,900 |
| Klein | $285,00 | -$215,000 |
Double Straddle: Bill Klein had put in a straddle to $1,600, and after a little encouragement from Brunson, David Peat put on the double straddle to $3,200. Peat countered by trying to persuade Brunson to put on the triple straddle, to which he smiled and replied, "No, thank you."
In the hand, Brunson picked up
and he raised to $13,200. Action folded to Peat and he called $10,000 with
. Both players checked the
flop, leading to the
on the turn. Peat checked, Brunson bet $15,000, and Peat laid down his hand. Small pot to Brunson.
High Stakes Legends: HSP then aired a segment presented by PokerStars called High Stakes Legends: An Introduction to the Pioneers of Poker. This week's installment featured Puggy Pearson. For those who don't know, Pearson was the winner of the 1973 World Series of Poker and held four gold bracelets. The segment talked about his cash-game prowess and his signature saying, which was painted on the side of his enormous RV: "I'll play any man…. From any land, any game that he can name…. For any amount that I can count…. Provided I like it."*
*The last part, "Provided I like it," was in fine print.
Last Hand: In the last hand of the episode, Antonio Esfandiari had put in a preflop raise to $6,000 holding
and was called by the
of Phil Ruffin. When the flop fell
, Esfandiari bet $8,300, Ruffin raised to $38,300, and Esfandiari took some time before moving all in. Ruffin quickly folded and that was that.
Are you following us on Twitter yet? Do you like us on Facebook? If not, be sure to do so today!