Maria Mayrinck Talks Brazilian Poker & PokerStars Split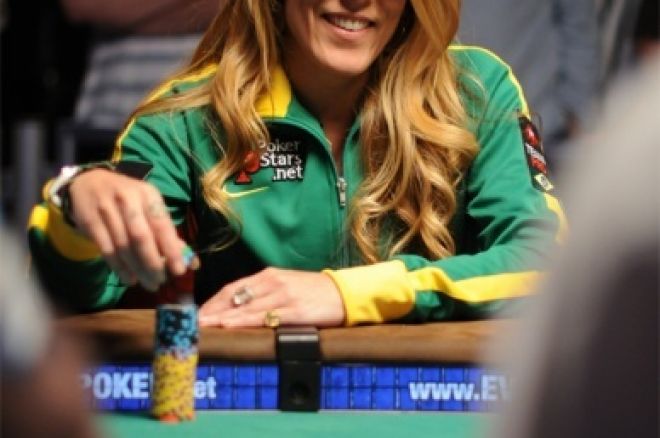 Maria "Maridu" Mayrinck is one of the friendliest faces on the poker circuit and one of the most recognizable professionals from Brazil. In fact, she is the highest-earning female Brazilian player of all time. Splitting her time between online play and live events, Mayrinck was a member of Team PokerStars until April 1, 2011, when she unexpectedly announced via Twitter her decision to part ways.
Mayrinck, a sociology graduate from Rio de Janeiro in Brazil, is regular on the Latin American Poker Tour but it was at the 2009 European Poker Tour London where she scored her biggest live cash to date — a top-50 finish worth $20,377. PokerNews recently caught up with Mayrinck to discuss her departure from PokerStars, her boyfriend David "Bakes" Baker, and an upcoming announcement regarding Brazilian poker that she claims to be "really big news."
You recently announced that you'll be leaving PokerStars. What prompted that decision?
I've been with PokerStars since the first day they entered Brazil in 2006 and it's been really great. I have nothing but the best things to say. There's no bad blood, unfortunately for the people who like the drama stories, but for some time now I've been thinking of moving along with something different. Being in poker, and also from the media perspective, I really know what is going on in Brazil and Latin America in terms of poker and it's time to take on something really, really big in poker. I've known this for awhile, but my contract expired on April 1, and I'm a good girl and have a great relationship with Stars, so I was gonna live out my contract to the end.
You've hinted that you have a new project involving poker in Brazil. We know there won't be an official announcement for a few weeks, but can you give us any hints?
It's gonna be really big news. I really can't talk about it right now, not because it's some major secret, but because we can't really talk about it until it's ready. It isn't yet, but it will be in like two or three weeks. All I can say is that it is gonna be really major for Brazilian poker and Latin poker in general. Brazil alone has 190 million people, so there's no reason Brazil isn't the number three or number four country on every poker site, and I'm really wanting to create a poker culture in Brazil. I can't really say much, but I'm really excited and looking forward to it.
You're the highest-earning female Brazilian player of all time and quite popular on the LAPT? Can we still expect to see you in Latin American events?
I'm going to be very honest, one of the nicest things I'm going to say about leaving Stars is that I will travel much less. I was exhausted, I was doing the rounds so much that I was playing less poker because there wasn't enough time because there's a bunch of TV shows, a bunch things that you have to do, which is great and a part of the contract, but it is all a little bit distracting.
However, the LAPTs are for sure the most fun tournaments. They're tournaments where you don't need so much of a poker face, they're loud, cheerful, like the Latin people are. There's that whole soccer vibe that you get from all of Latin America. I'm going to definitely go to the ones where there are no taxes, but that has nothing to do with PokerStars and just has to do with certain country's governments. As a poker player, I'm looking for the easy ROI. It's a business, so looking at it from the winning perspective, sometimes the taxes can be just too much of a hit. I do plan on going to LAPTs that do not have the taxes and to those not during the World Series.
Not during the WSOP? Is that because of what happened last year during the LAPT Peru?
Last year. my boyfriend, David "Bakes" Baker, was at the final table of the $50k at the WSOP and I had to catch a flight the night before to go play the LAPT in Lima and missed it. I want to be in Las Vegas for the World Series for a final table that my boyfriend might make, or a Brazilian might make, but other than that I love the LAPTs and plan on going to a lot of them.
As one of the faces of poker in Brazil, what are your feelings about the future of the game there?
I'm very much looking to tap into that as poker is growing in a very organic process. This is something that I think the marketing of poker in Brazil is not aimed correctly at what poker players want. The only reason I can say this is because I am a poker player. I'm also a girl, and right now neither Stars, or Full Tilt I think, have a [sponsored] woman below the equator. As a poker player, we don't care about certain things, we care about other things like value on our money, customer support, trust, and you want to work with certain aspects that aren't always touched much. I'm very much looking to get into that.
We see you on the road all the time. Now that you've parted ways with PokerStars, are you looking forward to settling down a bit in one place and avoiding the grind of constantly traveling?
Yeah, spending more time in two places because David and I have an apartment in Vegas, but I also have a house and my whole family in Brazil. I can never be away from them for very long as I'm extremely family based and they're everything to me. I plan on spending more time in between these two places, but yes, I'm going to spend a lot more time in Vegas with David and at home in Rio with my family.
Do you ever take "Bakes" back home with you to Rio?
Sometimes David goes to Rio, too, like last year he went for Carnival and did the beaches. We had a great time, but he had some issues with the Internet when he was playing online! Sometimes it goes out you know, what are you going to do?
Your time with PokerStars was obviously a great opportunity and no doubt provided you with numerous memories. Can you tell us about one your best memories that came as a direct result of your time with the site?
There are so many, but to be really honest the best memories are the friendships that I have made through the years with PokerStars, and to be able to learn about cultures in so many other countries, like the U.S. especially because it's like poker and football here and Carnival and soccer in Brazil, you know. To be able to experience it firsthand with American friends was great. I think it has to be more like how much I can learn from the poker friends I made, not only about poker, but it's also about many of these poker friends have become friends for life. There are so many experiences.
*While Mayrinck wasn't able to shed light on her new project involving Brazilian poker, she has promised to grant another interview in a few weeks to reveal all. Be sure to stay tuned to PokerNews for that story and more.
PokerNews is dominating the social media world. Be sure to follow us on Twitter and like us on Facebook today!