Top Ten Stories of 2010: #9, Nacho Goes Back-To-Back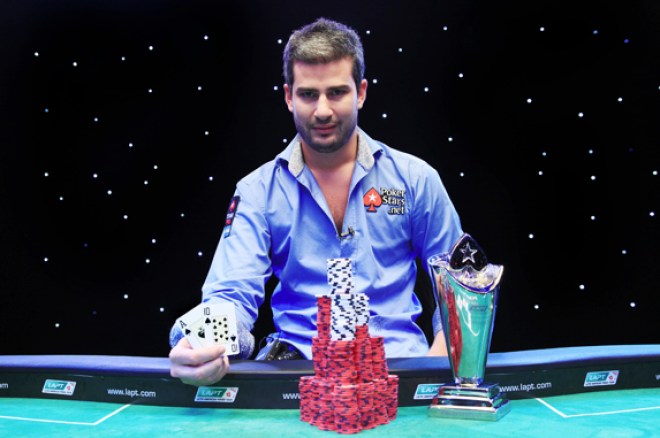 An interesting development emerged on June 3, 2010. Day 2 of the PokerStars.net Latin American Poker Tour event in Lima, the third stop of the tour's third season, had come to an end with 24 players remaining, but the two names at the top of the counts had something in common. Leading the way was Canadian Amer Sulaiman, winner of the LAPT Playa Conchal Main Event, the event that kicked off the LAPT's third season. Right behind Sulaiman was PokerStars Team Pro and Argentina's own Jose "Nacho" Barbero, winner of the LAPT Punta del Este, the second stop of the LAPT's third season. Both were in position to win their second LAPT event and become the face of the tour. Sulaiman fizzled and finished 13th, while Barbero went on to claim victory, collecting back-to-back LAPT titles.
Barbero's recent dominance on his home continent was an unfamiliar site, as Latin America watched Europeans really have their way on the first two seasons of the LAPT, winning all but one event.
| Event | Winner | Country |
| --- | --- | --- |
| LAPT Rio de Janeiro Season 1 | Julien Nuijten | Netherlands |
| LAPT San José Season 1 | Valdemar Kwaysser | Hungary |
| LAPT Punta del Este Season 1 | Jose Miguel Espinar | Spain |
| LAPT Mar del Plata Season 2 | Dominik Nitsche | Germany |
| LAPT Punta del Este Season 2 | Karl Hevroy | Norway |
| LAPT Vina del Mar Season 2 | Fabrian Ortiz | Argentina |
| LAPT San José Season 2 | Ryan Fee | USA |
Barbero had been quiet on the tournament scene leading up to LAPT Punta del Este Season 3, with his previous final table and cash being at the 2009 World Series of Poker. He took eighth place in a $1,500 Limit Hold'em Shootout for $13,655, but had yet to break through. Barbero's two victories changed that in a big way. When looking at the fields and his journey to the final table by the day, many similarities can be drawn between Barbero's wins.
| Event | Starting Field | Day 1 Result | Day 2 Result | Day 3 Result |
| --- | --- | --- | --- | --- |
| LAPT Punta del Este | 307 | 42 of 145 | 4 of 24 | 6 of 8 |
Barbero's Day 1 performance at LAPT Punta del Este (February, 2010) was very solid. He nearly tripled his starting stack, going into Day 2 with an above average stack. It was then where he really made his move. He tore through the field and catapulted up the chip counts, finishing with over 50 big blinds going into play down day. It was hardly smooth sailing, though, as Barbero started in a downward trend on Day 3. However, after winning a coin flip for his tournament life, Barbero was back on solid ground going into the final table. He vaulted toward the chip lead by eliminating the first player at the table and never looked back, securing the victory.
| Event | Starting Field | Day 1 Result | Day 2 Result | Day 3 Result |
| --- | --- | --- | --- | --- |
| LAPT Lima | 384 | 36 of 197 | 2 of 24 | 1 of 8 |
It was more of the same in June at LAPT Lima. Day's 1 and 2 went more or less the same way. He tripled his starting stack on Day 1, then blitzed the competition on Day 2 to once again enjoy a stack of 50 big blinds on Day 3. Things once again took a turn for the worse on Day 3, but luck was on Barbero's side, playing a big role in his getting to the final table with the chip lead, ultimately claiming the crown.
With the LAPT Season 4 schedule having recently been released, Barbero will have a chance to keep his successes going starting this February in Sao Paulo, Brazil. Will Barbero's Season 3 performance lead to a rise in Latin American entrants? We'll know the answer soon.
Follow us on Twitter for up-to-the-minute news.