Around the World with Lynn Gilmartin: Latin American Poker Tour Season 4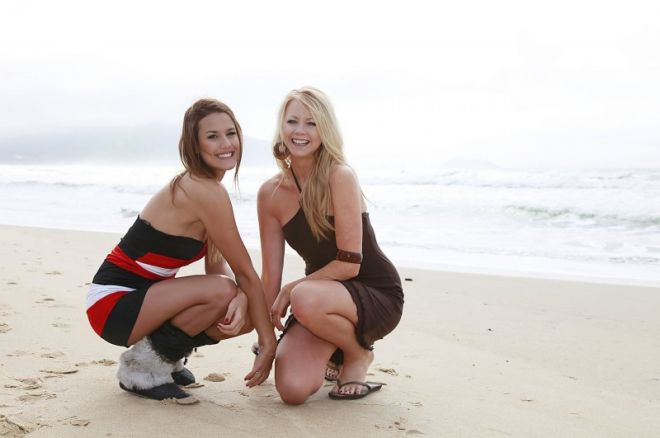 The PokerStars.net Latin American Poker Tour season-four schedule has been released, so, naturally, I'm excited. I'm about to show you why it's almost impossible to not have fun at LAPT events with some highlight examples from 2010. Unless of course, some Argentine slaps his slow roll on the felt in front of you as he runs circles around the table screaming with joy over hitting his one-outer on the river to end your Main Event early. That would suck a little.
The bright side? Not only do you get to stare at stunning girls all day such as LAPT Hostess Luli Fernandez (in the photo with me above chilling on a beach in Brazil) linger around the poker room all day, but there are so many amazing places to explore just outside the poker room.
Sao Paulo, Brazil – February 16-20, 2011
Season three took us to the Brazilian island of Florianopolis. It was a slight tease being on the beach in the middle of winter, but we still had such a fantastic experience. This year, the LAPT is returning to one of Brazil's proudest cities, Sao Paulo, and best of all, not only is it going to be in the peak of their summer, but you know what they (Kristy Arnett) say about Brazilian women — they simply win at life. Feast your eyes on the below video from this year's LAPT Welcome Party in Brazil, and you'll see why.
Viña del Mar, Chile – March 17-20, 2011
Chile was a new addition to the LAPT season-three schedule, however, after the devastating 8.8 magnitude earthquake that hit Viña del Mar in late February, only a few weeks before the March event, the LAPT stop was cancelled. Twelve months later, the stop returns to the schedule, and we will head to Chile's beach-resort town to pump our well-needed tourism dollars into the bounced-back stunner of a city.

Lima, Perú – April 12-17, 2011
I was lucky enough to escape the WSOP madness for one week this year, and head south to cover the LAPT in Lima, Peru, and this year we will return in April. It was here that headlines were created when Jose "Nacho" Barbero won his second LAPT title in back-to-back events. The event was held in the quaint town of Miraflores, offering us some brilliant nights out at the clubs in Larco Mar, and gorgeous surrounds, which you can see in the following video courtesy of PokerStars.tv.
Rosario, Argentina – June 1-5, 2011
Not many tour operators bother competing with the World Series of Poker. I like to think of those six weeks as the Bermuda Triangle of major poker-event scheduling, but PokerStars did it with success this year, and they're certainly not stopping. Season four will take us to South America's largest casino in Rosario, Argentina, the Grand Final destination of season three. Being the first week of June means the beginning of winter in South America – the perfect time to start hitting up the popular cities rather than the beach towns. I'll let this video paint the picture of the fantastic week we had this year in Rosario.
Bogotá, Colombia – August 3-7, 2011
Returning to loved cities is one thing, but breaking new ground is what really gets me excited, and Columbia, the home of the most amazing coffee in the world, is just that. Bogotá is Columbia's largest city, labeled the "Athens of South America." If my crazy trip to Greece with five girlfriends a few years back is anything to go by, then I'm bursting at the seams with excitement to get there! It's said to be a roller-coaster of a city high in the Andes at an elevation of 8,646 feet. All cities have contrasts, but few have them like Bogotá, as described in this interesting passage by goway.com.
"Nestled high in the Andes at 8,646 feet, Santafé de Bogotá is a city of contrasts. It's a city of high-rises standing next to colonial churches; a city of universities, theaters and shantytowns. It is a mixture of influences, Spanish and English and Indian; a city of great wealth and material well being and abject poverty. It is a city of wild traffic and calm oases reflecting a bygone day. It is a modern city with futuristic architecture, graffiti and congestion; restaurants, bookstores and street vendors peddling emeralds, thieves, beggars, street people and drug dealers wrapped around the inner core of the old city."
The LAPT Grand Final destination is still to be confirmed, so in lieu of this unknown city, I'll leave you with a perfect taste of Latin America: a friendly game of football.
Follow us on Twitter for up-to-the-minute news, and also become our fan on Facebook.
There is still time to play in our final $15,000 Sunday Million Freeroll on PokerStars in the current series, but hurry, you have to qualify this month.