A Close Look at the PokerStars.net Latin American Poker Tour's Season 4 Schedule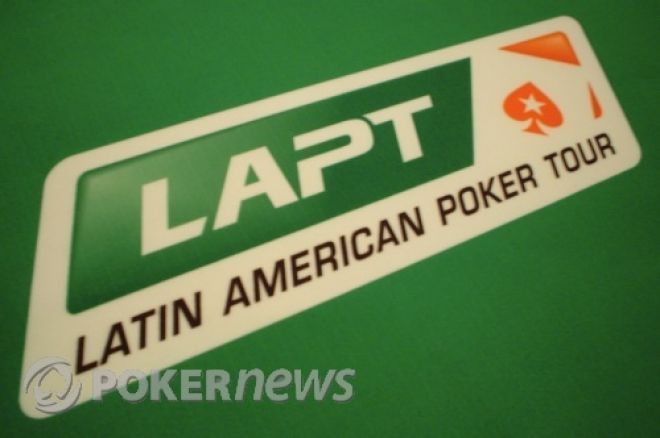 PokerStars.net recently announced the schedule for their fourth season of the Latin American Poker Tour, which included some exciting changes. So far, five stops have been designated: Brazil, Peru, Argentina, Chile and Columbia. There will also be a Grand Final, location to be determined, with the possibility for even more stops. Preliminary indications suggest that this will be the LAPT's biggest and best season yet.
"During Season 4 of the LAPT we will introduce new venues, such as Sao Paulo and Bogota, create two new National Poker Championship events, in Chile and Colombia, and start searching for the best player in the region through our new Player of the Year awards," said LAPT President David Carrion. "These changes have been made as a result of extensive feedback during Season 3, and we are proud to be making many player-friendly improvements that will take the LAPT to new heights, with larger fields and richer prize pools."
Sao Paolo, Brazil: The first stop will be February 2011 in Sao Paolo, Brazil. This will be the LAPT's first visit to Sao Paulo, the largest city in the Southern Hemisphere and will be played at the city's largest convention space — The World Trade Center. The LAPT Sao Paolo Poker Festival will have a slate of side events and be capped with a R$ 5,000 buy-in (approx $3,000 USD) Main Event.
"Through the Secretary of Sports, and on behalf of the Prefeitura do Sao Paulo, we would like to confirm our commitment to putting all our efforts to the success of the Latin American Poker Tour to take place in Sao Paulo in the upcoming year," said Walter Feldman, Secretary of Sports, Leisure and Recreation in Sao Paulo. "We understand that a sporting event such as this will contribute in a significant way to the promotion of the City of Sao Paulo as a big event organizer and will have a positive impact on the touristic activity of the city."
Vina del Mar, Chile: Between March 17-20, 2011, the LAPT will return to Vina del Mar, Chile, a stop that was cancelled during Season 3 because of a devastating earthquake. Now, the Vina del Mar tournament is back on the schedule and looks to be as successful as its Season 2 predecessor when Fabian Ortiz cleared a field of 216 players to claim the $141,426 first-place prize. For Season 4, the Chile stop will be the first of two new LAPT National Poker Championship events.
Lima, Peru: In Season 3, the LAPT made its first stop in Lima, Peru. The event drew 384 players and created a prize pool of $931,200. In the end, it was LAPT superstar Jose "Nacho" Barbero who outlasted them all and took down his second title of the season, his other coming in the previous event at Punta del Este (which has been scrapped from Season 4 so far). Barbero will get his chance to defend his title in Season 4 as the LAPT returns to Lima between April 12-17, 2011. There is no doubt that Barbero would have finished as LAPT Player of the Year had it been in existence last season, but he'll get his shot at it this year.
"I am looking forward to the new season; bigger events, with more players and bigger prize pools is what all players look for," said Team PokerStars Pro Nacho Barbero from Argentina, who won two events back-to-back in Season 3. "I am sure that next season will be a success, like the past one, and I am looking forward to competing for the Player of the Year award."
Rosario, Argentina: Season 3 hosted its Grand Final at the City Center Casino in Rosario, Argentina where Martin Sansour emerged victorious over a field of 254 players for a $322,280 payday. The event was a huge success and it is no surprise the LAPT will return for Season 4 between June 1 and 5, 2011.
Bogota, Colombia: Have you been clamoring about a new South American country on the LAPT? If so, then there is good news. Season 4 will mark the LAPT's inaugural outing to Columbia. Not only that, Bogota will serve as the second National Poker Championship of the season. The event will take place between August 3 and 7, 2011 and is sure to draw numerous players to this new and exotic location.
The LAPT seems to get bigger and better each season, with Season 4 shaping up to be the best yet. Looking back, the LAPT has come a long way from Season 1 when there were just three stops. Season 2 expanded by offering four stops, while Season 3 took it a step further and made it five. The new season follows suit by progressing to six stops (with the possibility of even more)! Needless to say, the LAPT is quickly becoming one of the most popular tours in the poker world. Here is the schedule for Season 4 of the LAPT:
| Event | Date | Buy-in |
| --- | --- | --- |
| Sao Paulo, Brazil | February 16-20, 2011 | R$ 4,600 + 400 |
| Chile, Vina del Mar | March 17-20, 2011 | US $1,000 + 100 |
| Lima, Peru | April 12-17, 2011 | US $2,300 + 200 |
| Rosario, Argentina | June 1-5, 2011 | US $2,300 + 200 |
| Bogota, Colombia | August 3-7, 2011 | US $1,000 + 100 |
| Grand Final | TBD | TBD |
Want to win your way to the LAPT? Visit their website to learn how to qualify on PokerStars!