Pedro Claus Captures LAPT Uruguay for $90,630 After Three-Way Deal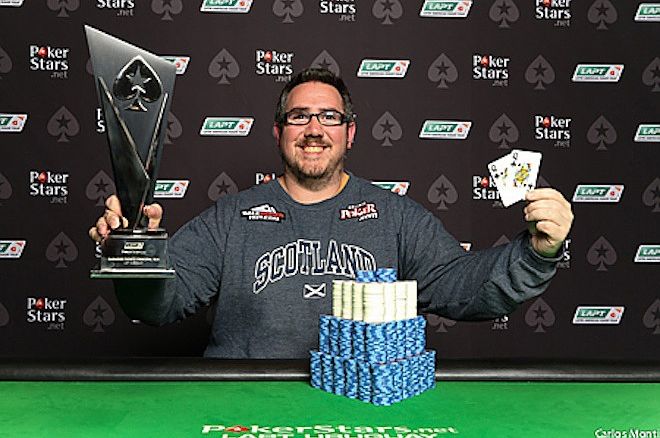 Season 9 of the Latin American Poker Tour played out in Punta del Este over the last several days, culminating with the $1,500 buy-in LAPT9 Uruguay Main Event on Tuesday. From an eight-handed final table featuring six Argentinians, one of them — Pedro Claus — emerged as the winner, earning a $90,630 first prize following a three-handed deal.
Claus topped a 438-entry field to earn the largest share of the tournament's $571,590 prize pool.
Official Final Table Results
| Place | Player | Country | Prize |
| --- | --- | --- | --- |
| 1 | Pedro Claus | Argentina | $90,630* |
| 2 | Fernando Araujo | Brazil | $70,000* |
| 3 | Manuel Vuotto | Argentina | $70,000* |
| 4 | Sergio De Benedictis | Argentina | $39,720 |
| 5 | Nicolas Pernigotti | Argentina | $31,160 |
| 6 | Ruben Barros | Argentina | $24,400 |
| 7 | Cristian Andres Rotondo | Argentina | $18,340 |
| 8 | Marco Oliveira | Brazil | $13,040 |
*denotes three-way deal
Among others making the money were LAPT Season 6 Player of the Year Amos Ben (13th, $7,480), Mario Lopez (14th, $6,580), Team PokerStars Pro Leo Fernandez (29th, $3,600), and LAPT Season 8 Player of the Year Oscar Alache (52nd, $2,620).
Both Lopez and Alache entered the event with two LAPT Main Event titles, tying them with Fabian Ortiz and Nacho Barbero for the most ever. Indeed, it appeared both may have a shot at third titles, with Alache being the overall chip leader heading into Day 2 (with 155 left) and Lopez leading to start Day 3 (with 32 left).
But in the end it was Claus outlasting everyone to claim the trophy, exceeding by far his previous best career cash of ARS$160,000 (about $16,300 USD) won in an event in Argentina late last year.
Uruguay sits on the eastern coast of South America, with Brazil bordering to the north and large Argentina circling around the country's west side. Argentinians likewise circled around many of the tables late in the LAPT Uruguay Main Event, with no less than 25 of them among the final 32 players and, as mentioned, six making the final eight.
Claus began the final table at the Conrad Punte del Este Resort & Casino with the chip lead and held onto it most of the way on Tuesday, only losing it briefly along the way.
Claus was still in front when a short-stacked Marco Oliveira, one of the two Brazilians at the final table, went out in eighth after running pocket deuces into the kings of Ruben Barros. He remained on top as another short stack, Cristian Andres Rotondo, fell in seventh in a hand versus Nicolas Pernigotti.
Sergio De Benedictis briefly took a small lead at that point after winning a big pot from Claus, and the pair traded the top spot a couple of times before Manuel Vuotto surged ahead after flopping a set versus De Benedictis.
But following a long stretch at six-handed, Claus moved back ahead for good after using pocket queens to best the ace-eight of Barros and end his run in sixth. Pernigotti followed in fifth, losing with queen-ten versus De Benedictis's ace-ten.
De Benedictis then went out in fourth after getting all in with
versus the lone remaining Brazilian Fernando Araujo's
. The flop was nice for De Benedictis, coming
to give him two pair, but after the
turn the
spiked on the river to give Araujo a straight and send De Benedictis out in fourth.
A deal discussion followed, and with the stacks not too far apart and the blinds fairly high, Claus, Araujo, and Vuotto swifty agreed to an even chop of $70,000 apiece, leaving $20,630 for which to play.
Three-handed lasted a short while, but eventually Vuotto became short and was ousted by Claus when his
failed to outrun Claus's
. That gave Claus a better than 5-to-1 chip edge to start heads-up play, and in the very first hand Araujo shoved with
, Claus called with
, and the big pair held to give Claus the win.
LAPT Uruguay marked the last full festival for the tour, although there will still be a single event in São Paulo, Brazil — the LAPT9 Grand Final (Nov. 29-Dec. 1) — which will run along with the Brazilian Series of Poker Millions.
As with other PokerStars tours, starting in 2016 the stops once named "LAPT" will become PokerStars Championships and PokerStars Festivals, with one of the PokerStars Championship series planned for Panama.
*Photo courtesy of Carlos Monti/PokerStars blog.