Around the World with Lynn Gilmartin: From One Bar to Another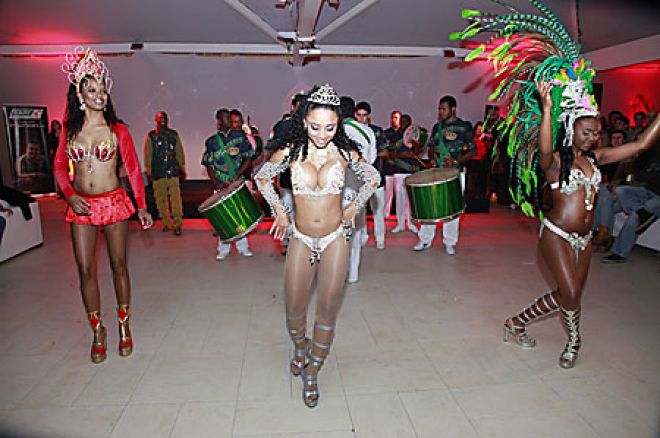 My job here at PokerNews is really hard. It's so tough that I have to endure party after party after party when attending all of these poker tournaments across the globe. Throughout all the sweat and vodka cocktails, I can promise you, with so much dedication to my job, I will never fail to attend each and every one of these parties, just so I can show you what you could have been going through. In self-recognition for such hardship, I decided to compile my most standout parties to date and tell you why I loved them so much, of course!
PokerStars.net LAPT Florianopolis
I've always spoken openly about the giant soft spot in my heart for the Latin American Poker Tour, as it never fails to provide such a good time with such amazing people. The party in Florianopolis, Brazil, would definitely be my favorite of Season 3. I'm not sure if that's because I spontaneously tore up the dance floor with Team PokerStars Pros Joe Cada and Veronica Dabul until the wee hours of the morning, had my first taste of a Caipirinha, or because I was lucky enough to receive dance lessons from the best of the best – asKristy Arnett puts it, Brazilian women win at life – and wow, can they move their hips like no other! Enjoy the second half of this one fellas.
PokerStars.net APPT Cebu
It excites me so much knowing this tournament is just around the corner. The PokerStars.net Asia Pacific Poker Tour is returning to Cebu, Philippines, to fill up the stunning Shangri-La Mactan Resort once again for a trip of absolute luxury. I'll be writing more about this amazing location in coming weeks, but for the party – think crashing waves, palm trees, sand, balmy nights, fireworks, incredible food, and flowing drinks served by sexy Filipina. What more could you want?
Aussie Millions
My favorite time of year at home in Melbourne is Australia Day – the entire country goes wild. The day always falls during Aussie Millions, which is just another reason to add to the long list of reasons why you should head to Melbourne for one of the best tournament series in the world. I snuck out to St. Kilda Beach during the 2010 Aussie Millions to show off just how crazy the national holiday party is.
World Series of Poker
Surely it's no surprise that there is more than one party on my list for this category. The first: combine Snoop Dogg with Las Vegas and there is some serious fun to be had. All I am going to say is, thank you PokerStars!
Next was the PokerNews Kick off Party at Lagasse's Stadium on the eve of the 2010 World Series of Poker. The team got together for the first time for the year, and we were all bursting at the seams with anticipation to get started. It's always a treat when Gloria Balding, Kristy Arnett and I get to actually work together in the same video, and on top of that including the rest of our PokerNews friends that usually hide behind the screens of their laptop for the Live Reporting Blog. Meet some of our team and their not-so-accurate predictions pre-WSOP. Note: don't miss Editor in Chief Matthew Parvis' red-wine mouth.
We have just announced three $15,000 Sunday Million Freerolls & three $2,000 PCA Freerolls with PokerStars. You can win a ticket to a tournament with a life changing prize pool for free, but only with Club PokerNews!