Vegas Insider: Lagasse's Stadium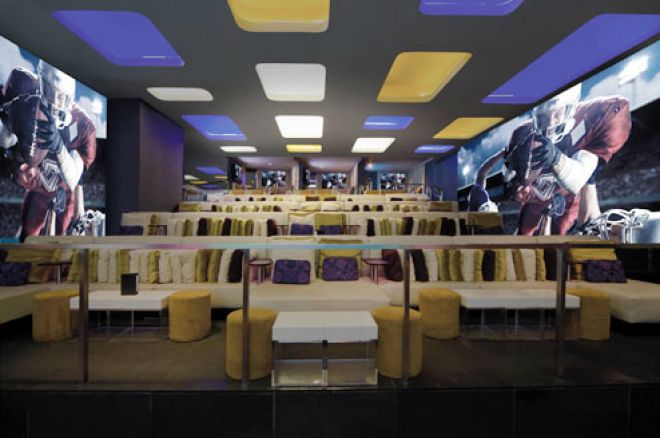 It's easy as a poker player to take up residence for days at a time at the poker table, gorging on table-side food service, Red Bull and donkeys' money; however, it's never a bad idea to step away from the poker room once in a while and see what else Vegas has offer. Whether you're in Vegas for the World Series of Poker, the Venetian Deep stack series or one of the many other tournaments taking place in town, do yourself a favor and check out Lagasse's Stadium immediately.
Located in the Palazzo, Lagasse's is a 24,000-square-foot playground for sports fans with 109 flascreen TVs strategically placed and a movie-theater-style projection screen positioned in front of six rows of stadium-styled VIP lounge seating. VIP luxury boxes are also available and include your own private TVs, a pool table, video game consoles, WiFi, iPod docks, bottle service and and the privacy you require to make a fool of yourself after winning that long shot you bet on.
While Lagasse's Stadium has complete access to Palazzo's sports book, guests can also take advantage of the Pocket Casino, which offers up real-time betting on a hand-held device slightly larger than your typical iPhone. Once you load up your account with some cash, players will be able to make money line, over-under and point-spread wagers on games, but also be able to wager on prop-bets such as whether or not a player is going to make, one, both, or no free-throws in a basketball game. Football games allow you to wager on whether or not the team with the ball will make a first down or get a touchdown on their current drive, and also lets you bet on whether or not the kicker is going to make the current kick. Pocket Casino also allows players the convenience of playing casino games like BlackJack right from their table or luxury box, a perfect way to reduce the stress of that last bad beat you took at the Rio.
In terms of grub, Lagasse's treats guests with bar food with a kick, including Creole boiled shrimp cocktail, BBQ pork nachos, a Creole Reuben, Italian sausage Arancini with fried Italian sausage and mozzarella risotto balls and a sausage and peppers stromboli served with Creole mustard aioli.
To avoid long trips back and forth to the bar, order up specialty cocktail pitchers like the "Hat Trick" (Absolut, Sauza Hornitos Plata tequila, Bacardi Light rum, Plymouth gin, Cointreau, lemon sour and Coke), the "Grand Slam" (Sauza Hornitos Plata tequila, Cointreau, lemon sour and fresh lime), and the "Slam Dunk" (Crown Royal whisky, Dekuyper sour apple, lemon sour and cranberry juice).
Happy hour specials run Tuesday through Friday from 3 p.m to 7 p.m. and include $3 beers, $15 buckets of beer, $5 appetizers and $20 specialty pitchers, essentially allowing you to spend less than a $1/$2 no-limit for to wipe clean your memories of all the other $1/$2 no-limit buy-ins you just lost.
To make your reservation call (702) 607-2665 or check out PalazzoLasVegas.com.