Around the World with Lynn Gilmartin: Auckland to Argentina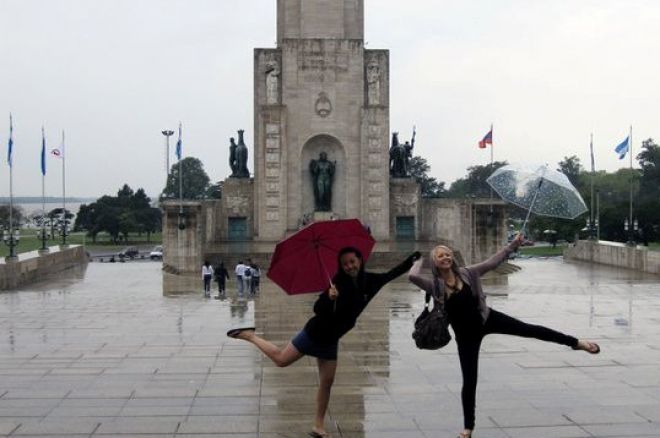 Filling out my customs arrival card when landing back in Australia two days ago was so bizarre. I said that I boarded that plane in Argentina, yet spent most of my time in New Zealand. What a strange route. Welcome to the strange life that I love! I've been from what feels like opposite sides of the world, from New Zealand to Argentina in just two weeks, and what a whirlwind it was.
Auckland, New Zealand
Despite feeling like I'm just next door to my home town in Melbourne, Australia, I find that Auckland has an extremely relaxed, peaceful atmosphere that's so refreshing compared to the busy city lifestyle in Melbourne. I mentioned in my recent guide to Auckland that this is home to some of the friendliest people on earth, and it's no lie. Despite the Maori looking like some of the scariest people (see The Haka, and even the champion Brotha D in the Wrap Up video), as soon as they open their mouths, you almost just want to give them a giant hug! Here is a video we made when we first arrived. I must say, it was hard work putting it together with every line taken from a different place across the city, so I'm pretty proud of it.
The APPT Main Event was short and sweet, with only one Day 1, which means we had a champion in just four days. It was a pretty entertaining four days, with Team PokerStars Pro Tony Hachem attempting the Haka and Daniel Neilson and Andrew Hinrichsen jumping off the Sky Tower. To top off a fantastic week, we saw the Main Event dwindle down to heads-up play between two extremely deserving people. Everyone was torn between Brotha D, the lovable and well-known Godfather of New Zealand Hip Hop, and Australian poker-scene regular Tom Grigg. It was quite the epic heads-up battle lasting more than four hours, and it was Brotha D who eventually triumphed, with Grigg being gracious about it. You can see all of this and more crammed into the following four minutes.
Rosario, Argentina
It was quite the ride getting to the LAPT Grand Final. After the long-haul flight from Down Under, throw in an expected three-hour drive from Buenos Aires that took twice as long because of a strike with a driver that couldn't speak a word of English, and boy was I happy to finally arrive in Rosario and go straight to bed! Of course, it was all totally worth it. What a fantastic place Rosario is. We had a couple of days to wander the streets, and our hotel was just walking distance from the main strip, Cordoba, so there was plenty of sightseeing and shopping to be done. It was unbelievable how cheap everything is. From $60 shoes to $4 bottles of amazing local wine over dinner – we were loving life over there.
That video was made with ease thanks to our luck in finding a cab driver who just happened to live between Rosario and Las Vegas. Jackpot! An English-speaking cab driver is a rare find, so we kept him with us for about an hour to give us our own little guided-tour to catch all the sights.
I resurrected Calling the Clock after it sat off the shelf for quite some time. The first victim was Tennis Pro Gaston Gaudio, but then my highlight was on our very own PokerNews hostess Kristy Arnett with thanks to the help of the entire PokerNews team.
Throughout the LAPT Main Event, we had so much fun, as always. The Welcome Party that PokerStars threw at the City Center Casino was fantastic, with the band making use of the most bizarre things, such as plastic bags, as instruments, and cannons firing out PokerStars-themed confetti to send off Season 3 with a literal bang. We saw some of the most amazing looking women wandering around the poker room, and I met some of the most generous and lovely people. A third of the final table were local, and amazingly, in the back-to-back fashion that has existed on the LAPT, with Team PokerStars Pro Nacho Barbero winning two Main Event titles, and Team PokerStars Pro Christian De Leon winning back-to-back Second Chance side events, the LAPT Florianopolis Champion Matthias Habernig made his way to this Main Event final table. He didn't take it down, but what an amazing achievement for him after starting off in Brazil as an unknown Austrian qualifier. The title eventually went to Peruvian Martin Sansour whom you can meet in the following wrap-up video, once again rolling our days of nonstop laughs and poker into just three minutes.
Another highlight while in Rosario, was when Kristy took the PokerNews cameras to the hotel to film a Sunday Grind with player manager Dan Frank and Team PokerStars Pros Victor Ramdin andGualter Salles. I guess you could say Salles suffered a bad beat only seconds before our arrival, as his laptop screen was shattered when we got there. You'll have to wait for that video to come out soon!
Follow us on Twitter for up-to-the-minute news.