Poker's Breakout Performances of 2010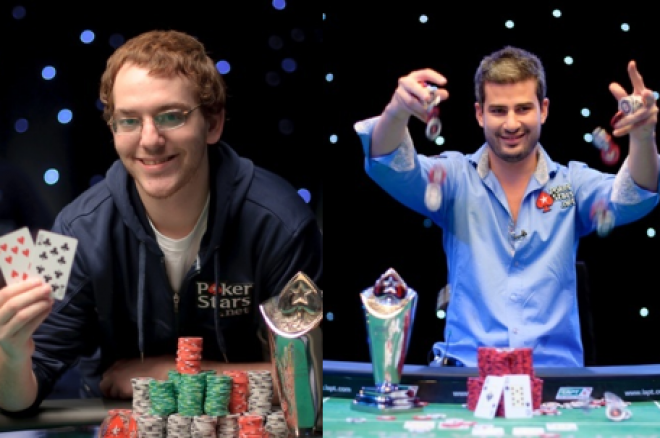 Not everyone can win when it comes to poker, especially poker tournaments. Many players will record less than ideal years, but for a select few, 2010 proved to be an enormous success. So successful in fact, that these players are now notables, having had breakout performances in this year. Looking back on this past year on the felt, which players have had breakout performances? Well, everyone knows Jonathan Duhamel burst onto the poker scene with the biggest win of all by winning the World Series of Poker Main Event, but who else stormed onto the scene?
Here at PokerNews, we pride ourselves in finding the star before he is a star. Although Duhamel may be the brightest star of them all right now, here are a group of players who's names you may not know and faces you may not recognize, but they've all had some pretty amazing results on the felt in 2010. Our suggestion? Get to those these names and faces if you love poker, because they've all got game.
Harrison Gimbel
After winning a super satellite to the PokerStars Caribbean Adventure Main Event, Harrison Gimbel went on to capture the title after beating out a field of 1,529 entrants. He took home a whopping $2,200,000 for that victory at the ripe old age of 19. Being that Gimbel is so young, he still can't play much of the live tournament circuit within the United States. Still, he traveled over to San Remo and finished 39th in the Main Event that stop on the European Poker Tour. Then, when the World Poker Tour held its event in Hollywood, Florida, where the age to play poker is 18, Gimbel entered, and after 297 players hit the rail, he was the last one standing, taking home the first-place prize worth $330,000. Two big wins and not that many live events played. The poker world better watch out when this kid turns 21 and can play everything.
Tom Marchese
Looking at Tom Marchese's results, he doesn't have anything prior to January 2010. Then from there, the list just starts piling up with big result after big result. First, he finished third in the Borgata Winter Open Championship Event for $190,027 before taking down the first-ever North American Poker Tour event held at the Venetian in Las Vegas. Marchese scored over $827,000 for that win and the cash didn't stop rolling in there.
A fourth place finish at the Wynn Classic and at the EPT Grand Final High Roller event saw him pocket over $400,000 more before he scored $123,264 for final tabling a World Series of Poker event and taking fourth as well. On top of those finishes, Marchese final tabled the EPT London Main Event, the WPT World Poker Finals and the NAPT Los Angeles Bounty Shootout.
Jake Cody
Jake Cody stormed onto the scene when he won the EPT Deauville back in January. Winning €857,000 ($1,213,194) was a great way to kick off the year, but that's not all Cody accomplished. He went on to claim the WPT London title and win another £273,783 ($425,492). Cody also cashed twice at EPT London, once in the Main Event with a 99th-place finish and once in a £2,000 side event where he took third for £31,370 ($49,091).
Dwyte Pilgrim
Before 2010, Dwyte Pilgrim was considered to be the best minor league grinder in the business. He had a handful of WSOP Circuit championship rings, various other "small" titles and tons of cashes along the grade-B circuit. In September 2010 though, Pilgrim "shocked the world" when he won the largest-ever WPT event, the 2010 Borgata Poker Open. Pilgrim conquered a field of 1,042 entrants to take home $733,802 and silence the critics. Although it may have taken Pilgrim many years in the minor leagues before he finally made it to the big leagues, there's no telling how the high the ceiling of success is for this guy.
Jose Ignacio "Nacho" Barbero
Can you say back-to-back? Because that's what Nacho Barbero did this past year in Latin American Poker Tour events. First, he won LAPT Punta del Este before following that up with a win on the next stop at LAPT Lima. In between those two major wins, Barbero took down a side event at the France Poker Series.
From there, he wanted more and found himself hitting the trifecta when he won his third title of the year at EPT London. There, Barbero won the High Roller Event for £556,000, or just over $870,000. If anyone ever questioned whether or not this guy had the skills to be a member of Team PokerStars Pro, they'll now had found more than 1.5 million answers.
McLean Karr
With just under $125,000 in career tournament winnings prior to 2010, one probably couldn't pick McLean Karr out of a table of regular poker players. Now, he's a face that's widely recognized amongst poker media and top poker players. You should probably get on board.
Karr took first place in the WPT Bay 101 Shooting Stars Championship event for $878,500 back in March. Prior to that he cashed in a couple events including the NAPT Venetian. Karr wasn't about to just put up one big score for the year though, as so many people do. While in London, Karr won the EPT London High Roller Turbo event for £270,500, or about $423,000.
Frank Kassela
Frank Kassela has had a good amount of success in poker prior to 2010. Before this year, he had two WPT cashes, six WSOP cashes and $1,025,557 in tournament earnings. He did much more than that in 2010, pulling in more money, scoring six WSOP cashes this year alone and winning two gold bracelets. He may have been a regular in some of the larger tournaments around the world, but the 2010 WSOP Player of the Year is now a face that needs to be recognized around the poker world given all the success he has had this year.
Kassela won his first bracelet in the $10,000 Seven Card Stud Hi/Lo 8 Championship before winning his second in the $2,500 Seven Card Razz event. On top of that, he almost scored a third bracelet after coming in third place in the $25,000 No-Limit Hold'em Six-Handed event. He also ran deep in the Main Event, fininshing in 674th place.
Jeffrey Papola
Not many people have heard of Jeffrey Papola. Even before his big year in 2010, he had some decent scores on his record including a third-place finish at the 2008 Aruba Poker Classic for $250,000 and a couple of WSOP Main Event cashes. Still, only the most diehard poker aficionados had any clue who Papola was going into the 2010 WSOP.
During the 2010 WSOP, Papola performed and performed well. He won a bracelet in the $2,500 No-Limit Hold'em Six-Handed event and then almost did the unthinkable and take down the similar $5,000 variety. Unfortunately, he'd have to settle for second place. Still, Papola recorded a win and a second place in two of the toughest tournaments of the year to win. After that, Papola went on to finish in seventh place in the largest WPT event ever, the 2010 Borgata Poker Open for $118,408. If that's not a breakout year, I don't know what is.
Andy Frankenberger
Much like Marchese, Andy Frankenberger doesn't have anything on his tournament record before 2010. The first half of the year has a few smaller cashes on his record, but then Frankenberger was able to spike a solid six-figure score when he won the $2,000 No-Limit Hold'em event at the Venetian Deep Stack Extravaganza III in June for $162,110.
Shortly thereafter, just one month later, Frankenberger won the World Poker Tour Legends of Poker Main Event for $750,000. He wasn't just satisfied with one WPT final table though because he came back in October to final table the Festa Al Lago in Las Vegas, taking home $161,200 for his fifth-place finish.
Vladimir Schemelev
Excuse me? Can you spell that again? That was the questions we kept asking over and over during the WSOP this year. Why were we constantly asking that? Well, because everywhere we looked we saw Russian Vladimir Schemelev behind a tall stack of chips.
Schemelev stormed onto the scene after final tabling the $50,000 Players Championship Event at the WSOP, eventually finishing second to Michael Mizrachi. He scored $963,375 for that finish and wasn't done there. Three more WSOP cashes followed and all of them were final tables. He scored two seventh-place finishes and one fourth-place finish to win over $180,000 more. He's proven he can play all variations of the game and won't be a nobody at the 2011 WSOP.
Randal Flowers
Randal Flowers had a fairly solid list of cashes prior to 2010. It's a record that included a win in June 2009 at the WPT Spanish Championship. Even so, the youngster had still yet to be seen on the United States tournament scene due to his age. Then, 2010 rolled around and Flowers blossomed.
First, he cashed at the PCA Main Event before winning a Five Star World Poker Classic side event for $166,889. He had a couple more scores, but then in October had his largest ever. Flowers took first place at the Bellagio in Las Vegas at the Festa Al Lago Championship event. He scored himself his second WPT title and $831,500 in prize money. Now that this kid's 22 and his face is going to be all over television when his WPT final table airs, he's someone everyone's going to get to know really quickly.
Sam Trickett
Well known overseas, but not so much in the United States, Sam Trickett is widely considered as one of the best young players in the game amongst poker circles. In 2010, he had by far his best year ever.
Trickett recorded six WSOP cashes including a second-place finish in the $5,000 No-Limit Hold'em event for $505,725 and a seventh-place finish in the $25,000 No-Limit Hold'em Six-Handed event for $141,168. When he was done in Las Vegas, Trickett returned to Europe to place fourth at EPT Vilamoura for €139,681, or $177,519, and win the PartyPoker.com World Open VI for $200,000.
Those are some of the breakout performances from the world of poker in 2010. It has been a great year on the felt and amazing to be a part of it. We only hope that next year is much of the same and expect it to be even better. Maybe you'll be the breakout performer next year that we're writing about, you never know!
Like us on Facebook, and follow us on Twitter for up-to-the-minute news.
Have you seen our new $40,000 Freeroll Series from Lock Poker? Lock Pro Supremacy not only has four $7,500 Freerolls but it also has 25 $100 Lock Pro Bounties in each tournament, so you can boost your bankroll even if you don't make the money.