PokerNews Launches Live Reporting iPhone App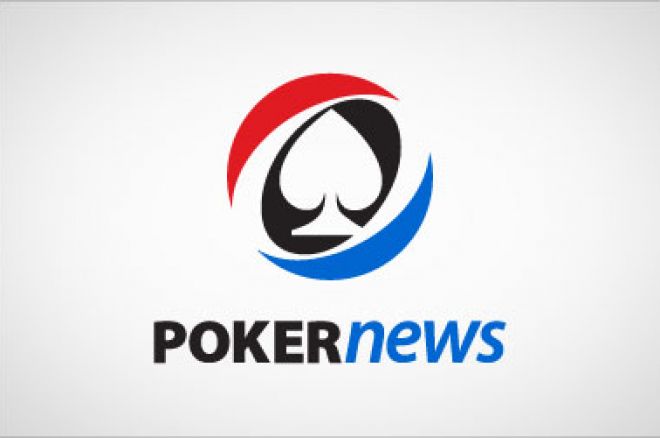 PokerNews is excited to announce that its Live Reporting iPhone app is now available in the iTunes store. During the remainder of the World Series of Poker, fans will be able to download the App Free of Charge and get access to live updates straight from the WSOP Main Event via their iPhone, iPad or iPod Touch.
Combining everything that PokerNews live reporting is all about, users will have all the content from PokerNews.com right at their finger tips. Once you download the app, you'll have the ability to select the event you'd like to view, which includes tours and events like the World Series of Poker, the European Poker Tour, the Latin American Poker Tour, the North American Poker Tour, the Asia Pacific Poker Tour, the World Poker Tour and more. Events with current live coverage are displayed in red.
Once an event is selected, a list of tournaments that are a part of the event will be displayed, and once again, events with live coverage will be highlighted in red. From the list, you'll be able to select a number of tabs to help you follow the tournament. The "Reporting" tab brings you written updates from the floor, hand histories, double-ups, bust outs, and more. The "Chips" tab has up-to-date chip counts for your favorite poker players. "Payouts" breaks down the current tournament prize pool. "Photos" gets you snapshots from the tournament floor, and "Shoutbox" lets you see what other fans are saying about the current event.
"We're absolutely thrilled to release our iPhone app in time for the WSOP Main Event," said Editor-in-Chief Matthew Parvis. "The app is a great resource for those on the go who want to keep up with all the action from the Rio but are unable to stay chained to their computers all day."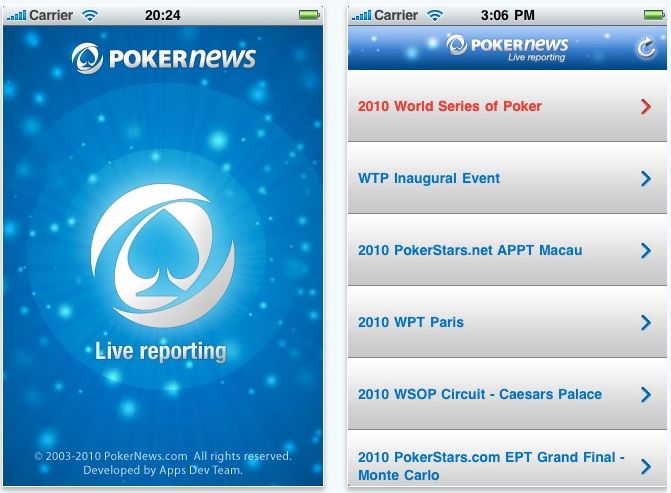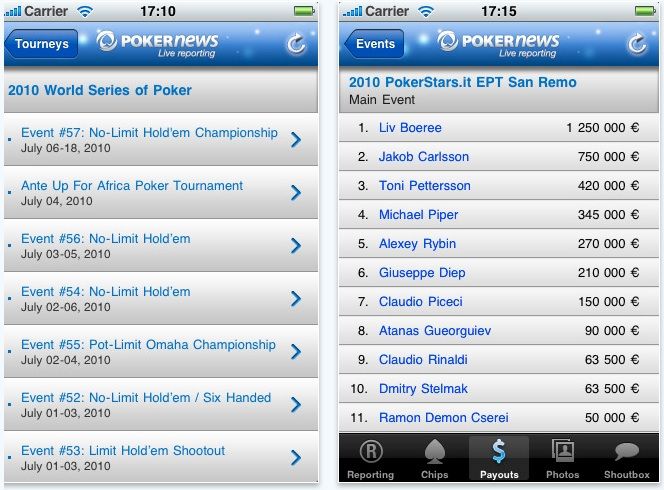 Get your hands on the PokerNews Live Reporting app immediately by downloading now from the iTunes Store right now!