PokerStars and Monte-Carlo®Casino European Poker Tour Grand Final Day 1a: Kabrhel Leads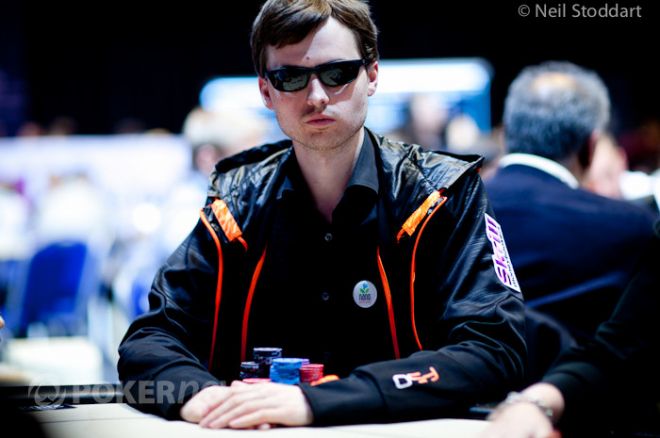 The prodigal son has come back to his rightful home. That's how it feels for all of us involved on the PokerStars.com European Poker Tour. Madrid was great as a venue for last season's Grand Final but the PokerStars and Monte-Carlo®Casino European Poker Tour is back in the grandest of homes, and we don't want to move out again.
There are certain tournaments on the global poker calendar that can't be missed and this is one of them. Anyone who is anyone will be here over the course of the week. Thursday's Day 1b will be big in terms of numbers, but Day 1a's 271-player field was big in talent.
Martin Kabrhel showed the most talent on Day 1a, and along with a little luck, bagged up 167,800 in chips. He got off to a great start when he busted a player while holding nine-deuce. The flop had a low board containing two deuces and his opponent couldn't get away from his pocket tens. From there he reached the dizzy heights of 200,000 after playing "silly" as he described it, before he dropped back to where he sits until Day 2.
Kabrhel played the latter stages of the day along side Freddy Deeb and John Eames, who were also two of the bigger stacks. They finished on 114,600 and 157,200 respectively. Just one table away from them sat David "Doc" Sands, who finished the day with 163,300.
We caught up with Sands, who explained a few of his key moments. He busted James Akenhead over the course of two hands. First he over-bet the river and got Akenhead to pay him off. Then he got lucky when his ace-queen came from behind to bust Akenhead, who was holding ace-king. Shortly thereafter he won a big pot where he cold four-bet with ace-king and bet, bet, shoved on a
board and was called by his opponent who couldn't produce a winner. From there he said it was plain sailing until the finish.
Other notables who made it through included the last winner in Monaco, Nicolas Chouity (38,700), and Phil Ivey (72,000), Ondrej Vinklarek (83,200), Andrey Pateychuk (67,800), Adam Levy (66,800), and Steve O'Dwyer (101,600).
The full force of Team PokerStars Pros will be on show on Day 1b, but 14 were in attendance on Wednesday. Mickey Petersen from Team Online performed the best with 98,800. He was followed through by Ville Wahlbeck (61,700), Vanessa Selbst (54,900), Richard Toth (52,900), Pierre Neuville (51,100), Jude Ainsworth (41,000), George Danzer (31,200), Matthias De Meulder (23,900), Toni Judet (22,500), Joe Cada (17,000), Joao Nunes (14,000), and Anders Berg (31,800) from PokerStars Team Online. Those who failed to make it through included Arnaud Mattern, Jan Heitman, Alex Kravchenko and Luca Pagano.
Day 1a Top 10 Chip Counts

| Player | Chip Count |
| --- | --- |
| Martin Kabrhel | 167,800 |
| David Sands | 160,300 |
| John Eames | 157,200 |
| Malte Moennig | 136,900 |
| Tristan Clemencon | 121,100 |
| Freddy Deeb | 114,600 |
| Frank Koopmann | 113,900 |
| Jason Wheeler | 112,900 |
| Reza Mostafavi Tabatabaei | 110,900 |
| Ben Warrington | 104,800 |
Day 1b kicks off at 1200 CET (0300 PDT) on Thursday and rumor has it, the field will be big, very big. Join the PokerNews Live Reporting Team back here then as we slowly work towards another great champion.
Follow PokerNews on Twitter for up-to-the-minute news.