Win Your Own WSOP Experience on Betfair!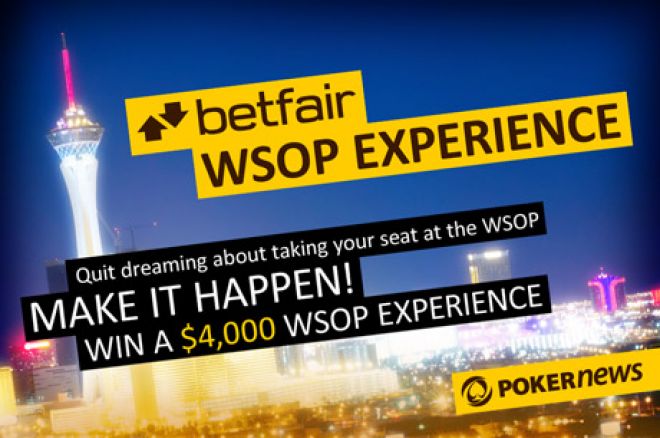 Do you find yourself spending each June and July grinding PokerNews for WSOP live updates, following your favorite poker players while they live the dream in Las Vegas, all the while, you're dreaming of one day joining them?
Well, this is the year to start turning that dream into a reality.
PokerNews players on Betfair now have the opportunity to win a WSOP experience valued at over $4,000 — for free!
Imagine arriving in Las Vegas, checking-in for seven nights of luxury accommodation at the five-star Palazzo Suites, joining Team Betfair at their exclusive parties and events, and freerolling your way through WSOP Event #59!
Here's how you can enter:
Existing Betfair Customers
This promotion is exclusive to PokerNews players who have downloaded Betfair via our links, using the bonus code provided by PokerNews. If you are a PokerNews player, then all you have to do is earn 100 Player Points anytime between April 16 and June 5, 2012, to receive an entry into the exclusive freeroll on June 10, 2012.

New Betfair Customers
If you haven't signed up as a Betfair customer yet, then download Betfair through the PokerNews links and enter the bonus code "PNE250." You then have until June 5, 2012, to earn 100 Player Points. Once you do, you will receive an entry into this exclusive freeroll on June 10, 2012.
PokerNews Sign Up Race
The perks continue for new Betfair customers, and the race is on! If you are one of the first 20 PokerNews players to sign up with Betfair, make a deposit, and generate at least one Player Point before May 15, 2012, you will receive a free $5.50 tournament ticket. It's that easy!