2012 World Series of Poker Day 33: Michael Mizrachi Wins $50K PPC For the Second Time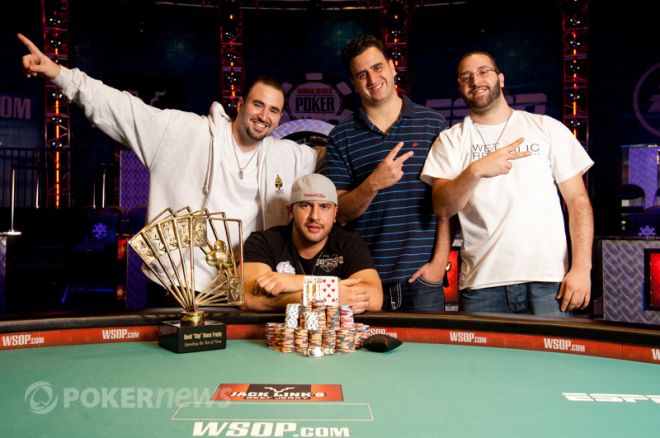 Three bracelets were awarded and two events took place on a very busy Day 33 at the 2012 World Series of Poker. Michael "The Grinder" Mizrachi won his third bracelet and second in the same event, taking down Event #45: $50,000 Poker Players Championship. In Event #47: $1,500 Pot-Limit Omaha Hi-Low Split 8-or-Better, Steven Loube took down the top prize. Kenny Hsiung came out on top in Event #48: $3,000 Limit Hold'em. Event #49: $1,500 Ante-Only No-Limit Hold'em, played quickly down to the final nine players. Finally, Event #50: $5,000 No-Limit Hold'em broke its record, attracting 1,001 runners.
Event #45: $50,000 Poker Players Championship
The fifth and final day of the $50,000 Poker Players Championship began with the official final table of eight. It was expected to be a long day, as is the tradition with this event. Instead, the players never made it to the dinner break. It took just over six hours for Michael Mizrachi to repeat his 2010 victory in this event, finishing off Chris Klodnicki in heads-up play to win the Chip Reece Memorial Trophy, the gold bracelet and the top prize.
Just three hands into the final table, during a round of no-limit hold'em, there was a three-way pot with two players all-in. Short-stacked Bruno Fitoussi had raised all-in for 170,000 from under the gun. Bill Chen called from the hijack, then Mizrachi reraised it to 400,000 from the big blind. Chen quickly moved all-in for a little over 1.2 million and Mizrachi snap-called. Mizrachi had the goods, flipping over A♦A♣. Fitoussi had two live cards with 8♣7♣ and Chen was in deep trouble with A♥K♣. The board gave each all-in an inferior pair, but nothing more, and Mizrachi extended his chip lead while thinning the field to six.
Mizrachi was responsible for the next elimination, as well. During a hand of pot-limit Omaha, Stephen Chidwick raised it to 72,000 from the small blind and Mizrachi called from the big. Chidwick bet 60,000 on the 8♣8♦2♥ flop and Mizrachi called. After the 3♥ came on the turn, Chidwick moved all-in for his remaining 230,000 chips. Mizrachi called and turned over A♦4♦8♥2♣ for a flopped full house. Chidwick was behind with K♠K♦5♣4♠ and needed a two-outer to stay in the game. But the river was the 3♦ and Chidwick was out in sixth place.
Roland Israelashvili raised all-in from the cutoff for 111,000 during a hand of 2-7 triple draw and both Andy Bloch and Mizrachi called from the blinds. Bloch took two cards, Mizrachi took three and Israelashvili took two. Bloch and Mizrachi checked, then both took two cards again. This time, Israelashvili asked for just one. Action checked and the two blinds each drew one while Israelashvili stood pat. Action checked and the cards were revealed. Bloch's 8-7 was good enough to take down the pot and eliminate Israelashvili in fifth place with $317,882.
Luke Schwartz had come into the day in the middle of the pack but lost nearly half his chips in a couple of hands early on. He tangled with an on-fire Mizrachi a bit but seldom got the best of it. Down to just around 600,000, during a hand on limit hold'em, he looked poised for a big double-up. He had three-bet for his entire stack against Chris Klodnicki who made the call. Schwartz was ahead A♣9♦ to the A♦6♥ of Klodnicki. But his celebration became more muted as a chop looked likely after the dealer laid down a K♣K♥Q♥ flop. The 5♦ turn had Schwartz still alive for the win, and he called out for "Anything but a six!" just before the dealer turned over the 6♣.
The players who had entered the day with the top three chip stacks ended up being the final three. Going into three-handed play, Mizrachi had a slight chip lead, but it was still anyone's game. Until one significant hand of pot-limit Omaha. Mizrachi had raised on the button to 80,000 and both Klodnicki in the small blind and Bloch from the big blind came along to see the K♠Q♦2♥ flop.
It was checked to Mizrachi who led out for 200,000. Klodnicki folded, Bloch called and the two saw the 2♣ hit the turn. Bloch check-called Mizrachi's 350,000 bet. The 10♥ completed the board. This time, Bloch led out, betting 500,000. Mizrachi raised to 2.5 million and Bloch called. Mizrachi showed the K♦K♣9♠7♥ for top full house. Bloch showed the Q♣Q♠8♦5♠ for the second full house and lost the large pot. Mizrachi was up to 8.7 million and Bloch was down to 1.1 million.
Bloch was further crippled when Mizrachi made trip kings in a hand of limit hold'em, and it was just a matter of time for Bloch to make his all-in move. Bloch raised from the button, Mizrachi three-bet from the small, Klodnicki four-bet from the big and Bloch called all-in. Mizrachi called and the three saw a 7♦7♠3♣ flop. Mizrachi and Klodnicki both checked the flop, then Klodnicki bet the 7♥ turn and Mizrachi got out of the way. Klodnicki turned up ace-jack and Bloch was down to six outs with queen-four. The river 8♣ was not what Bloch needed and had a third-place finish to go with his second-place finish in this event in 2006.
Mizrachi began heads-up play with an almost 2:1 chip advantage over Klodnicki and Klodnicki won the first hand in limit hold'em. But Mizrachi kept getting hit with the deck, especially when it turned to 2-7 triple draw, and there seemed to be nothing Klodnicki could do to stop the bleeding.
The second-to-last hand was in Omaha 8. Klodnicki had raised from the button and Mizrachi called to see the K♣9♣3♦ flop. Mizrachi checked-called the flop and then check-raised after the K♥ came on the turn. Mizrachi led out after the 9♦ hit the river and Klodnicki called. Mizrachi turned over K♦5♣5♠2♠ for three kings and Klodnicki was down to just 540,000 in chips.
On the very next hand, Klodnicki and Mizrachi raised back and forth until all of Klodnicki's chips were in the middle preflop. Klodnicki had A♠J♥9♣2♠ and Mizrachi showed Q♦J♣9♥8♥. They each picked up a draw on the 10♣10♠7♠ flop, but Mizrachi made his straight on the 6♥ turn. The A♥ on the river was a blank and Klodnicki had to settle for second place and $896,935.
Michael Mizrachi had his second win in this prestigious event in three years and his third lifetime WSOP gold bracelet. He went wire-to-wire as chip leader at this final table, only briefly ceding the chip lead before taking it back and riding it to the end. This win has placed him fourth on the All-Time Money list, only $835,783 behind Phil Ivey.
$50,000 Poker Players Championship Results
| Place | Player | Prize |
| --- | --- | --- |
| 1 | Michael Mizrachi | $1,451,527 |
| 2 | Chris Klodnicki | $896,935 |
| 3 | Andy Bloch | $561,738 |
| 4 | Luke Schwartz | $406,736 |
| 5 | Roland Israelashvili | $317,882 |
| 6 | Stephen Chidwick | $253,497 |
| 7 | Bill Chen | $205,856 |
| 8 | Bruno Fitoussi | $169,879 |
Make sure you follow all the big hands and knockouts of the final day of the Poker Players Championship. Check out the live reporting blog for all the action.
Event #47: $1,500 Pot-Limit Omaha Hi-Low Split 8-or-Better
Day 3 began with the final 10 players ready to fight for the bracelet. The chip leader was Charalampos Lappas, who bagged up 994,000 in chips, but right behind him, Steven Loube had 947,000 chips. In the end, Loube came out on top, winning the first-place prize money and his first gold bracelet.
The official final table began once Viatcheslav Ortynskiy was eliminated in 10th place. Ortynskiy came into the final day as the short stack and had managed just one small double-up when he moved all-in with his remaining 15,000, less than the big blind. He had just one caller in Sonu Sharma, who managed a set of kings on the flop that stayed ahead to take down the small pot.
After Paul Ewen was knocked out in ninth place, a short-stacked [b}Kyle Carlston[/B] opened for 50,000 from early position and Steven Loube called from the hijack seat and Timothy Finne called from the cutoff and Sharma came along from the big blind. The four players saw the flop come 6♥9♠10♥. After Sharma checked, Carlston shoved his remaining stack forward. Loube called, Finne paused then reraised all-in. Sharma folded and Loube thought for a while before mucking his cards face up, showing he had flopped top two pair.
Carlston had his tournament life on the line with K♦Q♦J♥4♥ for a straight wrap draw and a flush draw. Finne had gone over the top all-in with a pair of nines and the nut flush draw, holding A♥J♣9♥2♠. The board ran out 2♣ 3♠, meaning there was no low and Finne's pair of nines took the high, sending Carlston home in eighth place. Loube ended up mucking the best hand, but he patted Finne on the back for his all-in move.
Loube may have missed out on the previous hand, but he had the chance to eliminate the next two players. First, he insta-called Paul Taylor's all-in move holding A♦4♦2♣K♠. Taylor was behind holding A♥4♠3♦8♥ and found nothing on the 7♦7♥10♣ flop to help. The K♣ turn gave Loube a pair of kings and ended the hand right there, sending Taylor to the rail in seventh place. He knocked out Sonu Sharma next, in sixth place, with top two after Sharma failed to hit his wrap draw.
Charalampos Lappas had come into the day as the chip leader, but lost half his stack in one hand against Roch "Rocky" Cousineau in a failed river bluff when we were six-handed. It took two more hands to end Cousineau's run in fifth place. His last had had him down to around 175,000. Timothy Finne open-raised to 72,000 from the small blind, Lappas reraised all-in, and Finne called. Lappas had K♦K♠Q♠2♣ and Finne had A♦J♥5♥4♠. Finne picked up two pair on the 10♠5♠J♣ flop then improved to a full house on the 5♣ turn, leaving Lappas looking for a two-outer. But no king on the river meant he was done for the day in fifth place.
Cameron Mckinley went all-in with the board reading A♣3♠8♥ 7♥ and was called by Cousineau. Cards turned over, Cousineau had two pair and the nut low with 2♠4♠7♠3♥. Mckinley was in trouble with a pair of aces and a straight wrap A♠4♦6♦5♠. Cousineau called out, "Big card and I scoop," and when the dealer peeled off the K♣, he had almost all of Mckinley's chips. After that hand, Mckinley had only 45,000 left, and those went in the next hand. His three opponents limped and checked it down. Loube made a straight and took the pot, sending Mckinley out in fourth place.
Cousineau had his stack decimated in a hand against Loube. Cousineau had open-raised to 150,000 from the small blind, then Loube raised the pot to 450,000. Cousineau tank-called and then they both checked the 9♠Q♥A♦ flop. Loube bet 375,000 on the 4♣ turn and Loube reraised all-in. Cousineau went deep in the tank before committing the rest of his 725,000 stack. Cousineau was at risk with a wrap-around wheel draw with J♠5♠3♦2♦ and Loube was in the lead with A♠10♠4♦2♥ for aces and fours. The river was the J♥ and Cousineau had only 60,000 left. He put his remaining chips in the very next hand against Loube and Finne who checked it down, and Loube's full house took down the pot.
Loube began heads-up play with about a 3-to-1 chip advantage, and after a couple of small-pot hands, enjoyed about the same lead when Finne limped from the button. Loube quickly raised the pot to 180,000, and Finne called. After the flop came 3♥10♥K♠, Loube bet 360,000, Finne reraised all-in and Loube made the call. Finne had a pair of kings and an open-ended straight draw with K♣Q♦J♠6♥ and Loube had the nut flush draw with a backdoor low possibility, holding A♥7♥4♦3♦. Finne had a pair of kings and an open-ended straight draw, while Loube had a nut flush draw with backdoor low possibilities. The turn came the Q♣ giving Finne two pair and taking away Loube's chance for a low, but the river was the 9♥ and Loube hit his flush.
Timothy Finne finished second, his highest finish after three previous final tables. And Steven Loube won his first bracelet in the first WSOP tournament he ever entered.
Event #47 Results
| Place | Player | Prize |
| --- | --- | --- |
| 1 | Steven Loube | $267,345 |
| 2 | Timothy Finne | $165,486 |
| 3 | Roch Cousineau | $103,538 |
| 4 | Cameron Mckinley | $75,151 |
| 5 | Charalampos Lappas | $55,479 |
| 6 | Sonu Sharma | $41,589 |
| 7 | Paul Taylor | $31,634 |
| 8 | Kyle Carlston | $24,386 |
| 9 | Paul Ewen | $19,052 |
To make sure you don't miss any of the exciting action from the final table, or earlier in the tournament, check out the live reporting blog.
Event #48: $3,000 Limit Hold'em
Twenty players remained in the field when Day 3 began at 1400 PDT (2200 BST) in the Amazon Room. Paul Berende was the chip leader, but such notables as Team PokerStars Pros Chad Brown and Jonathan Duhamel, as well as Dwyte Pilgrim, were still in the hunt for the gold bracelet. But in the end, Kenny Hsiung came out on top, taking the $165,205 and gold bracelet.
Justin Bonomo had a short Day3, eliminated in 19th place by Robert Hwang, after Bonomo moved all-in on the A♥ 9♣ 6♠ flop. Hwang had top pair with ace-eight and was well ahead of Bonomo's suited jack-ten. The board ran out 6♥ Q♠ and it was time to redraw for two tables for the final 18.
With blinds at 6,000/12,000, Duhamel was short stacked with around 50,000. He looked in good shape for a double up when he got all his chips into the middle with pocket kings on a board reading 2♦2♠4♦. His opponent, Marshall called and turned over A♣Q♥ and needed an ace to send Duhamel to the rail. No ace, but a Q♦ on the turn gave Marshall two additional outs, but it was the A♦ on the river that sent the 2010 Main Event champion out in 17th place.
The next group of knockouts came fast and with Jonathan Manger's elimination in tenth place, we were down to the official final table. The chip leader among the final nine was Matthew Woodward with just over 400,000, the next biggest stack belonged to John Virtue with 293,000 and the short stack was John Myung with 144,000.
Steven Hung was the first player knocked out of the final table, when his ace-ten went up against the pocket nines of Mitchell Davis, which improved to a set on the river. Next to hit the rail was John Myung, in a three-way pot against Hsiung and Davis. Hsiung check-called bets from Davis on the K♥9♦6♣ flop and the 2♣ turn, then they both checked the 6♥ river. Hsiung's K♣J♣ was best and he took the pot and sent Myung to the rail in eighth place.
Hsiung was also responsible for eliminating Mitchell Davis in seventh place and Matthew Woodward in sixth. Dwyte Pilgrim was the next to hit the rail, knocked out by Paul Berende, in fifth place. Berende was next to exit, thanks to Robert Hwang, who also knocked out John Virtue in third place. Then it was heads-up for Hsiung and Hwang.
The heads-up battle was hard fought and had the lead changing hands back and forth over two hours until Hsiung grabbed back the lead and never let go. On the final hand, Hwang was all-in with an open-ended straight draw, and Hsiung held just king high. But Hwang missed his draw and the king high was enough to crown Hsiung the champion, taking down his first bracelet in his eighth WSOP cash.
Event #48 Results
| Place | Player | Prize |
| --- | --- | --- |
| 1 | Kenny Hsiung | $165,205 |
| 2 | Robert Hwang | $102,118 |
| 3 | John Virtue | $76,244 |
| 4 | Paul Berende | $57,310 |
| 5 | Dwyte Pilgrim | $43,345 |
| 6 | Matthew Woodward | $32,994 |
| 7 | Mitchell Davis | $25,266 |
| 8 | John Myung | $19,474 |
| 9 | Steven Hung | $15,098 |
To make sure you don't miss any of the eliminations from Thursday's tournament, or any of the previous day's action, check out the live reporting blog.
Event #49: $1,500 Ante-Only No-Limit Hold'em
Day 2 of the WSOP's first ante-only no-limit hold'em tournament began with just 110 of the original field of 939. Here's a quick refresher on the unique ante-only format. Every player puts in the ante, which goes up every level. The person to the left of the button has the bring-in, which is equal to the smallest denomination chip in play and they are the first to act, by betting or folding, and action then goes around the table.
At the start of Day 2, there was a 600 ante, and 100 chip bring-in. Play was scheduled for 10 more levels or until the final table was reached, but with the rapid pace of eliminations, we were down to the last nine in the middle of Level 18. Leading the final table on Friday will be Eugene Du Plessis with just under one million chips. Mike Sowers will be second in chips with 824,000.
With the bubble bursting by the end of Day 1, all the attention on Thursday was on amassing chips as the field pared down to the final table. Going into the day, Sameer Al Janedi was chip leader with 177,000 in chips and a number of notables were near the top of the leaderboard including Jon Turner with 97,800 chips, Erick Lindgren with 71,400, Mike McDonald with 68,500 and Byron Kaverman with 64,500.
Notables who cashed on Thursday, but will not be returning for Day 3, include Max Pescatori, David Chicotsky, Justin Pechie, John Racener, Zach Clark, Melanie Weisner, Mike Leah, Amanda Baker, Men Nguyen, Steve Sung, Jeff Madsen, Barny Boatman, and Jon Turner.
Erick Lindgren fell just short of the final table, eliminated in 11th place by Eugene Du Plessis. Grayson Ramage was the final table bubble boy, taking pocket threes against Greg Hobson's pocket eights and then watching as the board ran out K♦8♥5♠4♣A♣.
On Friday, the final nine players will play down to a winner. Action will begin at 1300 PDT (2100 BST) in the Amazon room.
Here's a look at the chip counts going into the final day:
| Seat | Player | Chip Count |
| --- | --- | --- |
| 1 | Seth Davies | 640,000 |
| 2 | Sameer Aljanedi | 167,000 |
| 3 | Justin Schwartz | 252,000 |
| 4 | Eugene Du Plessis | 996,000 |
| 5 | Mike McDonald | 205,000 |
| 6 | Greg Hobson | 608,000 |
| 7 | Mike Sowers | 824,000 |
| 8 | John Hayes | 229,000 |
| 9 | Harrison Gimbel | 325,000 |
To make sure you don't miss an ante, make sure you check out the live reporting blog for up to the minute updates.
Event 50: $5,000 No-Limit Hold'em
Last year, 865 players created a monster prize pool in this event, and Allen Bari claimed the title, defeating Maria Ho heads-up at one of the more memorable final tables from the 2011 WSOP. This year's field well-eclipsed last year's with 1,001 players filling the Brasilia Room.
The large buy-in no-limit hold'em event brought out a stacked field, and many well-known players hit the rail as the field narrowed throughout the day. Bryan Devonshire, Jason Mercier, Eric Froehlich, Lex Veldhuis, Scott Seiver, David Singer, PokerStars Team Pros Vanessa Rousso, Toni Judet, Jude Ainsworth, Daniel Negreanu, Betrand Grospellier and Victoria Coren, David "Doc" Sands, Brian Rast, Tony Dunst, and last year's runner up, Ho.
By the end of 10 levels of play, 303 players were left. They will play down past the money bubble and toward the final table on Friday, beginning at 1300 PDT (2100 BST). Leading the way to start Day 2 is Nick Maimone with 196,600.
Also returning on Friday are Stephen Chidwick, coming off his final-table appearance in the Poker Players Championship earlier in the day, Jackie Glazier, fresh of her second place finish in Event #41, recent bracelet winner Rocco Palumbo, as well as Michael Drummond, Dutch Boyd, Tom Vedes, Sam Stein, Phil Hellmuth, Andrew Lichtenberger, and Alexander Kravchenko, all sitting near the top of the leader board.
To follow all the action as the field plays down to the money bubble and toward the final table, make sure to follow out live reporting blog throughout the day.
On Tap
On Friday, only one bracelet will be awarded and that will be in Event #49: $1,500 Ante-Only No-Limit Hold'em, which will start at 1300 PDT (2100 BST). At the same starting time, the remaining 303 players will return to play down toward the final table in Event #50: $5,000 No-Limit Hold'em.
Two new events will get under way, Event #51: $1,000 Ladies No-Limit Hold'em Championship, at 1200 PDT (2000 BST), and Event #52: $2,500 10-Game Mix — Six-Handed starting at 1700 PDT (0100 BST).
To make sure you don't miss anything, make sure you check out the live reporting blog for all the updates.
Video of the Day
Lynn Gilmartin had a chance to talk to two-time $50,000 PPC champ Michael Mizrachi after his stunning repeat win. They discussed Mizrachi bulldozing the table, whether his nickname "The Grinder" still applies, and his plan to use the prize money to buy into the One Drop million-dollar buy-in event.
Follow PokerNews on Twitter for up-to-the-minute news.