WowWee Launches BluffCam, the New $0.99 Poker App that Reads Heart Rates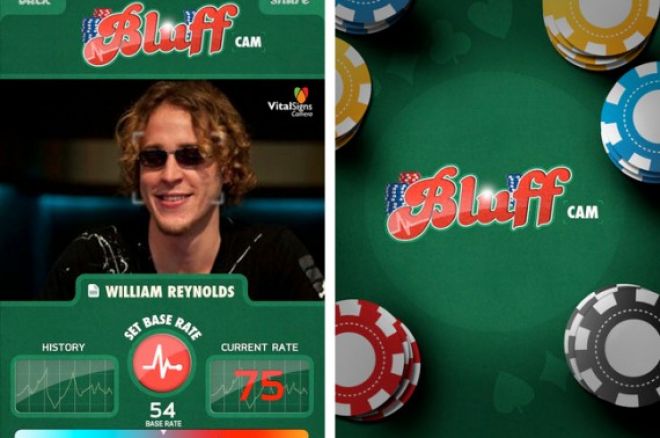 Bad at reading your opponent's poker face? Wish you could pick up tells better? Have a hard time disguising your excitement when your heart beats faster during a bluff? If so, there's an app for that. WowWee has launched BluffCam, the new $0.99 poker app that reads heart rates through your iPhone 4 and 4S, 4th generation iPod Touch and iPad 2.
The World Series of Poker has proven to be the perfect opportunity for companies to introduce and refine innovations in the poker industry. From hole cams to live streaming, and clothing lines to eyewear, the WSOP has seen it all. Now that the world has gone digital, it's only fitting that WowWee Inc., which was also involved in creating the AppGear rage and platforms such as echoer.com, have chosen the 2012 WSOP to unveil BluffCam, a poker app that "teaches you how to manage your heart rate and keep that perfect poker face while under pressure."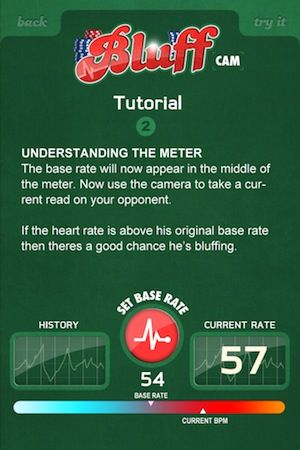 Through the use of VitalSigns Camera technology, BluffCam uses the camera of your mobile device to monitor the micro-blushes in your own face that, with the use of advanced algorithms and expertise in optics, video, and signal processing, calculates your heart rates. VitalSigns Camera sells the technology as something you can use to send your heart rate to your doctor, but it can come in extremely handy when you're trying to perfect your poker face.
"We were presented with this technology that could figure out your heart rate, literally to a 'T' by simply looking at the camera on the iPhone," said Sydney Wiseman, Creative Director of BluffCam. "So we sat down and thought about what else this could be used for. Lie detectors and bluff detectors immediately came to mind."
She went on to explain: "Through good friends of mine, I was able to meet with Will Molson, William Reynolds, and Tom Marchese. We were talking and Reynolds agreed that 'This is so fun for poker.' So the idea of measuring your heart rate, or how your body acts based on the hands you have, came about. We started playing around with the idea and we figured there were two things we could do. We could create a self test, which could be a tool on how to manage your own heart rate, or we could build this as something you can use to measure your opponents' heart rates from across the table and literally play BluffCam poker."
"We ended up going with both ideas but in two separate apps, both with in-app purchase options for the other," Wiseman continued. "Right now only BluffCam, the self test, is available. In about a week or week and a half, we'll have the second app will be available."
The second app Wiseman mentions is BluffCam: "Table Edition,", which will allow you to measure and track the heart rates of other players at the table. You'll be able to add a table of opponents, track their resting heart rates, and then use the information to your heart's content. In addition, there will be a built-in notepad to record information, and players will be able to share results and screenshots via their Twitter account.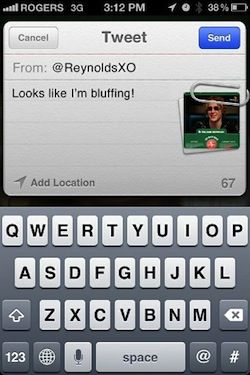 "BluffCam gives players that added edge over their opponents, helping them understand how different poker hands can affect them physiologically," Wiseman went on to say. "Its easy-to-use design and added features like the player 'notebooks' make it the ideal poker companion for anyone looking to stay cool when it counts most."
BluffCam has proven so popular that one of poker's biggest up-and-coming stars and winner of the 2010 PCA High Roller event, the aforementioned Reynolds, serves as an advocate for the app. "I'm so impressed by how easy to use and accurate BluffCam is," Reynolds said. "This is super smart technology, and I can now keep my bluff frequency high by keeping my heart rate low!"
Reynolds isn't the only one high on BluffCam. In the short period of time it's been on the market, players have embraced it. Check out a few of the customer reviews from the iTunes app store:

"I would recommend it to any serious poker player that is looking to make bank. Cannot wait for updates and future apps." –Berbanyc
"Worth the 99 cents all day." –Jamey ooo
"Before the bluff cam everyone knew I was bluffing. Now with some practice with this app I keep my beat down low." –BlufferFishy
To get a better idea on exactly how BluffCam works, have a look at this video tutorial:
You can download BluffCam on either iTunes or by visiting bluff-cam.com. While you're at it, be sure to follow BluffCam on Twitter and like them on Facebook.
**This is an advertisement
Get all the latest PokerNews updates on your social media outlets. Follow us on Twitter and like us on Facebook now!