World Poker Tour on FSN: From Short Stack to Victory at Seminole Hard Rock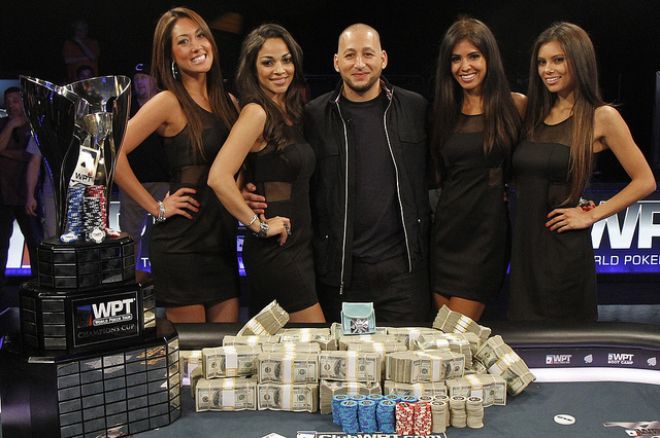 New episodes of the World Poker Tour Season X continued on Fox Sports Network Sunday night with the conclusion of the Seminole Hard Rock Showdown, a $10,000 tournament that originally took place from April 18 through 23, 2012, at the Seminole Hard Rock Hotel and Casino in Hollywood, Florida. The event saw 290 players take their shots at glory, but at the top of this week's broadcast, only three remained.
Background Info: In Part I, the early stages of the tournament were highlighted and the first elimination of the final table occurred when Kyle Bowker fell.
In Part II, two more players hit the rail in Sharon Levin and Craig Bergeron. Regarding the former, he looked at just the
and moved all in for 615,000. While Tommy Vedes contemplated a call, Levin looked at his other card — the
. He didn't seem too thrilled, and even attempted to talk Vedes out of calling, to no avail though, as the former WPT champ tossed in a call. The
flop gave Vedes a set, while the
turn and
river sent the 41-year-old local player home in fifth place for $158,688.
Top of the Broadcast: Here's how things stacked up at the top of the broadcast:
2012 WPT Seminole Hard Rock Showdown Final Table
| Seat | Player | Chips |
| --- | --- | --- |
| 1 | -empty- | N/A |
| 2 | Tommy Vedes | 2,310,000 |
| 3 | -empty- | N/A |
| 4 | -empty- | N/A |
| 5 | John Dolan | 3,900,000 |
| 6 | Joe Serock | 2,490,000 |
Pros in the House: Having three well-known pros as the last players standing was a treat, and knowing one would become the latest WPT champ was icing on the cake.
Tommy Vedes, who final-tabled the same event last year and finished in sixth place, was looking to become only the third player in WPT history to go from short stack at the start of the final table to winning the title. In addition, he was seeking his second WPT title.
By finishing better than fourth place, Joe Serock was guaranteed to take over the top spot in the WPT Player of the Year Race, earning at least 1,700 POY points and moving him ahead of Will "The Thrill" Failla, who had 1,650 points.
Finally, John Dolan was looking for a title to help shake off the sixth-place finish he earned in the 2010 World Series of Poker Main Event. Each man had something personal to play for, not to mention the $779,520 first-place prize.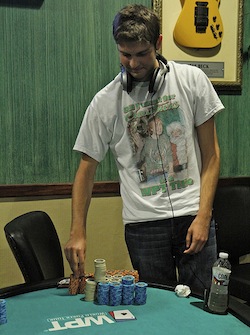 Just One of Those Hands: With the blinds at 25,000/50,000 and a 5,000 ante, Tommy Vedes raised to 110,000 on the button with
and was called by Joe Serock who was holding
. The
flop gave both players a pair, and Serock check-called a bet of 170,000. The
turn paired the board, both players checked, and the
river gave Vedes a full house.
Serock led out for 300,000, no doubt thinking he was value betting nines and fives with an ace kicker into an ace-high hand. Obviously it was all for naught because viewers could see that Vedes held a beast of a hand. And sure enough, the latter double-checked his cards and moved all in for 2.025 million, which was certainly an overbet and a bit greedy in the opinion of commentators Mike Sexton and Vince Van Patten. Serock probably would have taken a trip to value town, but as it was, he shifted his eyes and wasted little time in releasing his hand.
"That's one of those hands that you just keep getting involved, you go deeper and deeper, you shouldn't really be in it, and it backfires," cohost Van Patten commented after the hand.
Pop the Collar: I'll admit I'm no fashion expert, a fact recently pointed out by Daniel Negreanu on Twitter:
@ChadAHolloway just read your piece on poker attire. Wait a minute, weren't you the guy caught wearing a tiger shirt at a bar? #unqualified

— Daniel Negreanu (@RealKidPoker)
With that said, the WPT's Mike Sexton is keen on players dressing up for final tables, and since this is a WPT recap, I felt obligated to do a quick assessment on the attire being worn.
Tommy Vedes: Last week I touched upon Vedes' extensive collection of sunglasses. He never did get back to me about how many pairs he owns, but he was still donning the same pair of clear-framed Oaklies that I liked so much. Complement that with an all-black getup, including a shiny black jacket with a popped collar, and Vedes looked quite menacing. Grade: A-
Joe Serock: The man called "Floes" has a reputation for being a bit lackadaisical, but it looked like he actually put some tender loving care into his wardrobe selection. Serock's button-up with pulled up sleeves and cardigan-like gray pullover was actually quite nice and preppy. He definitely shakes the skateboarder rep with his threads. Grade: B+
John Dolan: Oh, dear John, a gray hoodie. That's it. Neither flattering nor memorable. At least it looked comfortable. Grade: D
Sunbathing Beauties: If you like good-looking women sunbathing in an assortment of bikinis — including red, orange, blue and hot pink — then the brief five-second clip of the Royal Flush Girls doing just that was for you. They were lounging on some chairs in front of a sign that read: "Pool chairs are reserved for hotel guests only." Hotel clerk, I'd like to make a reservation please.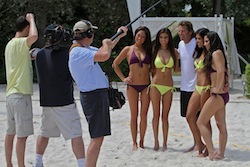 Back-to-Back Third-Place Finishes: This marked the second consecutive final table for Joe Serock, who had finished third in the Bay 101 Shooting Star. Coincidentally, that's right where he'd finish in this event. It happened when chip leader John Dolan simply raised to 1.14 million from the small blind with
. Joe Serock called 1.06 million more with
from the big, thinking he was all-in, but in actuality he had around 300,000 back. All the chips went in on the
flop.
Dolan didn't see his opponent's cards until after the flop, and seemed a bit disappointed the eight he had hit was no good. Both players were on their feet as the dealer burned and turned the
, giving Dolan top two pair and the lead. Vedes celebrated with poker pro Noah Schwartz on the rail, knowing he was about to play heads-up for the title, and that's exactly what happened when the
river sent Serock home in third place for $306,240. Despite not winning the tournament, Serock's back-to-back third-place finishes instantly became one of the highlights from Season X and put him atop the WPT Player of the Year Leaderboard.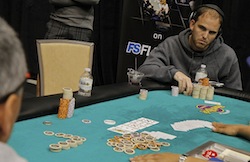 Heads-Up Play: John Dolan took a 6.655 million to 2.045 million chip lead into heads-up play, but with the blinds a 40,000/80,000 and a 10,000 ante, anything could happen. In one of the early hands, the former raised to 180,000 with
and was called by the
of the latter.
The
flop allowed Vedes to hit the 118-to-1 flopped flush, and he coyly checked to Dolan who bet 240,000 with top pair. Vedes check-raised to 530,000, Dolan moved all in, and Vedes snap-called off for 1.645 million. Neither the
turn nor
river changed a thing and Vedes doubled to 3.67 million.
A short time later, Vedes doubled again, took over the chip lead with 5.68 million, and was primed to win a second WPT title, joining just 15 others who've accomplished the feat.
WPT Championship Cup Moments: This season, the WPT has instituted a new segment called Championship Cup Moments, which takes a look back at memorable tournaments. If you're a longtime fan of the WPT, like me, these segments will no doubt leave you feeling nostalgic.
In the latest look back, the Season III Foxwoods World Poker Finals was shown. It happened way back in 2004 and iwas definitely old school. According to that tournament's legend, young Tuan Le was in need of a hotel room at Foxwoods and struck a deal with pro Hasan Habib — he'd give him 50 percent of his winnings, if he had any, in exchange for a place to stay. Le went on to win the $1.5-million prize, and we can only hope he used and abused the room service in that hotel room.
Vedes Captures Number Two: In what would be the last hand, John Dolan looked down at
and raised to 250,000. Tommy Vedes picked up
, made it 620,000 to go, and Dolan moved all in for 3.195 million. Vedes snap-called and Dolan's face dropped. His expression changed to all smiles when the
flop gave him two pair, but the
turned it upside down as Vedes made a straight on the turn. The
river failed to pair Dolan, who was eliminated in second place for $459,360.
Meanwhile, Vedes became just the 16th player to win two WPT titles and only the third to start the final table as the short stack and claim victory. Vedes is a man of few words, a quality I like about him, and that was shown as all he said to Mike Sexton in his winner's interview was a simple, "Thank you."
Tune in Next Week: The WPT Jacksonville BestBet Open is set to air on Sunday, Aug. 26, on FSN, so be sure to check your local listings. If by chance you miss it, check back next week for the latest recap of all the action right here on PokerNews.
Get all the latest PokerNews updates on your social media outlets. Follow us on Twitter and like us on Facebook now!
*Pictures courtesy of World Poker Tour.