World Poker Tour on FSN: Sunglasses and Serock at the Hard Rock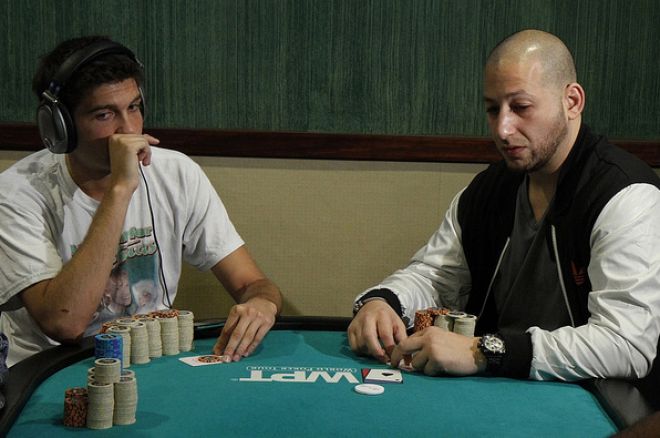 On Sunday night, Season X of the World Poker Tour continued on Fox Sports Network with Part II of the Seminole Hard Rock Showdown, a $10,000 tournament that drew 290 players and created a prize pool of $2,784,000. The event originally took place from April 18 through 23, 2012, at the Seminole Hard Rock Hotel and Casino in Hollywood, Florida.
Up to This Point: Last week, the early stages of the tournament were highlighted and the first elimination of the final table occurred. It happened on Hand #46 when Kyle Bowker moved all in for 255,000 with
. Joe Serock, who needed to finish in fourth place or higher to take over the top spot on the WPT Player of the Year leaderboard, made the call with
. The board ran out an uneventful
and Bowker was eliminated in sixth place for $122,496.
Top of the Broadcast: Here's how things stacked up at the top of the broadcast:
2012 WPT Seminole Hard Rock Showdown Final Table
| Seat | Player | Chips |
| --- | --- | --- |
| 1 | Craig Bergeron | 1,360,000 |
| 2 | Tommy Vedes | 865,000 |
| 3 | Sharon Levin | 920,000 |
| 4 | -empty- | N/A/ |
| 5 | John Dolan | 1,305,000 |
| 6 | Joe Serock | 4,250,000 |
First for Dolan: Everyone remembers John Dolan right? He's the man who was a member of the 2010 November Nine and finished in sixth place in the $10,000 World Series of Poker Main Event for $1,772,959. Since then, Dolan has been grinding the southern circuit and his appearance at the final table marked his first WPT cash.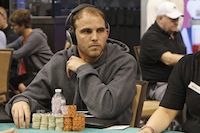 "My favorite part about playing poker is just making adjustments to what other people are doing around you," Dolan said in an interview. "But at the same time, be able to be patient in certain spots. I'd say that's what separates the best from just people that are good."
Levin Busted: After winning a decent pot, Tommy Vedes raised to 90,000 with
only to have Sharon Levin, who looked at just the
, move all in for 615,000. While Vedes tanked, Levin looked at his other card — the
. He didn't seem too thrilled, and even attempted to talk Vedes out of calling, to no avail though as the former WPT champ tossed in a call.
The two were unusually chummy given the situation, but Levin looked like he got hit by a truck when the flop fell
, giving Vedes a set. The
turn was no help to the 41-year-old local player, and the
sent him out the door in fifth place for $158,688. Interestingly, Levin's elimination ensured that Joe Serock would finish fourth or higher, guaranteeing him 1,700 POY points and moving him ahead of Will "The Thrill" Failla who had 1,650 points.
The Many Sunglasses of Vedes: Whenever Tommy Vedes is around, he is, more often than not, sporting a fancy pair of sunglasses. They tend to be big and dark, but at the Seminole Hard Rock Showdown, he opted to go another route by wearing a pair of what appeared to be clear-framed Oakley's with highly reflective lenses. PokerNews reached out to Vedes on Twitter and asked just how many pairs of sunglasses he owned, but he never responded. We set the over/under at 100.
Five Questions: In the latest installment of Five Questions, last year's Seminole Hard Rock Showdown champion, Taylor von Kriegenbergh, answered some questions including these:
How has your life changed since then?: "Wow, I mean, over the past year I've done some things to just soul search and find out who I really am. I looked back on that tournament, I was actually watching it with one of my friends, she was saying, 'You're not smiling like you always do.' Like, I didn't get that happy when I won. I was almost sad, in a way, to see myself. I'm not even smiling, I'm just a totally different person."
In the last year you haven't played much poker. You took a pretty big break, huh?: "Yeah. I realized that I got the amount of money that I wanted. I decided it was time to step away from the table, and focusing internally, just wanting to change the way I kind of thought about life, the way I treated each day and I just wanted to start experiencing life better."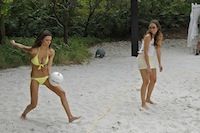 More Volleyball and Bikinis: In last week's recap we told you about a volleyball match involving Vince van Patten, Tony Dunst, and the bikini-clad Royal Flush Girls. Much to our delight, an in-depth recap of the game was shown, along with more bikinis! From what we could tell, each team had two Royal Flush Girls, who wore matching purple bikinis on one team, and matching yellow ones on the other. Bouncing and volleying, that was the gist of the segment — and it entertained.
The Nomad: Joe Serock is a bit on an enigma. He's relaxed and reserved on the circuit, oftentimes retreating into his own little world with a pair of colossal headphones. In an interlude in the action, the WPT got to know the man they called "The Nomad."
"I'm definitely not a serious guy," Serock said with lazy grace. "No one would say that." It was then revealed that Serock had roomed with fellow finalist John Dolan while in London. The latter said it was for six weeks, while the former thought it was a mere couch crashing for just a week or two. "Part of my style is being a vagabond. I just like to take it easy and have fun with life."
Bergeron Runs into the Ladies: Craig Bergeron, looking dapper in an all-black suit, looked down at
and opted to move all in for 1,000,000. Unfortunately for him, Tommy Vedes picked up
and moved all in over the top. The other two players got out of the way and Bergeron, who had been very quiet at the final table, only had a 19 percent chance of winning the hand.
Bergeron was sporting a massive orange watch and put a fist to his chin to await the flop —
. Bergeron had backdoor straight options, but the
turn quickly diminished those hopes. The
river put an end to the 23-yead-old Michigan poker pro's hopes of a WPT title, and he shook hands with the table before exiting in fourth place for $212,976.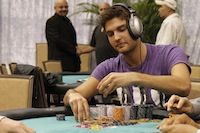 "I just kind of sat around with the stack I started with going into the final table. If you'd have asked me four days ago, you know, if I'd be happy with a fourth-place finished, I'd have said yes, but today I expected to win, and I wanted to win, so a little disappointed," Bergeron said in his post-elimination interview with Matt Savage.
The Raw Deal: There are very few weekly segments as entertaining as Tony Dunst's The Raw Deal, where the dapper correspondent gives his brutal opinion on whatever tickles his fancy. In the latest edition, Dunst turned his attention to Joe Serock and what makes the man known as "Floes" successful. An active opening range and preflop three-bets were a couple of things Dunst attributed to Serock's success, but if you ask us, it just seemed like the two had a budding "bromance."
Tune in Next Week: Part III of the Seminole Hard Rock Showdown is set to air on Sunday, Aug. 19, on FSN, so be sure to check your local listings. If by chance you miss it, check back next week for the latest recap of all the action right here on PokerNews.
Get all the latest PokerNews updates on your social media outlets. Follow us on Twitter and like us on Facebook now!
*Pictures courtesy of World Poker Tour.