Five Thoughts: Super High Rollin'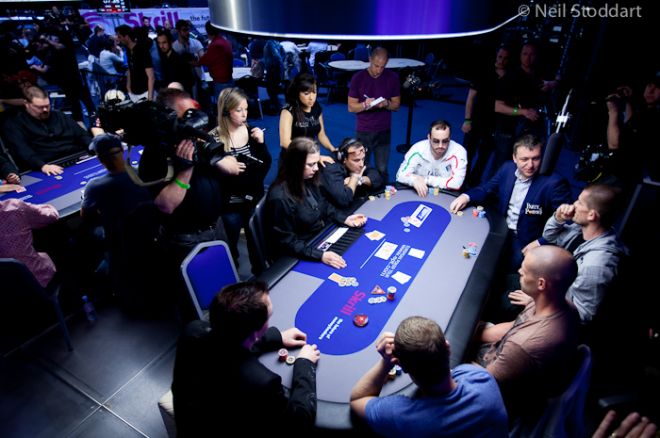 A little over a year ago, when both the PokerStars Caribbean Adventure and Aussie Millions offered six-figure buy-in tournaments, there was a debate as to whether or not this was (ready for the cliché?) good for poker. Some individuals were overly excited to see some of the best players in the world play for such high stakes, while others were unimpressed, calling these Super High Rollers "glorified sit-n-go's."
The debate still rages on one year later, but you can't deny the success of these tournaments. There have been four major six-figure buy-in events in 2012, including the €100,000 PokerStars and Monte-Carlo® Casino European Poker Tour Grand Final Super High Roller which began on Monday, and they've attracted an average of 28.75 entrants. In fact, only the Aussie Millions $250,000 Super High Roller — the largest buy-in of the four — fielded less than 20 players.
1. Grand start to the Grand Final
They say when you first step foot into Monaco, it's like being on the set of a James Bond film. Our friend Neil Stoddart set the scene nicely with some of his shots from in and around the Monte-Carlo® Casino, but we're more impressed by what's taking place inside, on the felt.
Including re-entries, the EPT Grand Final Super High Roller attracted 45 entries, generating a prize pool of €4,432,500 ($5,836,272). The top six players are guaranteed €310,000 ($408,177), while the winner will take home €1,640,000 ($2,159,388). In 2011, only three tournaments (Aussie Millions Main Event, PCA Main Event, and World Series of Poker Main Event) generated first-place prizes of $2 million or more. The EPT Grand Final is the second tournament this year to have a first-place prize of $2 million or more — Phil Ivey's win in the $250,000 Aussie Millions Super High Roller earned him $2,058,948.
Per usual, the EPT Grand Final Super High Roller attracted both professional poker players and businessmen. Bill Perkins fired off two bullets, busting on both Day 1 and Day 2, but the most interesting character in the field was a Czech casino owner named Leon Tsoukernik. On dinner break, Tsoukernik made €70,000 playing craps, so when he busted with
against the
of Philipp Gruissem — Gruissum made a straight — he decided to head back to the dice table.
He walked back to the tournament area 20 minutes later with over €100,000 in craps money, and fired a second bullet. Unfortunately for Tsoukernik, he busted again, but at least he had an opportunity to talk about private jets with Tony G.
The EPT Grand Final Super High Roller will play down to a final table on Tuesday, and a winner will be crowned on Wednesday. The PokerNews Live Reporting Team is crushing the live updates per usual, and you can follow along right here.
2. I spy with my little eye
If you were hiding under the protection of the Federal Bureau of Investigation because you allegedly ratted out multimillion dollar companies to avoid 75 years of prison time, and you wanted to go on vacation, where would you go? Would you go to one of the busiest cities in the United States?
Personally, if I were David Tzvetkoff, who was spotted in New York City last week with his family, I would continue to lay low.
Tzvetkoff, a native of Australia, was arrested in Las Vegas in April 2010 on charges of bank fraud, money laundering, conspiracy to operate and finance an illegal gambling business, and processing electronic fund transfers in violation of the Unlawful Internet Gambling Enforcement Act of 2006. However, he struck a plea bargain after providing incriminating evidence against PokerStars, Full Tile Poker, and Absolute Poker, and one year later we were hit with Black Friday.
Tzvetkoff has been in hiding since June 2010 and basically threatened a reporter from The Courier-Mall, saying, "Look, you're going to get in a lot of trouble. There are people with us who you're going to be in trouble with."
My advice to Tzvetkoff is to stay in hiding. If I sold out and snitched on three of the largest online poker sites in the world, single-handedly destroying the American player market, you wouldn't see me for a very long time. Likewise, if I was bold enough to go on vacation, I would go to a log cabin in the most remote woods I could find in the most remote city I could find.
That's just me, though. Perhaps I've seen too many episodes of The Sopranos.
3. Tommy Vedes wins WPT
For the second straight year, Tommy Vedes found himself at the final table of the World Poker Tour Seminole Hard Rock Showdown in Hollywood, Florida. Last year, Vedes was the first to bust at the final table, finishing in sixth place for $166,272. On Monday, he was the last player standing, earning his second WPT title, and $779,520.
Vedes, who now has over $3 million in career tournament earnings, bested 2010 WSOP November Niner John Dolan heads up, and the final hand was a very exciting one. According to the WPT Live Updates Team, Dolan four-bet shoved with
, and Vedes snapped it off with the
. The flop fell
, giving Dolan two pair, but the
spiked on the turn, giving Vedes a Broadway straight. The
bricked on the river, and Vedes was the champion. Dolan walked away with $459,360 for his efforts.
Also at the final table was Joe Serock, who just finished third at the WPT Bay 101 Shooting Stars ($320,400). Serock was looking for his first WPT title, but fell short, finishing in third again for $306,240.
The WPT will remain in Florida for the WPT Jacksonville BestBet Open, which begins on April 27.
4. Wake up and smell the coffee
Speaking of the WPT, Mike Sexton pulled a Matt Glantz and wrote an open letter to the poker industry last week titled "Poker Pros — Wake up and Smell the Coffee!" on the PartyPoker.com Blog. Like Glantz, Sexton cites a lack of professionalism within the poker industry but focuses most of his attention on the way players dress.
Sexton's grief about players not showing up on time to fulfill media requests is spot on — you don't know how difficult it is to get guests for the PokerNews Podcast during the WSOP because it's recorded at 11 a.m. — but you're main argument can't be about a dress code. Other than money, freedom is arguably the most attractive aspect of being a professional poker player. I would argue that one of the greatest things about the game is that you can wear basketball shorts, a hoodie, and sandals, and make millions of dollars a year.
Very few people wake up in the morning and are excited to put a shirt and tie on, and an even smaller percentage of those people are in their twenties. Should professional poker players act professionally? Absolutely. They should show up on time, they should be polite, and they should brand themselves appropriately, but they don't have to wear an Armani suit to garner my respect.
If it's a made-for-TV event, then do whatever you want. Make the players wear Kermit the Frog masks for all I care. But if it's an open event, then let the players be comfortable. In the 2012 poker world, a vast majority of players are playing for the first-place prize anyway and not a patch or a sponsorship.
5. Can you use it in a sentence?
Pratyush Buddiga reached the final table of EPT Berlin, but you may know him from something else.
Get all the latest PokerNews updates on your social media outlets. Follow us on Twitter and like us on Facebook today!