World Poker Tour on FSN: Bay 101 Shooting Star Season X — Part II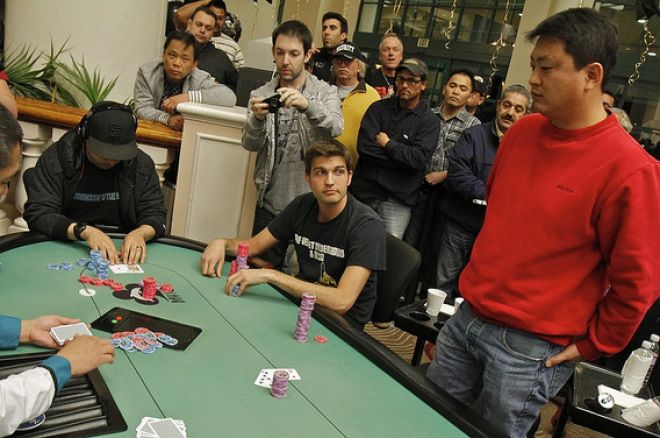 Last Sunday night, the World Poker Tour continued on Fox Sports Network with a new episode from Season X. Last week, part one of the Bay 101 Shooting Star from the Bay 101 Casino in San Jose, California, aired. The $10,000 tournament, which drew 364 players and created a prize pool of $3,458,000, originally took place from March 5 through 9, 2012, and offered a $5,000 bounty on the "Shooting Star" participants.
Part one showcased the early stages of the tournament, as well as the rise of amateur jeweler Moon Kim as the chip leader. It happened after he won a decent pot off Erik Cajelais and then raised to 58,000 with
in another hand. Cajelais called holding
, and then the
flop saw the Canadian call a bet of 80,000 before firing out 165,000 when Kim checked the
turn. Kim made the call and checked the
river, opening the door for Cajelais to put out a hefty bet of 325,000. Kim thought for a few moments before making the call and by doing so he took down the 1,316,000 pot and moved into the chip lead.
Here is a look at how things stacked up at the final table.
2012 WPT Bay 101 Shooting Star Final Table
| Seat | Player | Chips |
| --- | --- | --- |
| 1 | Joseph Elpayaa | 1,275,000 |
| 2 | Joe Serock | 955,000 |
| 3 | Moon Kim | 3,140,000 |
| 4 | Ubaid Habib | 2,875,000 |
| 5 | Erik Cajelais | 2,005,000 |
| 6 | Andrew Badecker | 670,000 |
First Hand: With the blinds at 15,000/30,000 and a 5,000 ante, Joseph Elpayaa raised to 65,000 under the gun with
only to have Ubaid Habib three-bet to 165,000 from the button with
. Cajelais, the only player at the final table who didn't collect a Shooting Star bounty in the tournament, then looked down at
in the small blind and thought a long time before four-betting to
. Elpayaa quickly got out of the way, and Habib folded soon after.
Elpayaa Gets Lucky to Double: Habib looked down at
and raised to 100,000. Elpayaa then moved all in from the big blind for 850,000, and Habib made the call. The latter was on his feet while Elpayaa stayed seated. The
flop gave Elpayaa the lead with a pair of tens and made him a 78 percent favorite, but the
turn stole the
from Habib's outs. The
river was of no consequence, and Elpayaa doubled to 1.75 million.
Between a Serock and a Hard Place: In the very next hand, Elpayaa raised to 105,000 from the hijack only to have Joe Serock three-bet to 600,000 from the cutoff. The rest of the field folded, Elpayaa moved all in, and Serock called off for 870,000 total.
Showdown
It was a classic race, but not after the flop fell
. Serock flopped a set to become a 98 percent favorite, meaning Elpayaa needed runner-runner to eliminate his foe. Unfortunately for him, it wasn't in the cards because the
appeared on the turn, followed by the
river.
Short Stacks Battle: With the blinds at 25,000/50,000 and a 5,000 ante, Elpayaa moved all in under the gun for 685,000 with
and cleared the field all the way around to a short-stacked Andrew Badecker who looked down at
and called off from the big blind. Elpayaa had just a 13 percent chance of winning the hand, and since he had Badecker covered, he'd be left with around 30,000 if he failed to improve.
The
Ac} flop wasn't particularly interesting, but it did give Elpayaa runner-runner draws to both a straight and flush. With that said, those hopes were quickly dashed when the
turned and left Elpayaa drawing dead. The meaningless
was put out on the river and Badecker raked in the 1.355 million pot.
Joe Elpayaa Eliminated in Sixth Place: After Habib had limped with
, Badecker moved all-in for 1.35 million from the small blind with
. Elpayaa was already all-in from the big blind and sitting with
, which made him a 61 percent favorite after Habib got out of the way. Nonetheless, Elpayaa was out of his seat and prepared to leave when the flop came down
. Badecker hit his jack to take the lead, and the
turn meant Elpayaa needed an ace on the river to stay alive. The dealer burned and put out the
, sending Elpayaa to the rail in sixth place for $128,200. Interestingly, Elpayaa refused to give an exit interview to sideline reporter Matt Savage.
WPT Silicon Valley Poker Challenge: During the same week at the Bay 101 Shooting Star, a charity event was held to benefit the WPT Foundation and featured tech executives taking on top poker pros. Steve Metzger (CEO, VT&T), Jack Tretton (CEO, Sony Computer Entertainment), Stephen Dewitt (SVP & GM, HP), Tony Jeffries (Partner, Wilson Sonsin Goodrich Rosati) and Nancy Albertini (CEO, Albertini Group) were among those who took on the pros including Phil Hellmuth, Dwyte Pilgrim, Vanessa Rousso, Faraz Jaka, Mike Matusow, Daniel Negreanu and Maria Ho, just to name a few.
It was a jovial atmosphere, but everyone was competitive. When all was said and done, it was tech exec and CFO & SVP, Crodflower, Rich Arnold, who emerged as champion. To learn more about the charity, visit WPTFoundation.org.
Andrew Badecker Eliminated in Fifth Place: Badecker looked down at
on the button, and he raised to 130,000 only to have Kim move all in from the big blind with
. Badecker snap-called off for 1.61 million, and it was off to the races.
Kim was on his feet when the flop came down
, giving Badecker a pair of aces and a 71 percent lead. "Yes," Kim said as he fist pumped after the
spiked on the turn to give him a wheel. Just like that, Badecker went from a huge favorite to drawing at a four for a chop. The
river was not what he needed, and Badecker exited in fifth place for $192,300 while Kim was pushed the 3.3 million pot.
"Started off the final table pretty card dead. Went down a little ways, but caught some cards and got back up," Badecker said in his post-elimination interview. "Thought I had a good chance, and definitely did if I'd won that pot, but lost a coin flip and that's what happens sometimes."
One to Watch: "There are a few people I deserve to be a bounty over," said Ones to Watch Dan O'Brien when explaining why he wasn't a Shooting Star Bounty. "Men Nguyen. Who cares about Men Nguyen anymore? Are we serious? People still think this guy's any good, he's terrible."
Serock Doubles Yet Again: Serock looked down at
under the gun and min-raised to 120,000, which cleared the field all the way to Cajelais in the big blind. He opted to move all in with
and Serock snap-called off his stack of 870,000.
Serock was a 75 percent favorite and primed to move into third chip position, which increased to 90 percent when the flop fell
. Cajelais was in need of some major help, and found a little as the
turn opened up some chop options. Fortunately for Serock, that wasn't the case as the
peeled off on the river, prompting him to give a little fist pump and let a big smile cross his face.
Tune in Next Week: Part III of the Bay 101 Shooting Star is set to air on Sunday, July 29, on FSN, so be sure to check your local listings. If by chance you miss it, check back next week for the latest recap of all the action right here on PokerNews.
Past WPT Bay 101 Shooting Star Champions
| Season | Player | Entrants | Earnings |
| --- | --- | --- | --- |
| 2 | Phil Gordon | 243 | $360,000 |
| 3 | Danny Nguyen | 438 | $1,025,000 |
| 4 | Nam Le | 518 | $1,198,300 |
| 5 | Ted Forrest | 450 | $1,100,000 |
| 6 | Brandon Cantu | 376 | $1,00,000 |
| 7 | Steve Brecher | 391 | $1,025,500 |
| 8 | McLean Karr | 333 | $878,500 |
| 9 | Alan Sternberg | 415 | $1,039,000 |
| 10 | ??? | 364 | $960,900 |
Get all the latest PokerNews updates on your social media outlets. Follow us on Twitter and like us on Facebook now!
*Picture courtesy of World Poker Tour.
Executive Editor US, PokerNews Podcast co-host & 2013 WSOP Bracelet Winner.