World Poker Tour on FSN: L.A. Poker Classic Season X — Part II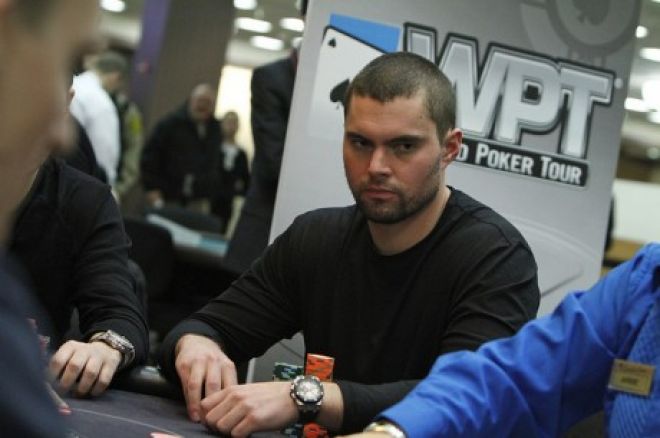 A new episode of the World Poker Tour Season X aired on Fox Sports Network Sunday night, featuring Part II of the L.A. Poker Classic (LAPC), an event that's been on the WPT schedule since Season I. The tournament, which originally took place at the Commerce Casino from Feb. 24 through 29, 2012, featured a $10,000 buy-in Main Event that attracted 549 players and created a $5,270,400 prize pool that was to be distributed to the top 54 finishers.
In Part I, the early stages of the tournament were highlighted, which included the return of Phil Ivey to poker tournaments in North America, as well as two eliminations. The first came on just the second hand of the final table when a short-stacked Jason Somerville moved all-in under the gun for 820,000 with
and was called by the
of Sean Jazayeri, who was on the button. The board ran out
and Somerville became the first casualty of the final table, pocketing $202,910 for his sixth-place finish.
The second was that of Jason Burt, who got extremely unlucky and busted to Dan Kelly. For details on that, be sure to revisit our recap on Part I.
Here's how things stacked up at the start of the final table:
WPT LAPC Final Table
| Seat | Player | Chips |
| --- | --- | --- |
| 1 | Sean Jazayeri | 7,365,000 |
| 2 | -empty- | N/A |
| 3 | Dan Kelly | 5,595,000 |
| 4 | -empty- | N/A |
| 5 | Noah Schwartz | 1,400,000 |
| 6 | David "Doc" Sands | 2,110,000 |
First Hand: With the blinds at 40,000/80,000 and a 10,000 ante, Jazayeri limped from the small blind with
and then called a raise to 160,000 from Kelly, who held
. Jazayeri then check-called a bet of 250,000 on the
flop before both players checked the
turn. Jazayeri then fired out 200,000 on the
river and Kelly folded.
"Be careful when you play with this amateur," co-commentator Vince Van Patten said, "He can bite back."
Noah Schwartz Eliminated in Fourth Place: Jazayeri looked down at
and raised to 210,000. Kelly made the call with
from the button, which prompted Noah Schwartz to move all-in for 1.53 million from the small blind. Jazayeri instantly moved all-in over the top and Kelly snap-folded.
Jazayeri was a 70 percent favorite, and Schwartz looked demoralized before standing and saying, "Oh well, I played so bad this tournament." The
flop was no help to Schwartz, but it would have given Kelly a full house. Unfortunately poker isn't a game of what-ifs, so it was neither here nor there. The
turn left Schwartz in need of an ace on the river, but it wasn't in the cards as the
peeled off.
"I would have had quads," Kelly said before Schwartz took his leave in fourth place, good for $355,750.
Sands Hits the Flop to Double: Kelly raised to 200,000 from the small blind holding
and David "Doc" Sands simply moved all-in for 2,080,000 from the big with
. Kelly made a quick call and was a 68 percent favorite to win the hand. Unfortunately for Kelly, that dropped to just 16 percent when the flop came down
and paired Sands' king. The latter's rail celebrated, including girlfriend Erika Moutinho, as the dealer ran out the
turn and
river. With that, Sands doubled to 4.19 million.
Kelly's Turn to Double: Kelly raised to 160,000 from the button with
and received a call from Jazayeri, who held
in the big blind. The
gave both players a little something and Jazayeri proceeded to check-raise Kelly's bet of 185,000 up to 425,000. Kelly responded by moving all-in for 2,040,000 total. Jazayeri called the additional 1.6 million with his open-ended straight draw and told Kelly, "You're ahead."
Neither the
turn nor
river was what Jazayeri was looking for, and Kelly double to over four million.
A Blast From the Past: In a special interview, hostess Marianela Pereyra sat down with the original WPT girl, Shana Hiatt, who hosted the show way back in Seasons 1 through 3. "Season 1 we were just filming and going from city to city, and not very many people knew much about the show itself, but Season 2 I remember coming out of the dressing room area and looking at the line of people that were signing in on the opening day," Hiatt said. "I couldn't believe the numbers, it had doubled and tripled from the previous season."
"I've shifted my love of poker to a love of food," she went on to say when asked by Pereyra what she's up to now. "What I really want to do is more focus on teaching kids on how to eat right . . . I want to become a chef, and maybe get a show, we'll see."
Jazayeri Straightens Out the Youngster: Kelly min-raised to 200,000 on the button and Jazayeri defended from the big blind. The latter checked his open-ended straight draw on the
flop, Kelly checked behind, and the
hit the turn. Jazayeri hit his straight and led out for 200,000, Kelly called, and the
peeled off on the river. Again Jazayeri bet 200,000, and again Kelly called.
"He just sort of reeled in the youngster there," host Mike Sexton said after the hand.
Tune in Next Week: The L.A. Poker Classic will conclude on Sunday, July 8, so be sure to check your local listings for FSN. If by chance you miss it, check back next week for the latest recap of all the action right here on PokerNews.
Past WPT Venice Champions
| Season | Player | Entrants | Earnings |
| --- | --- | --- | --- |
| 1 | Gus Hansen | 136 | $532,490 |
| 2 | Antonio Esfandiari | 382 | $1,399,135 |
| 3 | Michael Mizrachi | 538 | $1,859,909 |
| 4 | Alan Goehring | 692 | $2,391,550 |
| 5 | Eric Hershler | 791 | $2,429,970 |
| 6 | Phil Ivey | 665 | $1,596,100 |
| 7 | Cornel Andrew Cimpan | 696 | $1,686,760 |
| 8 | Andras Koroknai | 745 | $1,788,001 |
| 9 | Greg Brooks | 681 | $1,654,120 |
| 10 | ??? | 549 | $1,370,240 |
Get all the latest PokerNews updates on your social media outlets. Follow us on Twitter and like us on Facebook now!
*Picture courtesy of World Poker Tour.