World Poker Tour on FSN: L.A. Poker Classic Season X — Part I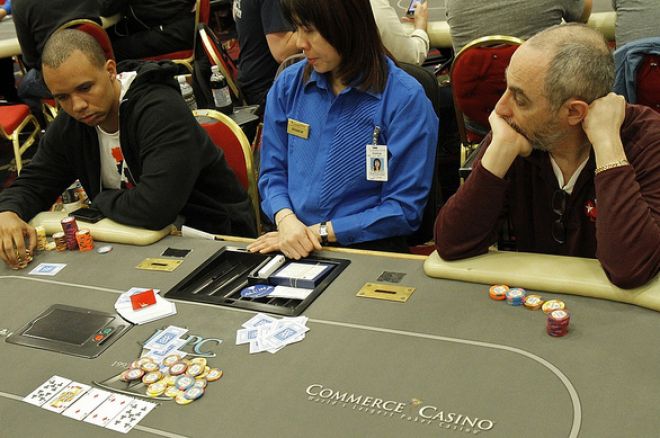 Last Sunday, a new episode of the World Poker Tour Season X aired on Fox Sports Network. The episode featured the L.A. Poker Classic (LAPC), an event that has been a staple on the WPT schedule dating all the way back to Season I. The tournament, which originally took place at the Commerce Casino from Feb. 24 through 29, 2012, featured a $10,000 buy-in Main Event that attracted 549 players and created a $5,270,400 prize pool that was to be distributed to the top 54 finishers.
This week's broadcast began the same way as any other Part I does — by highlighting the early stages of the tournament. With that said, the emergence of former LAPC champ Phil Ivey, who was playing his first poker tournament in North America in nearly a year, was the big story.
Ivey's return garnered a lot of attention, but he didn't let it affect his play; he finished fifth in chips (116,300) out of 400 players at the end of Day 1, though he still trailed the 156,200-stack of the chip leader, Michael Rocco. Day 2 was another long day of play, and by the end of it only 182 players remained including Day 2 chip leader Gordon Vayo.
Day 3 was the march to the money, and a number of pros hit the rail including Erick Lindgren, Faraz Jaka, Yevgeniy Timoshenko, Nick Schulman, William Reynolds and Will Failla. With 55 players left and the money bubble at hand, one more unlucky player was due to leave empty handed. Surprisingly, it was Ivey who shoved a 14 big-blind stack from the button with
only to run into the
of David "ODB" Baker in the small blind. Ivey was unable to find help and became the LAPC bubble boy.
Day 4 began with Tuan Phan leading the final 54 players with 1.14 million, and both Jason Somerville and Joe Tehan rounded out the top three with 860,000 and 831,500 respectively. The eliminations came fast and Day 2 chip leader Vayo (51st - $21,080), Amit Makhija (50th - $21,080) and Matt Marafioti (47th - $21,080) were among the players who hit the rail early.
The chip leader at the start of the day, Phan, had a reversal of fortune and went from over a million to less than 200,000 in a single level. It was at that point that he ran
suited into the
of Sean Jazayeri to finish in 43rd place for $23,720. Likewise, Tehan, who began the day third in chips, was unable to use his stack to get to the final table and was eliminated in 23rd place ($34,260).
Only 18 players remained by the end of Day 4, with Noah Schwartz and his stack of 1.77 million leading the way. Day 5 action was set to determine the final table. One of the players to come up short was Joe Hachem, who shoved with
only to run into the
of Jazayeri. The board ran out an uneventful
and Hachem made his exit in 12th place for $60,160.
Others who came up shy of the final table were Sorel Mizzi (10th - $60,160), David "The Dragon" Pham (8th - $110,680), and the last WPT winner in the field, Allen Carter, who earned the distinction of final-table boy and a $155,480 consolation prize for his seventh-place finish.
Here's how things stacked up at the start of the final table:

WPT LAPC Final Table
| Seat | Player | Chips |
| --- | --- | --- |
| 1 | Sean Jazayeri | 4,380,000 (73 BBs) |
| 2 | Jason Burt | 835,000 (13 BBs) |
| 3 | Dan Kelly | 2,570,000 (42 BBs) |
| 4 | Jason Somerville | 840,000 (14 BBs) |
| 5 | Noah Schwartz | 3,835,000 (63 BBs) |
| 6 | David "Doc" Sands | 4,010,000 (66 BBs) |
Jason Somerville Eliminated in Sixth Place: On what would be just the second hand of the final table, with the blinds at 30,000/60,000 and a 10,00 ante, a short-stacked Somerville moved all-in under the gun for 820,000 with
and was called by the
of chip leader, Jazayeri, who was on the button. Somerville was ahead but still only had a 47 percent chance of winning the hand.
That increased to 75 percent on the
flop, and the
turn made him an 86 percent favorite. Unfortunately for Somerville, the
spiked on the river to make him the first casualty of the final table. He pocketed $202,910 for his finish.
"Well, I got dealt two eights . . . he has to call of course with ace-queen," Somerville explained in his post-elimination interview with tournament director Matt Savage. "It just came up bad, you know, can't do anything, just lost a flip."
Third Time's the Charm: On the third hand of the final table, viewers saw the third all-in shove of the final table. This time it was Jason Burt shoving his last 985,000 with
and getting called by Noah Schwartz who was holding
in the big blind. The board ran out
and Burt doubled to 2,050,000.
Jason Burt Eliminated in Fifth Place: Action folded around to Burt in the small blind and he raised to 160,000 with
. Dan Kelly defended from the big blind with the dominated
, and it was off to the
flop. Burt, who had paired his king, led out for 180,000, and Kelly opted to float his opponent by making the call.
Kelly only had a 3 percent chance of winning the hand, but that improved to 21 percent when the
gave him an open-ended straight draw. Burt kept the pressure on with a 370,000 bet, but Kelly moved all-in for 2.275 million. Burt hit the tank for what was in reality a solid three minutes before calling off 1.61 million.
Burt was a 79 percent favorite to double to 3.95 million, but that all went out the window when the
spiked on the river to give Kelly a Broadway straight. Burt was shell shocked and the crowd burst out in disbelief. Burt shook hands with the table before exiting in fifth place, taking home $252,980 for his efforts.
"I went into the tank for quite awhile, you know, it is all my chips, but in the end, I thought I made a good call. Unfortunately the deck didn't agree with me," Burt said after his heartbreaking elimination.
"Probably Should Give You My Money:" Jazayeri raised to 150,000 from the button holding
, and Schwartz opted just to call with
in the big blind. The
was kind to Jazayeri because it gave him top pair with the nut-flush draw. Schwartz proceeded to check-call a bet of 180,000, which was followed by a check-call of 400,000 on the
turn.
When the
appeared on the river, Schwartz checked for a third time and Jazayeri fired out 500,000. "You look like a nice guy," Schwartz said. "Probably should give you my money." That's exactly what he did when he tossed in a call and watched the 2,530,000 pot be pushed to the sole remaining amateur.
The River Rules Once Again: With the blinds at 40,000/80,000 and a 10,000 ante, Kelly moved all-in from the small blind with
and put the pressure on a short-stacked Schwartz, who called off for 1.44 million from the big blind with
. It was off to the races as the flop came down
. Kelly out flopped his opponent and became a 93 percent favorite.
The
turn gave Schwartz chop outs to an eight, and wouldn't you know it, the
spiked on the river to keep his tournament life alive.
"I faded the Kelly," Schwartz said with a big smile.
Tune in Next Week: Part II of the L.A. Poker Classic is set to air on Sunday, July 1, on FSN, so be sure to check your local listings. If by chance you miss it, check back next week for the latest recap of all the action right here on PokerNews.
Past WPT Bay 101 Shooting Star Champions
| Season | Player | Entrants | Earnings |
| --- | --- | --- | --- |
| 1 | Gus Hansen | 136 | $532,490 |
| 2 | Antonio Esfandiari | 382 | $1,399,135 |
| 3 | Michael Mizrachi | 538 | $1,859,909 |
| 4 | Alan Goehring | 692 | $2,391,550 |
| 5 | Eric Hershler | 791 | $2,429,970 |
| 6 | Phil Ivey | 665 | $1,596,100 |
| 7 | Cornel Andrew Cimpan | 696 | $1,686,760 |
| 8 | Andras Koroknai | 745 | $1,788,001 |
| 9 | Greg Brooks | 681 | $1,654,120 |
| 10 | ??? | 549 | $1,370,240 |
Get all the latest PokerNews updates on your social media outlets. Follow us on Twitter and like us on Facebook now!
*Picture courtesy of World Poker Tour.