World Poker Tour on FSN: Five Diamond World Poker Classic Season X — Part III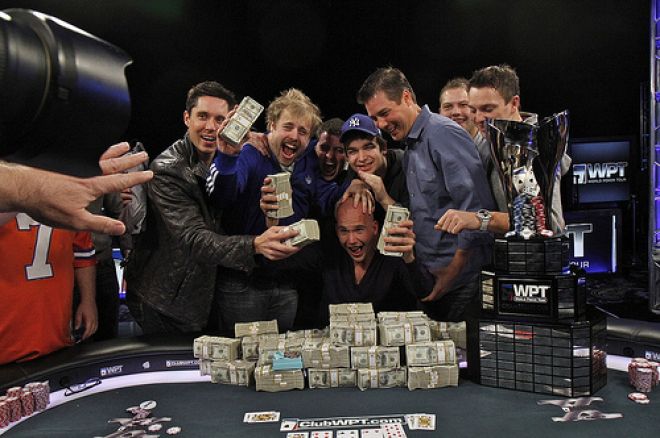 The World Poker Tour Season X on Fox Sports Network continued Sunday with the conclusion of the Five Diamond World Poker Classic from the Bellagio in Las Vegas. What began with 413 players, ended with three looking to take home the $821,612 first-place prize.
In Part I, which aired on FSN two weeks ago, Season IX champ Antonio Esfandiari was eliminated on Hand #10 of the final table, and then just two hands later, Vitor Coelho followed him out the door in fifth place for $159,224.
In last week's broadcast of Part II, Andrew Lichtenberger was eliminated after Soi Nguyen opened with a raise to 160,000 after squeezing out
and was immediately met with a three-bet to 450,000 by James Dempsey, who held
in the small blind. Lichtenberger was next to act in the big and proceeded to move all-in for 2.75 million with
. Nguyen made the call while Dempsey got out of the way. The board ran out
and Lichtenberger made his exit in fourth place for $218,933.
Here's how things stacked up at the top of this week's broadcast, which we might add began with Tony Dunst in place of Vince Van Patten in the commentator's booth:
WPT Five Diamond World Poker Classic Final Table
| Seat | Player | Chips |
| --- | --- | --- |
| 1 | James Dempsey | 5,435,000 |
| 2 | -empty- | |
| 3 | -empty- | |
| 4 | -empty= | |
| 5 | Vanessa Selbst | 2,830,000 |
| 6 | Soi Nguyen | 8,260,000 |
First Hand: With the blinds at 40,000/80,000 with a 10,000 ante, Vanessa Selbst opened for 160,000 from the button with
and was called by the
of Dempsey. Both players checked the
flop, and then Dempsey did the same on the
turn. That opened the door for Selbst to bet 225,000, and Dempsey quickly folded.
Vanessa Selbst Eliminated in Third Place: Once again Selbst was on the button and opened for 160,000, only to be met with a three-bet to 290,000 from Dempsey in the big blind. Selbst responded by moving all-in for 2.74 million and Dempsey nonchalantly said, "Alright, I call."
Showdown

"How do you have a nine?" Selbst asked with a mock smile. "That's what gets me deep inside." Indeed, Selbst was in big trouble with just a 26 percent chance of winning the hand. The
flop dropped that to 12 percent while the
turn left her drawing dead. The
was put out on the river for good measure as Selbst took her leave in third place for $338,351.
The Heads-Up Details: Dempsey, who was playing in his first WPT, held a 8.78 million to 7.745 million chip lead at the start of heads-up play. After the customary WPT money presentation, the two remaining players talked about making it to that point in the tournament.
"I would sure hope so," Nguyen said when asked by sideline reported Matt Savage if a win would give him respect in the poker community. "I mean, I don't think there is anything more that I can do. I've got one more person to go, so hopefully, you know, I cross that finish line first."
Likewise, Dempsey had the following to say when asked what it'd be like to put his name on the WPT Champions Cup: "It'd be pretty cool. First try getting on there would be pretty nice . . . A good friend of mine, Jake Cody, is on there, so it'd be nice to join him on there."
Dempsey Draws First Blood: In the first hand of heads-up play, Nguyen looked down at
and raised to 200,000. Dempsey made the call with
, the flop fell
, and Nguyen bet 210,000 after his opponent checked. Demspey then woke up with a check-raise to 500,000 and Nguyen released his hand. First blood to the Brit.
Nguyen Roars Back: Early on in the match, Nguyen raked in pot after pot and quickly took the chip lead. It seemed as though momentum was in his favor, especially after he opened for 250,000 with
and was called by the
of Dempsey. The
flop saw Dempsey check-call a bet of 300,000, bringing about the
. It went check-check and the
appeared on the river. Dempsey checked for a third time, and Nguyen came out firing 600,000 with his trips, which Dempsey called with his ace high. Nguyen took down the 2.32 pot while Dempsey dropped down to 3.62 million.
One to Watch: In the latest edition of Ones to Watch, the Las Vegas nightlife was featured beginning with a look at Matt Marafioti's 6,000-square-foot penthouse on the Strip. "He does not care at all what people think about him," David "Doc" Sands said of his fellow Ones to Watch.
"If he's not getting hated on, he's not trying hard enough," William Reynolds added. "He was like one of my first poker idols. When I was moving up the ranks like at $1/$2, Matt was crushing $25/$50."
Dempsey Back in It: Nguyen opened for 260,000 with
only to have Dempsey move all in for 3,050,000 with
. Nguyen made the call and found he only had a 23 percent chance of winning the hand. The crowd was on its feet as the flop came down
, keeping Dempsey in the lead. The
turn was of no consequence and neither was the
river. With that, Dempsey doubled to 6.14 million.
All-In and a Call: With the blinds at 75,000/150,000 and a 25,000 ante, Nguyen raised to 300,000 from the button with
. Dempsey looked down at
and three-bet to 850,000, which Nguyen quickly called. The
flop saw Dempsey bet 1 million, Nguyen called and the dealer burned and turned the
, giving both a flush draw. Dempsey, who also had a gut-shot straight draw and was a 70 percent favorite to win the hand, simply moved all-in for 4,625,000, and Nguyen asked for a count, tanked and then made the call.
Each player went to their respective rails for support and waited for the river . . .
. Dempsey's supporters erupted in celebration as their man made a straight and doubled back into the chip lead with 13 million.
Dempsey Captures Five Diamond World Poker Classic Title: In what would be the last hand, Dempsey opened for 300,000 only to have Nguyen move all-in for 3,575,000. Dempsey snap-called and was glad he did.
Showdown

Dempsey was a 71 percent favorite, but the
flop temporarily changed his fortune as it made Nguyen a 73 percent favorite. The
turn increased Nguyen's chance of winning to 84 percent, but the
spiked on the river to give Dempsey a straight and the win.
"I figured I was going to put pressure on him and he went and shipped. I had ace high heads up, ace high is a pretty good hand, unfortunately it wasn't good enough," Nguyen told Savage in his post-elimination interview.
Meanwhile, Mike Sexton was with Dempsey, who became the sixth man from England to win a WPT title. "It's amazing. Like I said, I've never played one before. I started playing poker watching you and Vince doing commentary on these and here I am winning one. It's just amazing."
Tune in Next Week: Season X of the WPT continues on June 4 from Venice, Italy, so be sure to check your local listings. If by chance you miss it, check back next week for the latest recap of all the action right here on PokerNews.
Past Five Diamond World Poker Classic Champions
| Season | Player | Entrants | Earnings |
| --- | --- | --- | --- |
| 1 | Gus Hansen | 146 | $556,480 |
| 2 | Paul Phillips | 314 | $1,101,908 |
| 3 | Daniel Negreanu | 376 | $1,770,218 |
| 4 | Rehne Pedersen | 555 | $2,078,185 |
| 5 | Joe Hachem | 583 | $2,207,575 |
| 6 | Eugene Katchalov | 626 | $2,482,605 |
| 7 | Chino Rheem | 497 | $1,538,730 |
| 8 | Daniel Alaei | 329 | $1,428,430 |
| 9 | Antonio Esfandiari | 438 | $870,124 |
| 10 | James Dempsey | 413 | $821,612 |
If you love poker, be sure to follow us on Twitter and like us on Facebook for all the latest updates on the World Poker Tour.
*Picture courtesy of World Poker Tour.