World Poker Tour on FSN: Five Diamond World Poker Classic Season X — Part II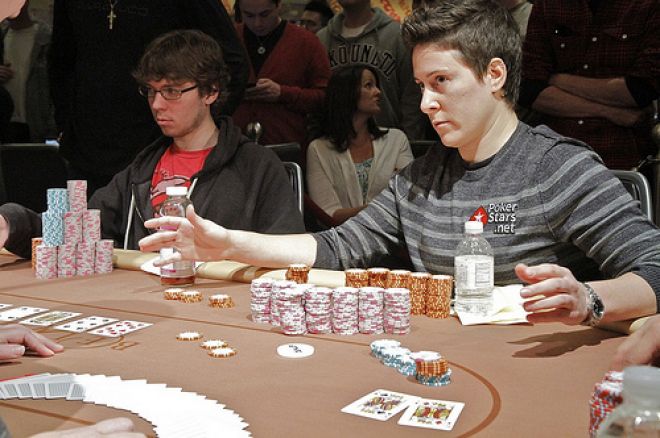 On Sunday, the World Poker Tour Season X on Fox Sports Network continued with Part II of the Five Diamond World Poker Classic. The $10,000 Main Event, which originally took place at the Bellagio from Dec. 6 through 11, 2011, attracted 413 players and created a prize pool of $4,006,100, with $821,612 reserved for first place.
In Part I, the early stages of the tournament were highlighted, as well as the first two eliminations from the stacked final table. The first to go was actually last year's champion, Antonio Esfandiari. On Hand #10 of the final table, action folded to James Dempsey on the button and he put in a big raise. Esfandiari called off from the small blind and was in great shape to double.
Showdown

Unfortunately for him, the board ran out
to give Dempsey a pair of fours and the win. With that, Esfandiari's title defense ended in sixth place for $119,418.
Just two hands later, Soi Nguyen opened for 120,000 with
and Vitor Coelho committed his last 260,000 with
. Vanessa Selbst then came along with
and both active players checked down every street as the board ran out
. Coelho, who had made the final table of the WPT stop before the Five Diamond, finished in fifth place for $159,224.
Here's how things stacked up at the top of the broadcast:
WPT Five Diamond World Poker Classic Final Table
| Seat | Player | Chips |
| --- | --- | --- |
| 1 | James Dempsey | 5,510,000 |
| 2 | -empty- | |
| 3 | -empty- | |
| 4 | Andrew Lichtenberger | 3,815,000 |
| 5 | Vanessa Selbst | 2,015,000 |
| 6 | Soi Nguyen | 5,185,000 |
Nguyen Gets Value on Nut Flush: Nguyen was under the gun and opened for 120,000 with
, and Selbst opted to defend from the big blind with the
. The
flop gave Selbst a pair of queens, but she checked to Nguyen, who bet 175,000 with the nut-flush draw. Selbst made the call and then checked the
turn. Nguyen set the trap by checking the
, leading to the
river. Selbst checked her straight and Nguyen came to life with a bet of 325,000. Selbst thought about it, glanced at her opponent, and then made the call. With that, Nguyen collected the 1,310,000 pot while Selbst released a long sigh.
Nguyen-ing: "We all learned together as kids, myself, Nam Le and Nam's brothers," Nguyen explained in a feature after the hand on how he learned to play the game. "We actually had to buy a book in the beginning because none of us knew the exact rules to it, and then I went on got married and had a kid, and decided to take the career path, and Nam just went down the poker road and blew up in 2006. I always thought to myself, 'Wow, I've played with him before and taken a couple pots down from him. So hopefully someday, when the time is right financially, that I'm gonna take my stab at it.' Lo and behold I made the final table."
Five Questions: In the latest edition of Five Questions, Kimberly Lansing sat down with Daniel Negreanu and talked about a variety of topics including tournaments and his favorite WPT moment. In regard to the latter, Negreanu stated his favorite moment was when he won the Borgata "because it was such a tough field. Very competitive, and because [he] thought everyone wanted it so bad." It was also his first $1 million win.
When asked what he would be doing if he wasn't playing poker, Negreanu responded: "If I quit playing poker, I would probably do some writing, because I've always enjoyed it. Do some Bikram yoga, and on the weekends be drinking at the club. You know, not much different than I'm doing right now. I'm kind of living the life I wanted for the most part."
One for Lucky Chewy: With the blinds at 30,000/60,000 and a 10,000 ante, Nguyen opened for 120,000 with
and was met with a three-bet to 400,000 by Andrew Lichtenberger, who held
in the big blind. Nguyen made the call and it was heads up to the
flop. Lichtenberger was first to act and led out for 525,000, which was enough to win as Nguyen released his hand.
Interestingly, Lichtenberger had taken eighth in the Five Diamond the year before for $67,570.
Double for Selbst: Action folded to Dempsey on the button and he opened for 125,000 with
. Lichtenberger was in the small blind and three-bet to 425,000 with
, prompting Selbst to move all-in for her last 1,135,000 from the big with
. Lichtenberger unenthusiastically made the call and it was off to the races.
As the cards laid, Selbst had a 48 percent chance of winning the hand, but that fell to 40 percent on the
flop. "An eight would work as well," Selbst pointed out. While that was true, it was the
on the turn that made her a 78 percent favorite. Lichtenberger was looking for either a three or club on the river to eliminate his tough competitor, but it was not meant to be as the
peeled off.
Andrew Lichtenberger Eliminated in Fourth Place: After squeezing out
on the button, Nguyen came in with a raise to 160,000 and was immediately met with a three-bet to 450,000 by Dempsey, who held
, in the small blind. Lichtenberger was next to act in the big and proceeded to move all-in for 2.75 million with
.
Nguyen shot back in his chair and seemed frustrated by the predicament but made the call while Dempsey quickly got out of the way. Nguyen, who was an 89 percent favorite to win the hand, went to his rail for a celebratory high five while Lichtenberger and Dempsey discussed the situation as well as Russel Brand's biography. "What can I do," Lichtenberger said. "Might as well lighten the mood."
It did seem like a quiet and laid-back atmosphere as the board ran out
. Lichtenberger gave Selbst a hug, shook Nguyen's hand and made his exit in fourth place for $218,933.
"It's definitely a learning experience, always," Lichtenberger told sideline reported Matt Savage in his post-elimination interview when asked about making the transition from online play to live. "There's so many things different about it like, you know, sitting across from someone and being able to look him in the eye. It's just a whole different game really. Yeah, I feel I adapted pretty well to it."
Tune in Next Week: Part III of the Five Diamond World Poker Classic is set to air on Sunday, May 27, on FSN, so be sure to check your local listings. If by chance you miss it, check back next week for the latest recap of all the action right here on PokerNews.
Past Five Diamond World Poker Classic Champions
| Season | Player | Entrants | Earnings |
| --- | --- | --- | --- |
| 1 | Gus Hansen | 146 | $556,480 |
| 2 | Paul Phillips | 314 | $1,101,908 |
| 3 | Daniel Negreanu | 376 | $1,770,218 |
| 4 | Rehne Pedersen | 555 | $2,078,185 |
| 5 | Joe Hachem | 583 | $2,207,575 |
| 6 | Eugene Katchalov | 626 | $2,482,605 |
| 7 | Chino Rheem | 497 | $1,538,730 |
| 8 | Daniel Alaei | 329 | $1,428,430 |
| 9 | Antonio Esfandiari | 438 | $870,124 |
| 10 | ??? | 413 | $821,612 |
If you love poker, be sure to follow us on Twitter and like us on Facebook for all the latest updates on the World Poker Tour.
*Picture courtesy of World Poker Tour.