World Poker Tour Celebrates 10th Anniversary at Five Diamond World Poker Classic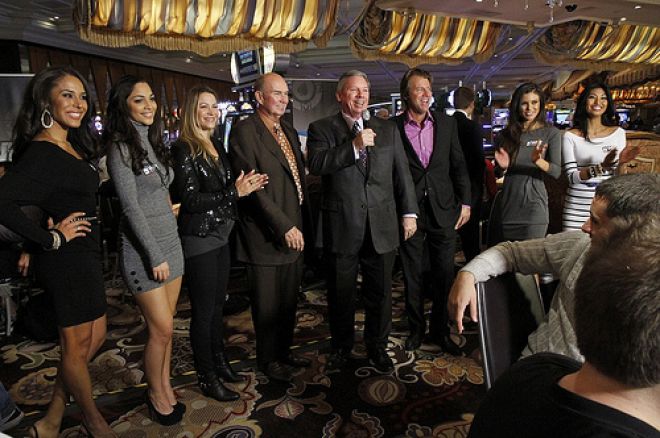 On Dec. 6, 2011, the World Poker Tour returned to the place where it all began, the Five Diamond World Poker Classic at the Bellagio in Las Vegas. The event marked the 10th anniversary of the WPT, which was fitting not only because it was the first WPT event, but because it was the first time the hole cam used for televised poker. In honor of the WPT's 10th anniversary, we've decided to take a look back at the Five Diamond World Poker Classic, with the help of long-time commentator Mike Sexton and WPT CEO Steve Heller.
WPT Kicks Off at the Five Diamond World Poker Classic in 2002
"This is our 10th season out on the World Poker Tour, and our kickoff event, the first tournament ever, was at the Five Diamond World Poker Classic right here at the Bellagio," Sexton told PokerNews. "I believe that final table was one of our greatest final tables ever. I think we had nine WPT championships come out of that final table: Scotty Nguyen, Freddy Deeb, John Hennigan, but obviously the star of that table was Gus Hansen, and he was probably the only unknown at the table. He went on to win three WPT titles and become the biggest star of the tour."
Indeed, that final table, which took place on June 1, 2002, proved a tremendous success and is credited with helping spark the poker boom. The tournament drew 146 entries, creating a prize pool of $1,416,200, and took five days to complete. "It was just a great event," Sexton explained. "That excitement and that final table, when Gus was bluffing all the time, was the first time people could see the cards as they watched on television, and it really made the show."
WPT Five Diamond World Poker Classic Season I Final Table
| Place | Winner | Prize |
| --- | --- | --- |
| 1st | Gus Hansen | $556,460 |
| 2nd | John Juanda | $278,240 |
| 3rd | Freddy Deeb | $139,120 |
| 4th | John Hennigan | $83,472 |
| 5th | Chris Bigler | $62,604 |
| 6th | Scotty Nguyen | $48,692 |
The Bellagio & WPT: A Match Made in Poker Heaven
For 10 years, the WPT has maintained a strong relationship with its inaugural venue, the Bellagio. Not only is the Five Diamond World Poker Classic held there every year, the WPT returns for other tournaments throughout the year including the Festa al Lago and $25,000 WPT World Championship.
"Essentially the Bellagio is like the Yankee Stadium of poker. Since it's opened, it has always had the biggest games in poker," Sexton said in between filming commercials at the Bellagio during the Five Diamond World Poker Classic. "They've always been a big supporter of poker, and we were thrilled the Bellagio not only signed on as a WPT event, but that we've held four events here a number of years. We've always had our WPT World Championship event at the Bellagio. Players love it here. The Bellagio is a Five-Star accommodation."
Likewise, Heller, who joined the WPT as CEO in 2010, had nothing but nice things to say of the host venue:
"First of all, the Bellagio is right at the top of the list of poker rooms, casinos, and in many ways, entertainment destinations in the entire world. To have a partner like that at the very beginning was just tremendously powerful. It gave so much credibility to the WPT, for other venues, the players, and the viewing audience. It gave us an instant stamp of legitimacy from the very beginning. What's more, the Bellagio has remained the premiere destination for poker players and everyone else who wants a resort and entertainment experience for a decade."
Hachem Becomes a WPT Champion
In 2005, the world was captivated by a former Australian chiropractor who conquered one of the most memorable final tables in World Series of Poker history to capture the Main Event Title. A little over a year later, Joe Hachem proved that his championship was no fluke when he added a WPT title to his résumé, that being Doyle Brunson North American Poker Classic (that year's version of the Five Diamond World Poker Classic).
"Well, we've had a lot of great winners here at the Bellagio tournaments. Joe Hachem's win was one of the great events," Sexton said. "He was one of those guys that added himself to the list of Main Event winners at the WSOP and becoming a WPT champion. Pretty prestigious. I think we have five of those now and he was so proud to get on that list."
Hachem managed to navigate his way through a field of 583 players on his way to capturing the $2,207,575 first-place prize, defeating a final table that included the Season III Five Diamond World Poker Classic champ, Daniel Negreanu. Not only that, but he was the beneficiary of an unbelievable river card in a hand Sexton believes is one of the WPT's best:
"He probably had the most dramatic hand in the history of the tour," Sexton said. "I remember all the money got in when he had two queens and his opponent had
. It was a huge pot and the flop came all blank cards, and on the turn it came an
. So the guy took the lead with two aces, Joe had one out, he needed to catch a queen on the river, and he caught it. He went on to win. It was very dramatic and just an amazing hand.
Season V WPT Doyle Brunson North American Poker Classic Final Table
| Place | Winner | Prize |
| --- | --- | --- |
| 1st | Joe Hachem | $2,207,575 |
| 2nd | Jim Hanna | $1,099,430 |
| 3rd | Daniel Negreanu | $592,000 |
| 4th | Mads Andersen | $380,630 |
| 5th | David Redlin | $253,715 |
| 6th | Edward Jordan | $169,145 |
A Happy Birthday for Esfandiari
Last season, the Five Diamond World Poker Classic made headlines when a 438-player field was reduced to just six, resulting in one of the toughest final tables in WPT history. That table included Ted Lawson, Kirk Morrison, John Racener, Vanessa Rousso, Andrew Robl, and Antonio Esfandiari. Fittingly, it was Esfandiari, a man who made his name on the WPT, who captured the title (his first in seven years) and $870,124 first-place prize.
Sexton talked a bit about last year's final table, as well as what he told the defending champ before this year's event:
"It was a phenomenal final table, a great lineup. Obviously Antonio was a WPT champ seven seasons ago, but hadn't done much of anything since that time, so to see him come back and take down his second WPT title, it was just great to see and it was great for him. I spoke to him right before the tournament started [this year] and I gave him a quote that Stu Ungar gave me a long time ago when I won my bracelet at the World Series of Poker. The very next year I was walking across the street with Stuey to play in the event, the Stud Eight or Better that I won the bracelet in, and he said, 'Sexton, let me tell you something. Anybody can win a poker tournament. Defending, that's where it's at.' So I just told Antonio that anybody can win a poker tournament, defending is where it's at. He broke into a wide grin and said he'll be trying."
Sexton may have been onto something as Esfandiari not only survived Day 1, he did so with a big stack.
Standing the Test of Time: Mike Sexton & Vince Van Patten
The WPT has undergone a plethora of changes throughout the years, but one thing that has remained consistent is the commentating team of Mike Sexton and Vince Van Patten. Both have done a tremendous job over the years, winning the admiration of viewers and players alike. They're the face of the WPT, and they've spent a decade doing what they do best, especially in an industry that has a high turnover in the poker commentating department.
The CEO of the WPT, Steve Heller, not only recognizes the work Sexton and Van Patten have done over the years, he's quick to point out that they'll have the job as long as they want it:
"It's a rarity not only in the poker world, but I think anywhere, to see a team that not only works together well for ten years, but to bridge the gap between changing worlds. Mike talks about how in the beginning their commentating was about explaining the basics of hold'em because so many people had never seen the game, never really understood it. Now, over the course of time, as the audience has become more sophisticated, so has the commentating."
"I think that's really a tribute not only to their abilities to understand poker, but to understand their audience and adapt to their audience. They're not only a fantastic team on the television show . . . they're terrific ambassadors for the WPT and for the events. They're very engaging guys and really enjoy the poker community. They always have time for people who want to come up and talk to them . . . it's not just what you see on TV, that's truly who they are. I believe that's why they've been accepted into peoples' homes for so long, and expect that will continue for as long as they want to stay in their roles."
The Rich Tradition Continues
As you can see from the table below, the Five Diamond World Poker Classic grew every year until it peaked in Season XI when Eugene Katchalov captured the $2.4 million prize, making a name for himself in the process. For the next two years, the numbers decreased significantly before rebounding in Season IX.
Season X showed that the Five Diamond World Poker Classic was still going strong as it drew 413 players. The Five Diamond World Poker Classic will be playing out over the next few days, so be sure to check back on PokerNews for daily recaps of the action.
WPT Five Diamond World Poker Classic Results
| Season | Winner | Prize | # of Entrants |
| --- | --- | --- | --- |
| 1 | Gus Hansen | $556,460 | 146 |
| 2 | Paul Phillips | $1,101,908 | 314 |
| 3 | Daniel Negreanu | $1,770,218 | 376 |
| 4 | Rehne Pedersen | $2,078,185 | 555 |
| 5* | Joe Hachem | $2,207,575 | 583 |
| 6** | Eugene Katchalov | $2,482,605 | 626 |
| 7 | David "Chino" Rheem | $1,538,730 | 497 |
| 8 | Daniel Alaei | $1,428,430 | 329 |
| 9 | Antonio Esfandiari | $870,124 | 438 |
*Called the Doyle Brunson North American Poker Classic
**Called the Doyle Brunson Classic Championship
Get all the latest PokerNews updates on your social media outlets. Follow us on Twitter and like us on Facebook today!