The WSOP on ESPN: Southern Comfort & Casual Dress at the National Championship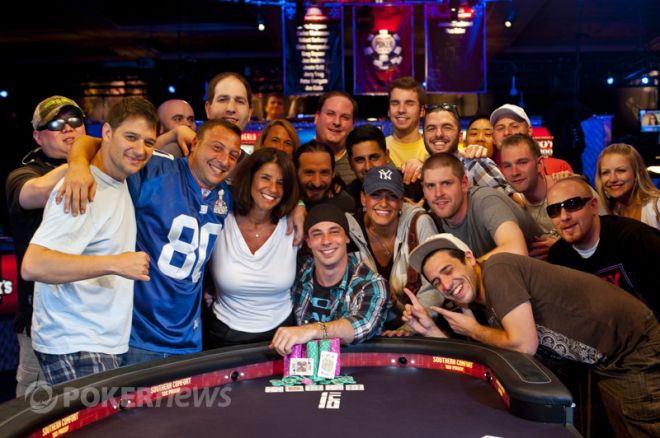 The 2012 World Series of Poker on ESPN continued on Tuesday with two new one-hour episodes. The episodes featured the National Championship, an event that brought together 100 qualifiers from the WSOP Circuit and 57 players from the WSOP Player of the Year list who opted to buy into the event for $10,000 each. There was a $1.57 million prize pool on the line and a healthy $416,051 reserved for first.
The Setup: The final table of eight featured five players who earned their spots via the World Series of Poker Circuit, and three who bought their way in — David "ODB" Baker, Sam Stein and Matt Keikoan.
Here's how the final table looked at the top of the broadcast:
National Championship Final Table
| Seat | Player | Chip Count |
| --- | --- | --- |
| 1 | David "ODB" Baker | 281,000 |
| 2 | Amanda Musumeci | 322,000 |
| 3 | Sam Stein | 651,000 |
| 4 | Huy Nguyen | 331,000 |
| 5 | Andy Hwang | 1,224,000 |
| 6 | Nikolas Stone | 471,000 |
| 7 | Matt Keikoan | 957,000 |
| 8 | Ryan Eriquezzo | 513,000 |
Transforming the Set: If you watched last week's broadcast of the Big One for One Drop, you may have noticed some slight changes to the ESPN Feature Table set. For instance, last week everything was overwhelmingly blue, including the felt, but this week much of the set had been changed. The felt and all of the chairs were brown and branded with a new sponsor, Southern Comfort 100, and the rest of the set was red. It was a cool look that gave the National Championship a different feel.
The Fashion Report: "This is the National Championship. I really wish poker players would dress a little better at the poker table," co-host Norman Chad said. "Let's step it up, business casual is fine. You're professionals, dress as you would if you're going to a Thanksgiving dinner at a Supreme Court Justice's home. These guys look like they're sitting around waiting for a truck to come by that's going to give away turkeys."
Here's a breakdown of what was worn: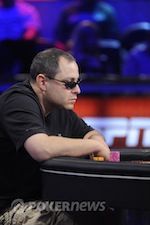 David "ODB" Baker — The man is the epitome of low key, and though he found tremendous success at the 2012 WSOP, even winning his first bracelet, the man known as "Original David Baker" opted to peacefully grind in his standard attire, a black T-shirt and pair of sunglasses. Grade: C+
Amanda Musumeci — A big gold bracelet, hoop earrings, a tangerine jacket and a white fedora with a blue strip. It was an interesting look that any other player at the table would have looked like a complete fool wearing, but Musumeci's natural beauty and long locks pulled it off. Grade: A-
Sam Stein — Black cap and a blue T-shirt. The man has won a bracelet in similar clothes, so it's what we've come to expect from Stein. Grade: C
Huy Nguyen — If you've seen Nguyen on the Circuit, then you've seen him in his trademark Oklahoma City Thunder hat. He was wearing the orange and blue cap, along with a black zip-up jacket from Run Good Gear, a poker clothing company he helped start. His garb was all over the place color wise, but it was representative of what Nguyen supports. Grade: B+
Andy Hwang — The chip leader at the start of the table didn't do much to set himself apart. He was wearing a dull red T-shirt. Boring. Grade: D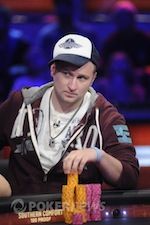 Nikolas Stone — The hoodie has become synonymous with young poker players, so Stone's choice to wear one was sound. Usually it would be nothing special, but because he was the only one at the table wearing such attire, his red hoodie and cocked trucker's cap did set him apart a bit. Grade: B+
Matt Keikoan — Televised final tables often bring opportunities to make some cash on the side by sporting apparel of one company or another. Keikoan didn't pass on the opportunity to support Draft$treet, wearing a blasé white T-shirt from the company. Grade: C-
Ryan Eriquezzo — A backwards black cap and a turquoise/black/grey plaid shirt. Not overly fancy, but compared to the rest of the table it was a step up and at least somewhat memorable. Grade: B
The Lone Lady: Amanda Musumeci is no stranger to poker. You no doubt remember her from last year's broadcast when she made a deep run in the Main Event, ultimately finishing in 62nd place. Musumeci has become a consummate grinder on the Circuit, and managed to qualify for the National Championship through an at-large bid.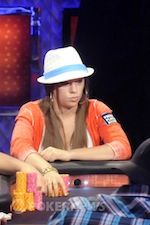 Musumeci wasn't able to get much going at the final table, and ended up moving all-in for 217,000 with
after Baker had opened for 28,000 with
. Unfortunately for her, Nikolas Stone woke up with
in the big blind and made the call. Baker got out of the way, the board ran out
, and Musumeci was eliminated in eighth place for $48,576.
Not so Fast: In one of the more memorable hands of the National Championship, Stein opened for 34,000 after action folded to him on the button. Huy Nguyen then made it 78,000 to go from the small blind with
, only to have Andy Hwang four-bet to 181,000 from the big with
. Stein got out of the way, Nguyen moved all in for 407,000, and Hwang snap-called.
Nguyen's 18 percent chance of surviving the hand dropped to just 2 percent when the flop fell
. Nguyen, who needed running cards to stay alive, was already putting on his jacket in preparation for a quick exit, but the
turn gave him pause as he picked up a Broadway draw to a jack. Wouldn't you know it, the
spiked on the river to give Nguyen the win, much to the delight of his rail.
Two More Eliminations: After eliminating Musumeci, Stone went on to dispatch Stein (7th, $61,434), and then the short-stacked Baker fell to Nguyen (6th, $79,002), leaving just five players headed into the second hour of broadcast. Interestingly, what wasn't show on television was Baker's impressive comeback simply by swiping blinds and antes, all of which you can read in our live blog of the National Championship.
Another for Stone: Hwang, who began the day as chip leader, pushed his last 13 big blinds with
under the gun only to have Stone reship with
directly behind. The rest of the field got out of the way, the board ran out
, and Hwang exited in a disappointing fifth place for $103,322.
Lucky Charms: After doubling with
through the
of Nguyen, ESPN featured a segment on Stone, a 29-year old from Pittsville, Wisconsin. Stone, who won his way into the National Championship by finishing as the Casino Champion at the Harrah's St. Louis stop, explained that he was nervous at first, but was soon put at ease thanks to a lucky necklace he had bought featuring a four-leaf clover and the word "Luck."
"Since I've been wearing it, I've actually been playing really, really well, and I've been playing better" Stone explained. "So, it's like, it doesn't come off now. Every time I'm sitting down at a cash game or a tournament, I'm wearing it. A guy actually offered me $300 for it, I think I bought it for seven bucks, I said, 'Naw, I'm gonna keep it.'"
Mamas' Boy: After Eriquezzo doubled through Nguyen, an interview with Eriquezzo's mother was shown. She explained how her son loved to be the center of attention, enjoyed playing the piano for large crowds, and how the ups and downs of watching a poker tournament were taxing.
"When I went out there and watched what he actually does, it's amazing to me," Mama Eriquezzo said in the interview. "The highs and lows of watching him are really, really difficult. There were a couple times that I was jumping up and down like a lunatic because I thought he was going to lose the pot . . . it's emotionally very tough."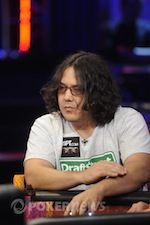 Keikoan Gets Stoned: After Stone opened for 85,000 under the gun with
, Keikoan called from the button holding
and the other two players got out of the way. The
flop saw Stone check-call a bet of 100,000, and he was glad he did because the
turn gave him a straight to trump Keikoan's flopped set. The former checked, the latter bet 200,000, and then Stone woke up with a check-raise to 600,000. Keikoan moved all in for 820,000 total, Stone snap-called, and the harmless
peeled off on the river. With that, the two-time bracelet winner finished in fourth place for $137,485, and Stone scored his fourth final-table elimination.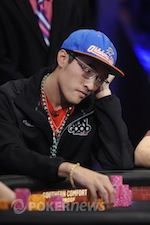 Tenth to Third: Last year, Nguyen finished 10th in the inaugural National Championship, which meant he'd already improved upon that finish. In his last hand, Nguyen got his short stack all-in with
and was up against the
of Eriquezzo. The board ran out
and a gracious Nguyen was sent packing in third place for $186,265.
A New National Champion: Eriquezzo managed to double into the chip lead right off the bat with
against the
of Stone and never looked back. After doubling, Stone moved all-in for 725,000 with
and was called by the
of Eriquezzo. "No queen and there's a bracelet," the latter said to his mother.
The
flop did give Stone a queen and the lead, and the
turn made him a 75 percent favorite. Unfortunately for him, the
spiked on the river to give Eriquezzo the straight and the win. Eriquezzo, who qualified by winning the Caesars Atlantic City Main Event, became the latest National Champion and captured his first WSOP gold bracelet, not to mention the $416,051 first-place prize.
Tune in Next Week: Every Tuesday through October, ESPN will air episodes of the 2012 WSOP Main Event. Be sure to either check your local listings or come back next week for our recap of the action.
Be sure to follow us on Twitter and like us on Facebook.
Executive Editor US, PokerNews Podcast co-host & 2013 WSOP Bracelet Winner.