The WSOP on ESPN: The Big One for One Drop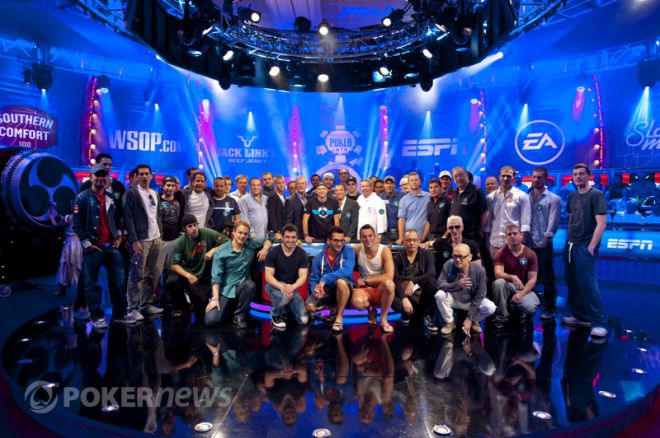 Only a couple of weeks have gone by since the 2012 World Series of Poker Main Event reached the coveted October Nine and went on hiatus for a few months, but on Tuesday, ESPN began its broadcast of the summer action with the two episodes from the Big One for One Drop $1-million buy-in tournament.
The largest buy-in event in history was originally held from July 1 through 3 and was capped at 48 entrants. That created a $42,666,672 prize pool with a staggering $18,346,673 reserved for first place. Some of poker's best took their shots at history, but dozens hit the rail short of the final table including Jonathan Duhamel, Erik Seidel, Michael Mizrachi, Phil Galfond, Daniel Negreanu, Phil Ivey, Jason Mercier, Ben Lamb and Gus Hansen, just to name a few.
Here's how the final table looked at the top of the broadcast:
Big One for One Drop Final Table
| Seat | Player | Chip Count |
| --- | --- | --- |
| 1 | Guy Laliberte | 21,650,000 |
| 2 | Brian Rast | 11,300,000 |
| 3 | Phil Hellmuth | 11,575,000 |
| 4 | Antonio Esfandiari | 39,875,000 |
| 5 | Bobby Baldwin | 6,800,000 |
| 6 | Sam Trickett | 36,950,000 |
| 7 | Richard Yong | 7,425,000 |
| 8 | David Einhorn | 8,325,000 |
First Hand: Play began with blinds at 150,000/300,000 and a 50,000 ante. Action folded to Guy Laliberte who raised to 850,000 with
. Brian Rast then looked down at
and moved all in. Action folded back around to Laliberte, the creator of Cirque du Soleil and the One Drop charity, and he said, "I'm not ready to flip yet," before sending his cards to the muck.
Richard Yong Eliminated in Eighth Place: Richard Yong, one of 20 businessmen to enter the event, moved all in for 3.3 million with
only to have Brian Rast isolate by moving all in over the top from the small blind with
. Yong, who plays high-stakes cash games in Macau, was a 57 percent favorite to win, which improved to 79 percent on the
flop. The
turn meant Yong would double provided neither a king nor jack appeared on the river, but the
spiked to give Rast the come-from-behind win. Yong clapped and gave Rast a thumbs up before exiting in eighth place for $1,237,333.
Seven From Heaven: Guy Laliberte opened for 1,000,000 under the gun with
and received a call from 1978 WSOP Main Event champ, Bobby Baldwin, who put in a quarter of his stack to make the call with
. Sam Trickett came along from the small blind with
, and there was three-way action to the
flop. Action checked to Baldwin, who moved all in for his last 3.4 million. Trickett got out of the way, and Laliberte opted to make the call with bottom pair and a gut-shot straight draw. The
turn gave Laliberte two pair, which meant only a river seven would save Baldwin. Wouldn't you know it, the
peeled off and the man who has a poker room named after him (Bobby's Room at the Bellagio) doubled to 10.65 million.
Bobby Baldwin Eliminated in Seventh Place: With the blinds at 250,000/500,000 and a 50,000 ante, Guy Laliberte raised to 1 million with
and was met with a three-bet to 5 million by Bobby Baldwin, who was on the button holding
. After the blinds got out of the way, Laliberte moved all-in and Baldwin called off for 10.1 million total. The latter only had a 29 percent chance of winning the hand, and he never improved as the board ran out
. It had been 26 years since Baldwin last made a WSOP final table, and his Big One for One Drop run came to an end in seventh place, good for $1.408 million.
"Of course the event's fantastic. We have a final table with very good players, about half amateurs, half professionals, it doesn't get any better than this," Baldwin said in his post-elimination interview with Kara Scott. "I think I'm a hybrid," Baldwin went on to say when asked which group he fit in. "I'm actually a CEO of my business, and then of course I love to play high-stakes poker, so I think I'm a blend between amateur and pro."
Brian Rast Eliminated in Sixth Place: In one of the first hands in the second episode of the night, Sam Trickett opened for 1.2 million with
and was called by the
of Brian Rast on the button. Antonio Esfandiari came along for the ride with
from the big blind, and three players saw a flop of
. It was gin for Rast as he flopped the nuts, and Trickett was in trouble with a set of threes. After Esfandiari checked, Trickett bet 1.8 million and Rast just called.
Esfandiari got out of the way and the dealer burned and turned the
. Trickett kept the pressure on with a bet of 3.8 million, and again Rast just called once again. "Are you kidding me?" commentator Lon McEachern said when the
spiked on the river to give Trickett quads. The Brit nonchalantly moved all in, and Rast quickly called of his last 8.275 million. The latter was a bit shell-shocked when his opponent rolled over the nuts, and it took a moment before he exited the stage in sixth place for $1,621,333.
Guy Laliberte Eliminated in Fifth Place: With the blinds at 400,000/800,000 and a 100,000 ante, Sam Trickett opened for 1.6 million from under the gun with
. Guy Laliberte looked down at
on the button and three-bet to 5 million, prompting Antonio Esfandiari to four-bet to 12.3 million from the big blind with
. Trickett got out of the way, Laliberte moved all in for 25.625 million and Esfandiari snap-called.
Both active players donned clown noses and put their arms around one another as they waited for the flop, which fell
. "It's coming, it's coming," Esfandiari said with a smile.
"No it's not," Laliberte said. "A kiss is coming." He then gave Esfandiari a kiss on the check and told the crowd, "I love this guy." It was a jovial atmosphere with a 53.75 pot on the line, one that was interrupted by thundering applause from Esfandiari's supporters when the
spiked on the turn. The
river failed to help Laliberte, and he was eliminated from his own tournament in fifth place for 1,834,666.
"I'm very happy. The show was great, great people at the table, and a lot of money for One Drop," Laliberte said in his post-elimination interview. With $111,111 from each buy-in going to One Drop, $5,333,328 was raised for the charity.
Phil Hellmuth Eliminated in Fourth Place: Twelve-time bracelet winner Phil Hellmuth had been relatively card dead at the final table, and chose to raise to 2.8 million under the gun with
. Sam Trickett, who was in the small blind, asked for a count on Phil Hellmuth, prompting David Einhorn to accidentally muck his hand out of turn. Trickett then moved all in with
, and Hellmuth called off for 8.025 million.
The crowd was on their feet as Hellmuth moved over to his rail. The
flop gave Hellmuth the lead, but he didn't react much apart from saying, "It's never easy," referencing Trickett's flush draw. The
turn gave Trickett five more outs, one of which hit when the
peeled off on the river. Trickett made Broadway to eliminate Hellmuth in fourth place for $2,645,333.
David Einhorn Eliminated in Third Place: Antonio Esfandiari raised to 1.6 million on the button with
only to have David Einhorn move all in for 14.725 million from the big blind with
. Esfandiari made the call and was in a dominating spot. The
flop gave both a pair, but Esfandiari's ten kept him out in front. Neither the
turn nor
river would help Einhorn, and he finished in third place for $4,352,000. Einhorn, the last businessman left in the field, pledged to donate all his winnings to charity.
And the Winner Is: Antonio Esfandiari began with a 107,475,000-to-41,500,000 chip lead over Sam Trickett and never looked back. In the last hand of the tournament, the former raised to 1.7 million with
and received a call from the latter, who held
. The
flop was interesting as it hit both players, and after Trickett checked, Esfandiari promptly bet 2.025 million. Trickett took his time before check-raising to 5.4 million, Esfandiari then three-bet to 10 million, and Trickett put in the four-bet to 15 million.
Esfandiari responded by moving all in, and Trickett, who had already committed 40 percent of his chips, called off for 35.6 million total. "No diamond, it's over," Esfandiari told his rail. The
turn was not what Trickett needed, and neither was the
river. With that, Trickett took home a $10,112,001 consolation prize for his runner-up finish, while Esfandiari captured the biggest prize ever awarded in a poker tournament, a staggering $18,346,673.
Esfandiari's supporters rushed the stage and hoisted their man high in the air in a scene of pure celebration. "It's not often I'm at a loss for words, but right now, I'm at a loss for words" Esfandiari said after being presented with the platinum bracelet.
"I just want to say a special thanks to Guy for putting this tournament on. If it wasn't for you, I wouldn't be here, and your charity wouldn't have almost five more million dollars, so you're doing a great thing. Thank you so much for putting this on." In one last endearing gesture, Esfandiari called his father up on the stage and presented him with the bracelet, "This bracelet's for you."
Tune in Next Week: Every Tuesday through October, ESPN will air episodes of the 2012 WSOP Main Event. Be sure to either check your local listings or come back next week for our recap of the action.