Joe Stapleton and Matt Broughton: 22 Days of WCOOP PokerStars Radio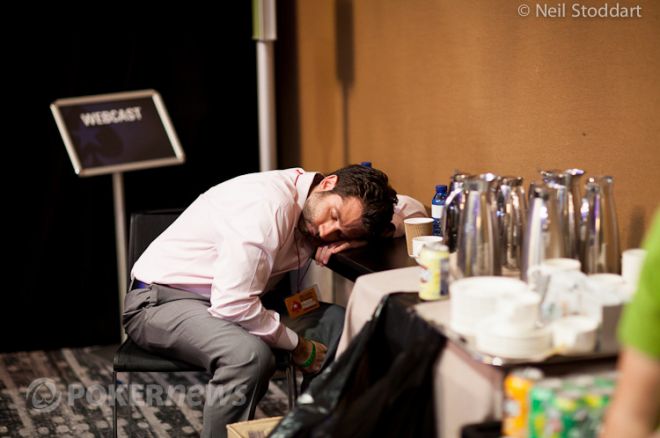 The 11th Annual World Championship of Online Poker (WCOOP) is just over a week into its 22-day schedule, which includes 65 tournaments and $30 million in guaranteed prize pools. What's more, PokerStars Radio has been hosting a daily 90-minute radio show at 15:00 ET featuring, as PokerStars explains, "special guests, exclusive online tournaments, and daily prizes, including WCOOP event tickets and more!"
The show is headlined by Joe "Stapes" Stapleton, who is known for his razor-sharp wit and as the co-host of The Big Game. Stapleton is no stranger to the poker world, nor are his co-hosts — Nick Wealthall and Matt Broughton. The former, who will join PokerStars Radio midway through the WCOOP, is the presenter of the U.K. & Ireland Poker Tour (UKIPT) highlights show, and Broughton is a poker journalist who brings a unique brand of humor and commentary to the EPT Live webcast team.
Stapleton and Broughton were kind enough to talk to us about the 22-day radio marathon that accompanies WCOOP.
How did you become involved in the world of poker commentating and hosting?
Joe Stapleton: I was an aspiring comedy writer, working as a runner in Los Angeles, who happened to get a summer job as a tournament reporter for the World Series of Poker in 2005. Poker was the only place anybody ever paid me to be funny, and it just kinda stuck. I worked my way up from reporter to video producer to podcast host to video host to television host. I'm also available for children's birthday parties and bar mitzvahs.
Matt Broughton: An actress friend of mine saw a casting call back in 2005 for a poker show (Poker Night Live), and I went along for an audition while I was still working as European Marketing Director for Midway Games. It became my secret late night "second job!" I'd been into poker since the late 90s, but no one really ever cared. Then it started to take off, and I was just in the right place at the right time.
At the time there were only a handful of us on the show, and we didn't even have a camera. it was just a voice-over show really. Later, we built a proper studio and it became more production-focused. My first broadcast experience was a four-hour live show that we made up as we went along! Needless to say, that experience has served me very well over the years.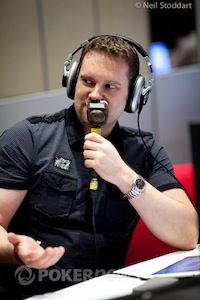 Joe, you've worked on numerous poker projects such the Big Game and the EPT. What sets PokerStars Radio apart from other things you've done in the past?
JS: I'd have to say the biggest difference is that this is audio only, while the TV stuff has pretty things for you to look at. No! What sets WCOOP Radio apart - shit - I meant PokerStars Radio is that it's all about the fun and giving stuff away. There is less emphasis on analysis and the play itself and more about giving the players something fun to listen to while they're playing.
How about you Matt, what sets PokerStars Radio apart from other things you've done in the past?
MB: PokerStars Radio is a perfect project for me personally as my two favorite things in a show are to be live and to have as much direct contact with the listeners/viewers as possible. I hate to work in isolation, so being able to utilize listener tweets and emails, and even take random live calls is a big buzz.
I think being daily and having that continuity of content also makes things flow as you're always on the ball and don't have any week-long breaks between shows to muddy the waters. To be able to follow players' progress and know you can pick it up where you left off the next day is a unique situation to be in, and by the end of the run you're just totally on top of the whole series.
What's your favorite part about doing the PokerStars Radio? How do you keep things interesting for listeners?
MB: I think my favorite elements are when we are able to really bring the audience into the show by getting them to send in crazy stuff like "Pwease Uncle Joe" petitions, TeamDoodleStars Pro requests (a daft "drawing" competition) and just generally involve them by using their content. Luckily the WCOOP has so much going on it kinda keeps things interesting on its own, but Joe and I sit down every day to try to come up with random silly ideas and features to stop things from becoming too obvious.
JS: I love giving stuff away. I love the audience interaction. But I also love the fact that we're occasionally allowed to think totally outside the box — even though that's a totally inside the box phrase — and do wacky things that we come up with off the air. There should be plenty of that for this series. Like when I drunk-dialed a bunch of the Team Pros. Listen for that.
You'll be doing 90-minute shows for 22 days. What sort of things do you do to prepare and keep yourself motivated? Can you give us an idea of what you daily routine will be like during the WCOOP?
JS: Luckily, a lot of the preparation just comes form being immersed in the poker world. I had a few years of not being on a poker tour, and it was harder then. Now that I travel the EPT, it makes things a lot easier. That and alcohol. Lots of alcohol. As far as routine, it seems like an easy gig, but it's actually just as time consuming as anything else I do, because I refuse to just show up and "let things happen."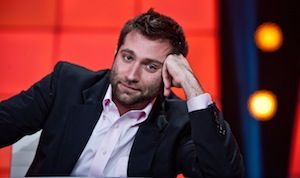 Generally, I get up around ten and go work out. This doesn't sound early, but when your job ends at 10 p.m. every night, it's pretty tough. I get into the office around noon to start just reading Twitter and getting a feel for what's going on. I have my first cocktail. We have our production meeting at one. Just one cocktail usually during the meeting. At two, we usually eat and brainstorm more about the night's show. It's important to get some food in your belly before the next cocktail.
From 3:00 to 6:00 we head home for a while for some cocktails and to work furiously on whatever bits are happening that night. At 6:30 we head back into the studio. We leave early so we can stop off for a quick cocktail before the show. At seven, we pace around nervously for an hour — have a cocktail to calm our nerves. The show goes live at eight, ends at 9:30, and afterward we stand around and pat ourselves on the backs for about an hour and usually have a post-show cocktail. After that, we're usually pretty wound up from the adrenaline of doing a live show, so cocktails are in order. Then I head home and try to find any feedback on the show, while I have one last cocktail. Then after a quick nightcap, I'm usually in bed by two or three to start the whole process all over again.
MB: Preparation is pretty solid while we're on the show as it's all you're focused on. I tend to get up and check in on what happened in the WCOOP overnight — see which players we were following are still rolling, results, etc. We meet midday with the full production team to talk about guests and features for the day, and it's then that myself and Joe will work on any of the silly features we tend to specialize in! We then all tend to split up to focus on our own research and elements and then come back together again an hour before the show to run through and make sure we all know the plan. Motivation comes very easily simply because it's just fun to do the show — especially with a co-host like Joe — and we're all into the subject matter so when we get tired of looking at Joe's ridiculously hairy arms, the poker is there to be enjoyed!
We understand you'll have plenty of Team PokerStars Pros on the air. You've had the chance to work with most of them in the past, so do you have any favorites, perhaps ones that are radio naturals?
MB: I guess Daniel Negreanu is an easy pick for me. I've interviewed him hundreds of times for something ridiculous like seven years now and he always gives you such great enthusiasm when you talk to him. In more recent times I seriously enjoy chatting to Lex Veldhuis. He has this brilliant sharp dry wit, and you can always have a lot of subtle fun with someone like that.
JS: Almost all the Team Pros are great at being interviewed at this point. Obviously Daniel is a pro and a total natural. Lex and I have a great rapport. Even some of the guys you wouldn't expect, like Randy Lew & Mickey Petersen are great. Then, of course, I love interviewing the LAAADDDIEEESSS!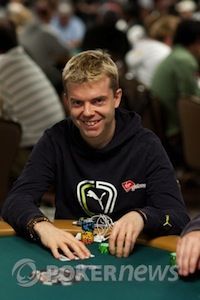 There are 65 events on this year's schedule spread over 22 days. This may seem like a broad question, but what is your favorite part about the WCOOP and what you do during that time?
MB: I guess there's a point, about a third of the way into WCOOP, when the leaderboard is starting to take shape and everyone is just in the zone — they've got some history behind them, maybe some results to look back on, and already know what their next events are going to be. It just feels like the events really rolling by then and everyone is kind of swept up and carried along on it. Personally, I just love being able to bring up multiple tables with these fantastic players all involved in various games and just drool over the action. Obviously I'm not in a position to play along, which is good news for anyone interested in badugi, as I'd obviously smash those tables to pieces.
JS: This won't come across to the listeners, but I love the camaraderie between the people involved with the show. We're spending 18 hours a day together for 20-plus days — with a lot of cocktails in between to help dull the pain. I've made lifelong friends out of working with the producers, Matt, and Nick. It's like summer camp. I love it.
What are your thoughts on your colleagues?
MB: Nick was probably the third or fourth person I ever worked with in poker broadcasting, so it's always a treat to work with him anytime. He is that total package of being a slick presenter, a funny guy, but also an absolute tip-top poker player who's able to analyze the game and talk to the pros on their level.
Joe was a revelation to me last year. I caught him on The Big Game, loved that he was so much more interesting than most of the comic relief on these shows but also knew his poker onions inside-out. I was delighted to find out I was doing last year's WCOOP show with him, and frankly, it just works with us. He is the energetic, shouty, sweaty, hairy, American who knows all the players like best buddies, and I can adopt that calm, British, controlled persona that can pull him back and tell him off but also egg him on and feed him material that he can chew up and spit out! He's also brilliant in that you can just sit and bounce silly ideas off him and between you keep the ridiculous content rolling for an entire month without it ever getting tired.
JS: I am in awe of both of them. Give me a little while to write some stuff, and I can be pretty funny, but Matt and Nick are just naturally so witty. I am sincerely jealous of their talent. Matt has the ability to just be 100 percent honest in any given moment, which I think is one of the major keys to comedy, and I really admire that. Nick is just so unbelievably quick. I really aspire to be like them both.
Be sure to listen to PokerStars Radio during this year's WCOOP, as well as archived shows, at PokerStars.com.
Get all the latest PokerNews updates on your social media outlets. Follow us on Twitter and like us on Facebook now!