Top 10 Moments in PokerStars History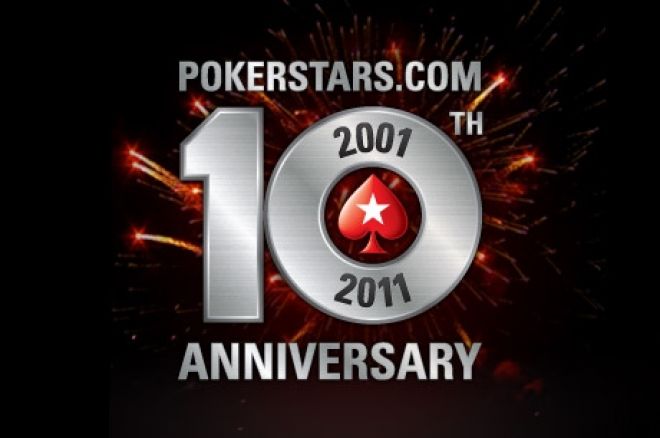 Traditionally, on a 10th anniversary, you give tin or aluminum. In modern society, it's diamonds. We're not sure what sort of tin gift online poker giant PokerStars could use, and we definitely don't have the cash for diamonds. A simple congratulations is going to have to do. With PokerStars' 10th anniversary coming up, we decided to take a look back at the past 10 years in the company's history and bring you our top 10 moments.
10. The Mysterious "Isildur1" Signs with PokerStars; High-Stakes Cash Games Increase
In 2010, all eyes were on PokerStars for the unveiling of the enigmatic Isildur1, the high-stakes cash game wizard. The site announced Isildur1's signing as a Team Pro in December, but didn't reveal his identity, instead creating hype around the SuperStar Showdown promotion.
One month later, at the PokerStars Caribbean Adventure, it was revealed that Isildur1 was in fact, Viktor Blom (not really a huge mystery to most). With the signing of Blom, high-stakes cash game action blossomed on PokerStars and continues to reign even now.
9. PokerStars Caribbean Adventure Launches in 2004
The PokerStars Caribbean Adventure is a staple on the European Poker Tour, but in 2004, when the event was first held, it was a stop on the World Poker Tour. Each year, the PCA field has grown in size and the event in 2011 smashed all previous PCA records. The 2012 PCA boasts 41 events including a super high roller. We imagine that records will be broken in January.
8. PokerStars Sets World Record of Largest Online Poker Tournament of All Time
In July 2009, PokerStars set the record for largest online poker tournament: 65,000 players showing up for the $1 buy-in event. Five months later, the record was broken — by PokerStars. A staggering 149,196 players entered the event.
Why not up the ante again?
PokerStars is attempting to break its own record yet again. On Dec. 4, 2011, PokerStars will hold another $1 tournament with a guaranteed prize pool of $250,000 in an attempt to attract a field of over 150,000. Will it happen? We'd bet on it.
7. The Big Game Premiers on Network Television
Everyone was already familiar with the World Series of Poker on ESPN when the PokerStars Big Game premiered. The Big Game, however, was on network television giving millions the opportunity to catch poker action and see how their favorite pros fared. On top of that, PokerStars added the element of the Loose Cannon, giving an amateur poker player the chance to play with the pros and win some serious money. The concept was well-received by viewers and by pros on the show.
6. PokerStars Kicks Off Season 1 of the European Poker Tour in Barcelona
Season 1 of the PokerStars European Poker Tour kicked off in Barcelona in September 2004. The first EPT schedule included seven stops, many of which are still on the (much larger) circuit today. Not only did the EPT grow into a mammoth tour, but it opened the doors for tours like the Latin American Poker Tour, the Asia Pacific Poker Tour, and all of the subtours we're familiar with today, giving players around the world access to superior tournaments and loads of money.
5. Sunday Million Launches in 2006
In 2006, PokerStars introduced us to the Sunday Million. That event attracted 5,893 players, creating a prize pool of $1,178,600. Five years later, the Sunday Million attracted its largest field — 59,128, generating a prize pool of $11,825,600. It's a "can't miss" tournament, attracting pros worldwide. The Sunday Million even has its own weekly PokerStars.tv show, hosted by Nick Wealthall and David Tuckman.
4. World Championship of Online Poker Launches in 2002
The World Championship of Online Poker had its debut in 2002, and has grown into the biggest online tournament series around. Each year, entries increase and the prize pools get bigger and bigger. In 2002, there were nine events on the WCOOP schedule and $730,000 was guaranteed throughout the series. In 2011, PokerStars held 62 WCOOP events and boasted $47 million in total guarantees. 'Nuff said.
3. Daniel Negreanu Signs with PokerStars
He wasn't the first Team PokerStars Pro, even though he is the most recognizable. Daniel Negreanu signed with Team PokerStars Pro in June 2007. He joined the already established Pro roster of Chris Moneymaker, Barry Greenstein, Joe Hachem and Vanessa Rousso, just to name a few. Negreanu has gone on to become one of the most recognized names in poker and is pretty much the face of PokerStars.
2. PokerStars Quickly Handles Repayment of Funds to U.S. Players After Black Friday; Continues to Be Largest Online Poker Site in the World
The world of every online poker player in the U.S. came crashing down on April 15, 2011. The U.S. Department of Justice had seized the domain names of the top three online poker sites in the U.S. Poker players everywhere were scrambling to find out the latest information and make sure their bankrolls were secure.
Even though the online poker sites were under duress, PokerStars worked quickly to ensure that U.S. players' bankrolls were paid out, and prove why it was one of the top-ranked sites, and continues to be so today.
1. Chris Moneymaker Parlays $39 PokerStars Satellite Win into $2.5 Million WSOP Main Event Win
Chris Moneymaker. Would we all be where we are today if the amateur poker player from Tennessee hadn't parlayed his $39 satellite win into poker immortality? We don't know, but it's probably safe to say things would be at least a little bit different.
What's your top 10? Let us know below and as always, follow PokerNews on Twitter for up-to-the-minute news.