The Nightly Turbo: Gary Loveman on Legalizing Online Poker, PokerStars Cash-outs Coming, and More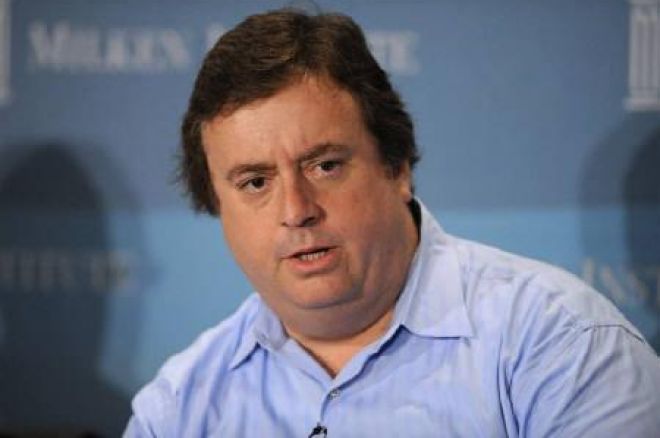 All you players with money on PokerStars may be getting your cash out faster than you thought. We'll tell you about that, what Caesars Entertainment CEO Gary Loveman thinks about online poker legalization, and more in tonight's Nightly Turbo.
In Case You Missed It
The Poker Players Alliance has been working hard to fight for the rights of poker players in the U.S. We recently sat down with PPA executive director John Pappas to get the PPA's reactions to Black Friday.
If you missed the second week of the $100,000 PLO cash game on Poker After Dark, then you missed some of biggest pots ever seen on PAD, and, obviously, some of the best high-stakes PLO players battling on the felt. The next best thing to actually watching it? Reading the PAD recap, of course.
The royal wedding will be held on Friday, and sportsbooks aren't missing an opportunity for getting people to make bets. This week's Inside Gaming has the scoop on royal wedding betting, why Singapore could surpass Las Vegas' gaming growth, and more.
While some of your U.S. high-stakes online favorites aren't battling on the virtual felt, there's still plenty of action. In fact, the Finns are running away with it. Check out the Online Railbird for more.
Legalize It
On Tuesday, CNN Money ran a piece contributed by Caesars Entertainment CEO and President Gary Loveman. In it, Loveman says that instead of wondering whether there will be online poker, the question that should be asked is "Should we seize the moment to legalize online poker, permit a safe and legitimate industry in the U.S., and bring those jobs and revenues home?"
"Unequivocally, the answer is yes," he wrote.
He went on to discuss how to regulate it, saying, "State level legislation will not adequately address the problems that currently exist," and, "Only federal legislation can clear up the current ambiguities in U.S. law and crack down on other online gambling like sports betting and casino games."
"In short, this bill should recognize the reality of the world we live in, protect the interests of law-abiding citizens who want to play a little poker from the privacy of their homes, create thousands of new jobs, and produce millions of dollars in new economic activity. And it should acknowledge that as a game of skill, poker deserves to be treated differently than other forms of gambling," he wrote.
He closed out the piece with this: "One day, we'll look back at 2011 and laugh at the folly of a ban on Internet poker — just like we now think about Prohibition. The sooner that day comes, the better."
If you want to read the entire article, you can head on over to Money.CNN.com.
PokerStars Cash-outs
In the latest TwoPlusTwo PokerCast it was revealed that cash-outs on PokerStars could start as early as Tuesday. Sure enough, we logged into our PokerStars account to check and we were pleased to see a notice pop up that said, "We are pleased to announce that the Cash Out option in the PokerStars Cashier is now available." The pop up also warned us that there could be a delay in processing and delivering our funds. Upon clicking the Cashier button, we were told that it was mandatory that we cashed out.
Since we know you're all excited about that, we'll also fill you in on the gem near the end of the podcast. SrslySirius and the guys from The Micros collaborated on a song called Seiborg, we can only describe as epic. We can't wait for the video. Yes, if you're thinking Erik Seidel, you're on the right track.
Listen to the entire podcast for more from PokerStars' Steve Day and for the new song featuring Erik Seidel.
Pollack Leaving PBR?
According to the Sports Business Journal, PBR executive chair Jeffrey Pollack is leaving the organization and has "stepped down from its board." According to Tripp Mickle of SBJ, Pollack is leaving to focus on the Federated Sports + Gaming pro poker league.
If you've got a subscription to SBJ, you can read the entire article.
2011 Paddy Power Poker Irish Open
The 2011 Paddy Power Poker Irish Open is in the books. Topping the 615-player field was Niall Smyth, who took home €550,000 of the €1,968,000 total prize pool. He qualified for the event through a satellite on Paddy Power Poker after winning a bet on the Grand National horse race and transferring the money to his poker account. Smyth was also awarded €100,000 for being the Sole Survivor - the last standing qualifier out of 160 who entered the field.
After winning, Smyth said, "Unbelievable. I just can't believe it. It started when I put €10 each way on the winner of the English Grand National, I won €200 and now I have €650,000. Surinder is such a great player, my support has been fantastic, and here I am!"
2011 Irish Open Results
1. Niall Smyth - €550,000
2. Surinder Sunar - €290,000
3. Martin Petri - €180,000
4. Seamus Cahill - €145,000
5. Aleksi Savela - €115,000
6. Karl Rudwall - €85,000
7. Rob Taylor - €63,000
8. John Eames - €45,000
9. Niall McCann - €30,000
For more, check out the press release.
Follow us on Twitter for up-to-the-minute news.
*Photo courtesy of Reuters.com