Black Friday: Reaction from the Poker Players Alliance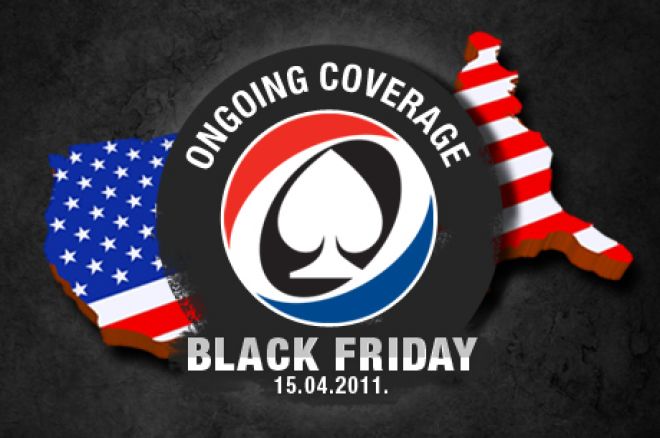 We will be entering a critical post-indictment juncture during the next month, which will determine the direction of online poker in the United States, according to Poker Players Alliance executive director John Pappas.
"There are two ways this can go," Pappas said. "One way, Congress becomes too scared to deal with this issue. Or Congress will realize that, to millions of Americans, this is their hobby and sometimes livelihood, and they need to make it legalized for them to play. The next month is going to be our month to either seize or lose."
No bill will be passed in the next month to undo the damage done by federal indictments of owners from the big three poker sites. However, this period in the immediate aftermath of Black Friday is when reactions will be formed by members of Congress either to stay away from an issue that has become increasingly controversial or to step in and act to protect the rights of American citizens.
The indictments may still accelerate the effort to license and regulate Internet poker in the U.S., sparking Congress to act this year. Or it could push the movement back by years.
"If we want to get our game back," Pappas said, "the PPA and PPA members and the poker community at large really needs to activate."
In the first week after the indictments were announced and PokerStars and Full Tilt Poker pulled out of the U.S. market, Pappas said that PPA members sent more than 70,000 emails into Congress, President Obama and Attorney General Eric Holder. He believes the outcry already is making a difference in getting the DOJ to release the domain names back to PokerStars and Full Tilt Poker and agree to work with the sites to ensure that Americans are returned their money.
"It's unprecedented for the DOJ to work so swiftly to mitigate what is becoming a public relations nightmare for them," Pappas said.
Some in the poker community have remarked that PPA chairman Al D'Amato, a former New York senator who maintains influence in political circles, has been too quiet and not out there getting the PPA's message out enough in reaction to such a big blow to the game and its players in the U.S.
D'Amato recently did show his value to the cause by penning a column for The Washington Post slamming the Justice Department's attack on poker and calling for Congress to work quickly to pass legislation for "Americans to play the greatest American game." But he has been conspicuously absent from television news channels that have covered the indictments, despite having the name and speaking ability to provide credibility to the argument that these indictments are the result of a DOJ witch hunt. One issue, according to Pappas, is that D'Amato has a contract as a political commentator with Fox that does not allow him to do any other cable news channels. Pappas did say that he expects D'Amato to appear on the Fox News Channel to discuss poker in the near future.
Pappas teased that another D.C. fly-in, perhaps the biggest yet, could be in the works. But little can be done until Congress returns from spring recess on May 2.
He thought the movement to license and regulate Internet poker was previously going in the right direction, and that the timing of the indictments may have been to slow down that progress and especially to stop Wynn Resorts and Fertitta Interactive from getting too far along with their recently announced respective alliances with PokerStars and Full Tilt, which were in fact broken by the casino companies following the indictments.
Though the bank- and wire-fraud charges are serious, they aren't based on stopping any real harm from being done. If anything, the banks profited from the activity rather than losing from the fraud.
"The premise that poker is illegal is something we 100 percent disagree with," Pappas said. "There were no victims at all in any of this until the DOJ decided to shut down the sites, and then the victims were the millions of Americans who play online poker and don't have access to their money."
The election of Barack Obama as President appeared to be a positive sign for poker. Though he wasn't expected to take an active stance in favor of poker legislation with much larger concerns on his plate, it was hoped that his administration wouldn't be as active against poker as its predecessor. After all, Obama helped form a regular poker game in the Illinois State Senate. Asked early in his presidential campaign by the Associated Press to name a hidden talent, Obama revealed that he considered himself "a pretty good poker player."
Though Obama surely didn't order these indictments and may not have even known about them beforehand, he did appoint Preet Bharara as U.S. Attorney for the Southern District of New York, and Bharara is the one leading this attack on online poker. This is happening during Obama's administration, under the leadership of those he appointed.
"The PPA is embarrassed that we held an event during his inauguration hailing him as the 'Poker Player in Chief,'" Pappas said. "We didn't expect to see this aggressive action during his administration. We are really dismayed that the Obama administration is now the anti-poker administration even more so than President Bush was."
The indictments are problematic for the PPA. Much of the PPA's funding comes from the Interactive Gaming Council, and the two most prominent members of the IGC are PokerStars, through Regional Entertainment Enterprises Ltd, and Full Tilt Poker, through Pocket Kings Ltd. Even though the sites may only be guilty of trying to run legitimate businesses through government interference, the bank and wire fraud charges are serious and won't be looked upon kindly by most lawmakers in the U.S. Being linked to these poker sites could tarnish the PPA's reputation with lawmakers. Yet, at least at this juncture, the PPA can't operate without funding from the IGC.
"Yes, the PPA is supported by Internet poker companies, but the PPA is not their organization," Pappas said. "Poker companies support the PPA because we give a voice to millions of Americans who play the game. They want to support an organization that fights for the rights of Americans to do that. What we'll continue to tell people is that we always have and always will represent the players in this fight."
Be sure to follow us on Twitter for up-to-the-minute news.