Inside Gaming: Experts Predict Royal Wedding Betting Fever, Singapore Gaming Growth, and Penn National Profit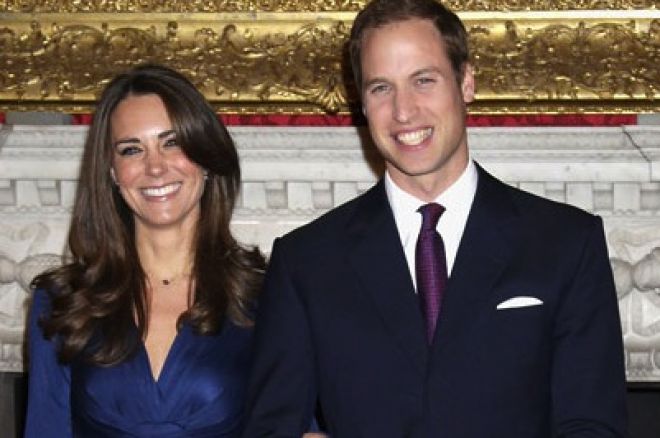 It's been a fairly quiet week in the gaming industry while insiders take a breath to consider the sea-change events that occurred earlier in the month. But analysts and bettors have stayed busy. While royal-wedding fever sweeps the world, sports-betting outlets are taking advantage and expect customers to make the wedding the most wagered upon nonsporting event since the election of a new pope. Gaming analysts announced their prediction that Singapore will pass Las Vegas in gaming revenue this year, and Penn National Gaming shared its expectation that ownership of the M Resort will boost the company's 2011 earnings.
Royal Wedding Spurs Betting Furor
Caught up in royal wedding fever yet? Commemorative plate manufacturers and television broadcasters are making a mint of the wedding, and Britain's bookmakers aren't about to be left out. The U.K.'s largest betting outlets say they expect more than £1 million. Wagers include how late the bride will be, the color of Queen Elizabeth's hat, and whether Kate Middleton's father will cry when he gives her away. William Hill has odds at 25:1 that Prince Harry will be too drunk to finish his best-man speech. Even less likely is that the royal limo will break down before the ceremony or that Middleton will leave Prince William at the altar. At Ladbrokes you can also bet on how the royal wedding will compare to the nuptials between supermodel Kate Moss and rocker Jamie Hince.
"In terms of royal betting, the wedding blows it out the window," said Rupert Adams, a spokesman for William Hill. "I think we will take the same amount as we've taken on royal betting in 30 years." Paddy Power spokesman Darren Haines said it will be the second largest nonsports event in company history. The largest was the 2005 election of a pope to replace Pope John Paul II.
Adams said that most people are placing small wagers as a lark rather than making substantial bets. The average bet on the wedding is between £2 and £6, while the average bet placed with William Hill on soccer is around £14. Adams also pointed out that unlike sporting events where the outcome can only be guessed, royal insiders may actually know the outcome of some of the wagers like the designer of Kate's dress or the wedding-reception entertainment.
Read more about the royal odds at NPR.org.
Singapore Set to Overtake Vegas as World's Second Largest Gaming Destination
Singapore had no major casinos and zero gaming tourism 12 months ago. A year later, the island nation is about to pass Las Vegas in gaming revenue. Two mega-resorts, Marina Bay Sands and Resorts World Sentosa, opened in Singapore last year and were instant cash cows. The success of Marina Bay Sands was a significant factor in stopping the stock slide of its owner, Las Vegas Sands Inc.
The two massive Singapore properties generated a combined gross gaming revenue of $5.1 billion in 2010. Royal Bank of Scotland predicts a 25-percent increase in revenue, forecasting 2011 earnings of $6.4 billion. Las Vegas is only predicted to bring in $6.2 billion, which would put Singapore in second place behind Macau.
Marina Bay Sands, which has 500 gaming tables, saw more than 11 million visitors in a year. Close to 900,000 visited during the four days of the Chinese New Year alone. Resorts World Sentosa, owned by the Genting Group, had similar success, so much so that it caused a drop in tourists traveling to Genting's flagship property in Malaysia.
The Singapore government insisted that the gaming properties charge a 100-Singapore-dollar entrance fee to residents of Singapore to deter them from gambling and minimize the incidence of gambling addition among locals. The fee hasn't kept locals from frequenting the casinos, however. They made up 60 percent of gaming patrons in 2010. Some gaming analysts are concerned that future growth of the casinos will be hampered as the government increases entry barriers for locals.
Despite the possibility of policy changes, most analysts are confident that Singapore will overtake Las Vegas in 2011.
Read more of what they have to say at CNBC.com.
Penn National Gaming Forecasts Strong Returns from Purchase of M Resort
Penn National Gaming Inc. is looking forward to gaining ownership of the M Resort Spa Casino in Las Vegas in June. Penn already owns and operates 25 casinos and racetracks but expects the addition of the M to increase its profits. Penn bought the M's debt at a discount last year, effectively acquiring the 390-room property for a fraction of the casino's nearly $1 billion construction cost.
In February, Penn forecasted profits of $1.48 per share for 2011. After completing the deal to purchase the M, Penn revised its 2011 estimates to predict a profit of $1.64 per share. Bloomberg averaged the estimates of 21 independent analysts, which produced a predicted profit of $1.54 per share.
Penn is also building casinos in Ohio and Kansas and purchasing another property in Texas.
Be sure to follow us on Twitter for up-to-the-minute news.
*Photo courtesy of Ladbrokes.com