Inside Gaming: PokerListings Hungry for Cake, More Bad News for North End of LV Strip, and Dealers' Union Fights Tip Sharing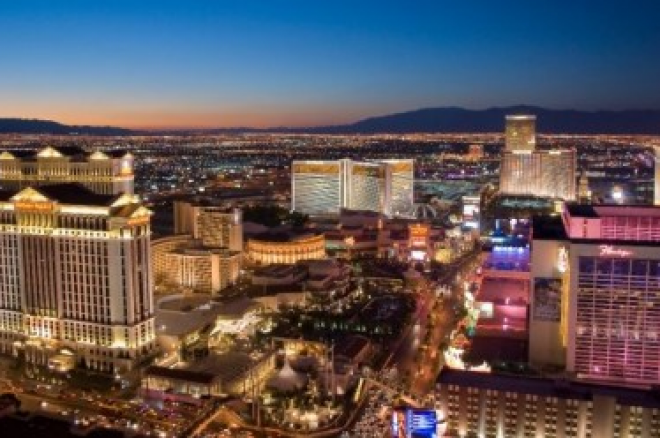 While most of the online gaming industry was focused on the partnership deals between Caesars and 888 and between PokerStars and Wynn, PokerListings.com decided to quietly announce a "strategic partnership" with the Cake Network and hope no one noticed. After the Sahara announced it was closing its doors, several of its neighbors came out with fourth-quarter numbers and annual reports that didn't help to lift spirits on the north end of the Las Vegas Strip. Also, dealers at Caesers Las Vegas rejected a labor contract that included an unpopular tip-sharing provision.
PokerListings Makes Controversial Move to Acquire Cake Poker
Very tasty rumors about Cake's new ownership turned into reality last week as PokerListings.com could no longer hide its purchase of the Cake Poker Network. For now, the two companies are calling the deal a "strategic partnership" and sticking to similarly vague terms about expectations for the future. While company spokespeople are busy talking about how well the two entities complement each other, the rest of the industry is curious about how PokerListings will balance its role as a poker news website with its new financial interest in Cake. [Please insert your obligatory "have cake and eat it too" comment here.]
PokerListings presents itself as a news source and ranks and reviews online platforms while advertising for many of them. Currently, PokerListings ranks Cake Poker as its No. 1 editors' pick. UB is ranked fifth, followed by Absolute in sixth, PokerStars in seventh, Bodog in eighth, and Full Tilt in ninth.
The only information about the deal that is available on PokerListings at the moment, other than a giant banner advertisement for a Cake deposit bonus, is an official press release about the strategic partnership.
The press release calls PokerListings "the largest single gambling affiliate business in the sector," and says that "Through a very close working relationship in the areas of web development, content production and traffic conversion, PokerListings.com is positioned to substantially contribute to future development of the Cake Network." PokerListings says it has committed to driving 2,000 new depositors to Cake every month.
The Cake Network has struggled recently as several of its highest profile skins moved to other networks. Last year, Lock Poker, Players Only, and Sportsbook.com all switched to the Merge Gaming Network. And on January 28, DoylesRoom ditched Cake for the Yatahay Network, causing a steep drop in Cake's user traffic. Cake still hosts Poker Pros Network, Unabomber Poker, and Victory Poker.
North End of the Las Vegas Strip in Rough Shape
Once, when I was little, someone asked me what direction they were driving. "North," I said. "We're going straight ahead." Unfortunately for Las Vegas, no roads seem to lead straight to the north end of the strip anymore. Sure, it's a straight shot down Las Vegas Boulevard, but it feels like you need a time machine rather than a car to make it from the Wynn past the no-man's-land of failed development projects to the Riviera, Sahara, CircusCircus, and Stratosphere hotels. And the news keeps getting worse for the Strip's north end.
With the stalled Echelon project already an empty lot and the half-built Fountainbleu condos a sad reminder of the economic times, the Sahara added its name to the list of north-end neighbors going belly-up. When the Sahara shuts its doors in May, there will be one more gap separating new Vegas from old. The Sahara's announcement two weeks ago was a downer, and three north-end properties followed it with almost as depressing fourth-quarter numbers.
Riviera Holdings Corp., which filed for bankruptcy last year, published its annual report last week revealing that the Riviera Las Vegas' net revenue fell from $92 million in 2009 to $79 million in 2010. Riviera Holdings' net loss for the year, $20.8 million, was a small improvement over its 2009 loss of $24.9 million. The difference was largely due to a $10 million drop in interest expenses since the company declared bankruptcy.
The Las Vegas Hilton, one block east of the strip, also filed a disappointing 2010 report last week. The Hilton said that it lost $34 million in 2010 compared to a loss of $28.9 million the previous year. Net revenue fell from $201 million to $188 million. While the Riviera's losses were caused by falling hotel room rates, the Hilton attributed its decline to a drop in gaming revenue. According to its annual report, the Hilton casino's revenue fell from $80 million to $67 million. The document said, "The table games and slot volume decreased primarily due to lower spending by gaming visitors and fierce competition in the Las Vegas market."
The report put out by the Hilton's owner, Colony Resorts LVH Acquisitions LLC, went on to say that "The company cannot be assured that its business will generate sufficient cash flow from operations in an amount necessary to enable it to pay its indebtedness or to fund its other liquidity needs." The company says it is considering restructuring and refinancing.
The Stratosphere's most recent report also showed losses. American Casino & Entertainment Properties LLC reported that the Stratosphere lost $17.4 million in the fourth quarter of 2010, about the same as in 2009. The hotel's net revenue declined 4.2 percent, driven by lower room rates and reduced discretionary spending.
The Las Vegas Sun has more facts and figures on the Riviera and the Hilton and on the Stratosphere.
Caesars Dealers Reject Latest Labor Deal
When you are running hot and throw the dealer a big tip, who really gets to keep it? That's been the subject of heated negotiations between Las Vegas dealers and casino management ever since the Wynn instituted an unpopular tip-sharing policy in 2006. In response, dealers at several casinos sought union representation to make sure they wouldn't be saddled with the same policy.
Caesars Palace dealers voted to join the Transport Workers Union in December 2007, a decision that helped them avoid tip sharing this week. On Monday, Caesars dealers rejected a labor contract in a landslide vote rather than accept its tip-sharing provision. Negotiations between Caesars and the gaming division of the Transport Workers Union are set to resume April 12. Contract negotiations only pertain to the dealers at Caesars Las Vegas and not the workers at nine other Caesars Entertainment Corp. properties in Las Vegas. The dealers at Caesars Las Vegas are hoping to reach a deal similar to the one achieved by the 800 unionized dealers at Caesars in Atlantic City. They reached a deal in November 2010 that increased salaries by 18 percent over five years and did not include tip sharing.
The Transport Workers Union also began representing Wynn dealers after the tip-sharing policy had been implemented and is working to reverse it. The Nevada Labor Commission ruled that the Wynn's plan, which shares between 15 and 20 percent of dealers' tips with management, is legal. Wynn dealers have appealed the decision.
Dealers throughout Las Vegas are closely following the proceedings at Caesars and the Wynn, hoping that tip sharing does not become the norm on the Strip. Read more about Monday's union vote in the Las Vegas Review-Journal.
Be sure to follow us on Twitter for up-to-the-minute news.