Inside Gaming: Harrah's Becomes Caesars Entertainment and New Jersey Approves Online Poker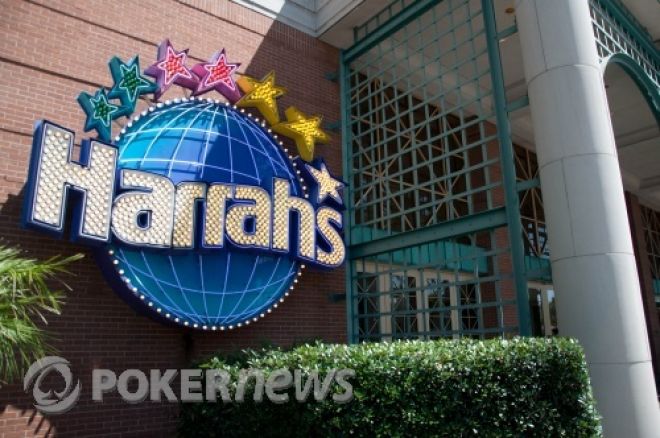 This week's Inside Gaming takes a look at big news both on and off the virtual felt. For aficionados of online poker, you'll be glad to know that New Jersey is positioning itself to become the first state to legalize online poker by passing Senate bill S490. Outside the virtual realm, Harrah's Entertainment, the owner of the World Series of Poker, recently rebranded itself as Caesars Entertainment.
Online Poker Approved in New Jersey
New Jersey's Senate has approved a bill that would allow casinos in the state to offer online poker and casino games to international consumers, as well as to state residents. This means New Jersey could become the first state in the U.S. to legalize online gambling.
Sponsored by State Senator Raymond Lesniak, S490 passed the state's Assembly by a vote of 29 to 5. Its next stop will be a committee before facing a full vote. The bill is part of a series of laws meant to revive the state's ailing gaming industry. In addition to approving S490, a Senate committee also approved a resolution that will ask voters in 2011 to decide whether sports betting ought to be legalized in the state.
If S490 is passed, residents of New Jersey would be allowed to gamble over the Internet in New Jersey via servers based exclusively in Atlantic City. Although residents of other states would be banned, players from outside the U.S. would be allowed to play. These sites would be run by land-based casinos in the state, such as the Borgata, which would be required to apply for a one-year renewable license at a cost of $200,000.
S490 would help alleviate New Jersey's current budget shortfall by allowing the state to collect a 15 percent tax on all gross revenues from Internet gaming.
"That's a no-brainer and the whole bill is a no-brainer," said Lesniak, a Democrat who represents the state's 20th legislative district. "We need to be bold and tell the Federal government that it has no Constitutional authority to prevent online gaming here in our state."
"This bill would generate millions of dollars in private revenue and would give casinos a new product to capture gaming dollars from tech-savvy gamblers," Lesniak added. "Right now, Internet wagering is taking place, and the funds are going to off-shore operators."
"Though there is still a little way to go, we're very happy with the result of today's vote", said Joe Brennan Jr., chairman of the Interactive Media Entertainment and Gaming Association . "Senator Lesniak has been a thoughtful champion of his bill, and it's nice to see him get the win today . . . New Jersey has really taken the lead on these issues nationally. With Missouri, Rhode Island and California all passing measures in their own legislatures for state-related sports betting, it's only a matter of when, not if, that this underground economy will be normalized for players in the US."
For more on this story, visit www.insidepokerbusiness.co.uk and www.igamingbusiness.com.
Harrah's Becomes Caesars Entertainment
The World Series of Poker was acquired by Harrah's Entertainment in 2004 and the event was moved to its Rio property in 2005. Now, Harrah's is being rebranded as Caesars Entertainment while the former moniker will continue as one of its subsidiary brands. The change is part of a new strategy to focus on the "world's pre-eminent and most respected casino brand." As many people know, Caesars Palace is Harrah's most prominent Las Vegas casino in Las Vegas; in addition, the name is also used for its U.K.-focused online casino site.
Jan Jones, Caesars spokeswoman, said the move will cost less than $1 million, a relatively small cost for a company that has lost $634.4 million through the first three quarters of 2010. Not only has the company, which was founded in 1937 and now includes over 50 casinos and hotels along with seven golf courses, fared badly, viewership of 2010 WSOP final table dropped as much as 26 percent from 2009 figures. With the new change, many poker fans are anxious to see if the rumors concerning the WSOP prove true — that being a change of venue from the Rio to Caesars Palace.
"In recognition of Caesars' status as the world's preeminent and most respected casino brand, we have changed the name of our parent company to Caesars Entertainment Corporation," said Gary Loveman, chairman, president and chief executive officer for Harrah's. "The change reflects our evolution as the industry's leading provider of branded casino entertainment. While our name is changing, our dedication to who we are as a company will remain the same. Our employees will remain dedicated to the innovation, customer-service excellence and corporate citizenship that have been hallmarks of our company for decades. This rebranding of the corporate name can open exciting new opportunities for us in the future."
For more on the Harrah's-Caesars change, check out www.insidepokerbusiness.co.uk.
Follow us on Twitter for up-to-the-minute news.