Inside Gaming Tabloid: Lawsuit Claims Hard Rock Owes Hilton, Longoria's Restaurant Charged with Harassment and Fraud, and More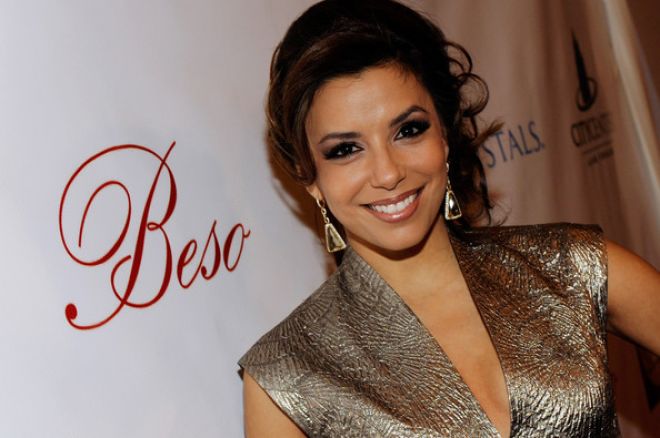 This week, Inside Gaming goes undercover as paparazzi bringing you the latest in Las Vegas lawsuits involving celebrities, socialites, and scam artists. In one suit, Paris Hilton's attorney is seeking the $200,000 that he says the Hard Rock Hotel owes Hilton for two club appearances. In another, Eva Longoria is defending her bankrupt CityCenter restaurant and nightclub from allegations of sexual harassment, tax evasion, and fraud. And although he is not a celebrity, one truck driver let his good fortune swell his head when he stumbled upon a stack of sensitive Caesars and MGM documents. He tried to blackmail the companies for $500,000 and $100,000 in WSOP buy-ins. Instead, he'll get 46 months in prison to study poker strategy.
Hard Rock Sued for Two Unpaid Nights with Paris
According to a new lawsuit, the Hard Rock Hotel in Las Vegas owes Paris Hilton $200,000 in unpaid fees for two promotional appearances. The suit, filed last week in Clark County District Court, claims that the Hard Rock contracted with Hilton's company, Paris Hilton Entertainment Inc., for Hilton to make three appearances in 2009 for $100,000 per event. She showed up three times but was only paid $100,000, says her attorney, Paul Joseph Shapiro. Her appearances included a birthday party for Hilton in February 2009 and the opening of The Joint concert venue in April 2009. Carlos Santana and DJ Tiesto are currently playing at The Joint.
Shapiro, filed the suit, saying that he has been given the rights to Hilton's fees. Guess $200k isn't enough for her to bother arguing about. Shapiro, however, wants to make sure he gets paid before the Hard Rock runs out of cash. He's asked for a "writ of attachment and garnishment," saying that, "Absent intervention by this court, at the time of judgment, defendant's assets will not be abatable to satisfy a judgment."
Shapiro submitted the contract between the Hard Rock and Paris Hilton Entertainment as part of his filing. Let's just say it's good to be Paris Hilton. In addition to charging $100,000 a night to party in public, she required a first-class suite with a $150 per diem, five rooms for her entourage, a first-class private plane to and from Los Angeles, dinner for 10 people at Nobu on Friday nights and at Ago or Rare on Saturday nights, an owners' cabana at the Rehab pool party, around-the-clock security escorts, and the services of a stylist and hair and make-up artists.
Check out Vegasinc.com for more on Hilton's under-funded party appearances.
Longoria's Beso and Eve Get a Little More Desperate
Beso restaurant and Eve nightclub, both owned by Eva Longoria, now have bigger problems than bankruptcy. The restaurant-club now must defend itself against allegations of sexual harassment and delinquent taxes. Beso and Eve investors filed for Chapter 11 bankruptcy in January. Megan Mynatt, a cocktail server hired as the club was opening, recently filed a $300,000 claim as a creditor, saying that she was sexually harassed and wrongfully terminated.
Mynatt's attorney's filing lists a host of legal buzzwords including: discrimination based on sex, assault, battery, hostile work environment, retaliation, defamation, and infliction of emotional distress. Beso has yet to file an official response to the claim. Robert Shapiro, an attorney who represents Longoria separately from the other Beso investors, assured media that the sexual harassment allegations didn't involve his client.
He can't say the same thing about a separate complaint filed by Beso investors Mali and Ronen Nachum. Last week they filed a complaint claiming that Longoria and fellow investor Jonas Lowrance intentionally defrauded them. The Nachums said that Longoria and Lowrance used them to pay "significant pre-opening debts," rent payments, and taxes, and then chased them out of the business "so that they could retain more profits for themselves." The court filing says that Ronen Nachum was falsely accused of stealing from the company and that Beso owes the Nachums $280,000 in loan repayment. Attorneys for Beso claimed in a March 29 filing that, "Beso discovered the alleged mismanagement and illegal conduct by Mr. Nachum in the middle of 2010 as it attempted to figure out why it was unable to pay bills as they became due."
To make things juicier, the Nachums' complaint also alleges that, "Beso failed to pay state, federal and sales tax since they ousted the Nachums in May 2010," and accuses Beso of fraud. They are asking for access to the company's books, which they say they can use to clear Ronen's name. The Nevada Department of Taxation filed a claim of its own - for $539,000 - which includes $47,000 in penalties.
Shapiro said last week that Beso was unable to pay some Nevada sales tax in 2010 because of mismanagement and the difficult economy but plans to pay all past and current taxes as part of its reorganization plan.
We'll keep our paparazzi on it. To read more of the mudslinging, head over to VegasInc.com.
Court Upholds Conviction of Man who Tried to Extort Casinos for $500,000 and $100,000 in WSOP Buy-Ins
A federal appeals court upheld the conviction of truck driver who tried to extort MGM Resorts International and Caesars Entertainment Inc. in a two-to-one decision last week. Jeffrey Greer was sentenced to 46 months in prison for his scheme to blackmail the two casino operators after papers with confidential customer information were mistakenly left in his truck. Greer's attorneys argued to the Ninth Circuit Court of Appeals that the jury had been given conflicting instructions and that the U.S. Attorney's Office in Las Vegas conducted improper questioning, but the appeals court declined to overturn Greer's conviction.
Greer was working for French Trucking when he picked up a truck full of paper from Secured Fibers, a North Las Vegas recycling company that had contracted with MGM and Caesars to destroy sensitive documents. Greer drove the paper to a plant in Alabama, where most of the cargo was unloaded. About 50 pounds of paper, however, were left in his truck. The forgotten documents included information about both companies' customers, including players' Social Security numbers and betting habits.
Greer told the casino companies that they needed to hire him as a consultant to "plug the hole" in their security. Caesars offered him $5,000 to learn how he gained access to the data, but he responded that he wanted a $250,000 security consulting contract and a $100,000 bonus to play in World Series of Poker events. Greer also asked MGM for $250,000, saying that he would disclose the confidential information to the media. Instead of paying Greer, Caesars set up an FBI sting with federal agents posing as Caesars officials to catch him in the act of extortion. He was arrested at the meeting.
Read more about Greer's brazen scam and his failed appeal in the Las Vegas Sun.

Be sure to follow us on Twitter for up-to-the-minute news.

*Above photo courtesy of Zimbio.com