Inside Gaming: Bellagio Discontinues $25k Chip, Casinos Coming to Ohio, and More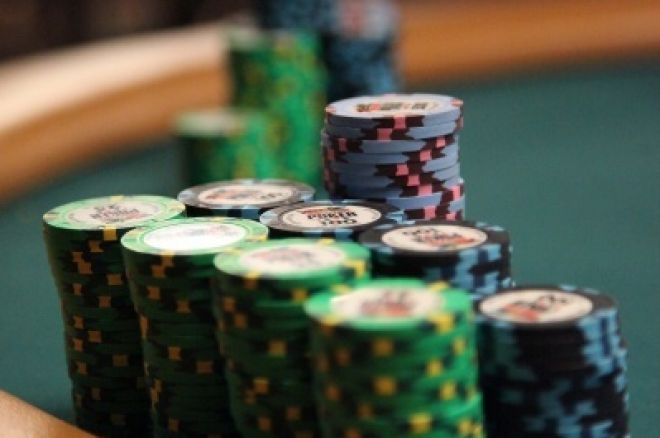 Things in the poker world tend to slow down as the New Year rolls around and this year was no exception, minus the news of Phil Hellmuth and Annie Duke leaving UB. Nonetheless, Inside Gaming has scoured the Web for all the latest political and business developments concerning the gaming industry. This week we take a look at the Bellagio's decision to discontinue its $25k chip after last month's robbery, Caesars Entertainment's plan to bring two casinos to Ohio, and the rebound of gaming stock in 2010.
Bellagio to Discontinue $25k Chips from Heist
The robber who made off with $1.5 million in chips from the Bellagio on December 14 may not be able to cash in on the heist. The Bellagio Casino, owned by MGM Resorts International, has given public notice that it is discontinuing its standard $25,000 chip. Anyone in possession of these chips has until April 22 to redeem them at the casino. After that date, they'll become a useless piece of plastic. Nevada law requires casino operators to serve notice and provide gamblers ample time to cash in their chips. In the case of the $25k chips, the Bellagio needed to allow for a four-month time frame.
The move is designed to prevent the robber from cashing in his loot, and MGM wasted little time with the preemptive move. In fact, they posted notice of the redemption in the Las Vegas Review-Journal's classified section just a week after the robbery. In addition, MGM Resorts spokesman Alan Feldman said the $25,000 chips were switched out at the tables within an hour of the robbery.
"Obviously, anyone walking (around) with one of the old series is going to be subject to a certain amount of questioning as to how they obtained them, assuming it isn't someone we know," Feldman said. "It's pretty unusual for someone we don't know to come strolling up with a handful of $25,000 chips."
"If they have people that they know are players redeem the ones that they know they have, pretty much it's process of elimination; you're left with people who aren't supposed to have the chips," said David Schwartz, a former casino security guard and director of the Center for Gaming Research at the University of Nevada, Las Vegas.
Last Wednesday, a Metropolitan Police Department spokeswoman said there have been no significant developments in the case.
For more on the discontinuation of the $25,000 Bellagio chips, check out the USA Today and Las Vegas Review-Journal articles.
Caesars Entertainment to Bring Casinos to Ohio
In a recent agreement with Quicken Loans founder Dan Gilbert through his Rock Gaming Company, Caesars Entertainment Corp. will build two casinos in Cleveland and Cincinnati. The casinos are expected to cost $1 billion apiece and are scheduled to open by the end of 2011 or early 2012.
In November 2009, Ohio voters approved the construction of four casinos, one in each of its biggest cities (Cleveland, Cincinnati, Toledo and Columbus). While Caesars Entertainment will operate the casinos in Cleveland and Cincinnati, Penn National Gaming will likely build and operate the casinos in Toledo and Columbus, which are not expected to be completed until 2012.
Caesars, which initially planned to fund its portion of costs through a stock offering, was forced to seek capital elsewhere and found it in the joint venture with Gilbert, owner of the NBA Cleveland Cavaliers. According to the agreement, Rock Gaming Company will spend $600 million on the Cleveland casino, which is expected to attract 8 million annual visitors; and $400 million on the one in Cincinnati, which will be located on 20 acres of the city's downtown northeast side.
"Caesars Entertainment shares Rock Gaming's vision for these urban casinos that will create jobs, spur local economies and increase tax revenues throughout the state of Ohio," said John Payne, president of Caesars central division. All told, the two casinos are expected to create nearly 13,000 jobs.
The Las Vegas Review-Journal has more on this story.
Gaming Stock Up in 2010
While 2009 was a terrible year for gaming stocks, prices rebounded in 2010 for publicly traded casino operators and slot machine manufacturers.
"The latest calendar year demonstrated the resiliency of gaming operators, despite selected reorganizations that took place within the market space," Applied Analysis Principal Brian Gordon wrote in a report to the firm's clients. "The past year also signaled that investors remain optimistic about the recovery in domestic and international travel and related spending, while local and regional operators also benefited from an improved market outlook."
According to Macquarie Securities gaming analyst Chad Beynon , MGM Resorts said: "At this point, we believe the high-end gaming hotels will continue to flourish, while the low-mid end segments will bear the brunt of the frugal spending consumer mindset. However, recent data is encouraging for the market."
Shown below is a chart of the average daily stock prices at the end of 2010 for some of the more popular gaming stocks.
| Stock | Nov 2010 | Dec 2010 | % Change |
| --- | --- | --- | --- |
| MGM Resorts International | $12.37 | $13.84 | 11.93 |
| Las Vegas Sands Corp. | $49.65 | $46.30 | -6.75 |
| Wynn Resorts Ltd. | $108.64 | $102.80 | -5.37 |
| Boyd Gaming Corp. | $9.24 | $9.86 | 6.71 |
| Penn National | $34.57 | $34.92 | 1.02 |
| Pinnacle Entertainment | $13.44 | $13.88 | 3.25 |
| Ameristar Casinos | $18.15 | $16.83 | -7.27 |
| International Game Tech. | $15.99 | $16.92 | 5.80 |
| WMS Industries | $43.59 | $45.98 | 5.49 |
| Bally Technologies | $37.91 | $42.21 | 11.34 |
Source: Applied Analysis
You can read the full story and explore all the data by visiting the Las Vegas Review-Journal.
To keep on top of all the political and business developments in the poker industry, be sure to follow PokerNews on Twitter and like us on Facebook.